110 and 120 Volt AC to DC Converter
Apr 04, 2016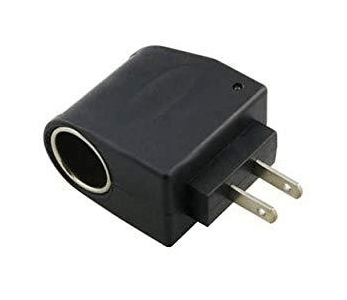 Our 120 Volt AC to DC Converter is universal adapter that helps convert 110v and 120v AC plugs to DC 12 volts car power adapter socket. With this converter, automotive accessories with standard 12V plug-in power supply can be used inside homes and offices in USA & Canada with standard 110V electrical outlet. 
Enjoy 12v car socket requiring gadgets inside home or office with this 1000 mAh output AC wall to Female DC car power convertor or adaptor. Any car plug-in charger can now be used as wall plugin travel charger. Pricewise, this aftermarket power converter is very cheap and low cost when compared to brand name power converters.
However, please note that this 120V or 110V AC to 12V DC converter only provides enough power for smart phones, MP3 players, GPS systems, cameras and other similar small portable devices. It is not recommended for devices that require more than 1 amp of power such as tire & airbed inflators, handheld car vacuums, heated blankets and other similar heavy-duty devices.
The two electrical prongs plug easily into standard 110/120V AC wall outlet.
Instantly converts 110 volts and 120 volts AC power into 12V DC power.
Input: 110 - 240V ~ 50 / 60Hz 0.1A. Output: 12V ~ 1000 mAh.
---
Share this post
---
---