How Much & Which Building Materials Block Cellular & WiFi Signals?
Dec 21, 2021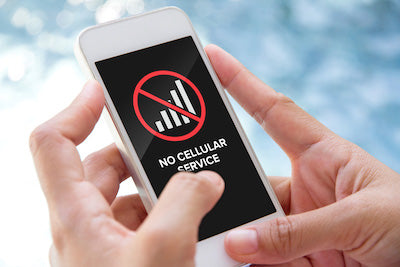 Have you ever wondered how much do various kinds of building materials block cell phone and Wi-Fi signals? Well, here's your chance to find out! If you have reception problem with your cell phone, you may find that you're a bit frustrated with trying to determine the cause of your weak signal. Your phone works in some spots outside of your home, but inside your abode, there is little to no signal at all. Obviously, there's something in the house which is stopping the reception, but what is it?
While Mother Nature does block cell signal from -5 to -25 dB where rain attenuates signal anywhere from -1dB to -5dB and foliage attenuates it anywhere from -1dB to -25dB, the odds are that it is your home building materials that blocks most of your signals. They are the number one cause of cell phone reception disruption. Knowing which materials can deflect your cell phone reception may help you to find solutions to increase or gain your signal using a cell phone signal booster or similar device. Or even help you reduce reception if you're concerned about radiation affecting your health. Either way, listed below are the top building materials that stop wifi and cell phone signals in its tracks.
Please note that while we mostly mention mobile signal strength attenuation figures below, wifi signal strength is similarly attenuated. The 802.11 standard provides several distinct radio frequency ranges for use in Wi-FI communications: 900 MHz 2.4 GHz, 3.6 GHz, 4.9 GHz, 5 GHz, 5.9 GHz and 60 GHz bands. Each range is divided into a multitude of channels. Therefore, we won't go into too many details to prevent getting sidetracked or distracted with all mobile and wifi frequencies and channels. Nevertheless, you will get a rough idea from the fully researched list below roughly how much of the signals will get attenuated by which products/ materials.
Clear Glass.
There's a misconception that clear glass fixtures, such as windows, are the best place to gain access to a signal. While the clear area is ideal for letting in light, they can bounce a signal around or reflect the signal away from the house. This is especially true for windows which are double insulated. There're triple pane windows in newer homes with reflect signals even more. The most deflecting ones are the latest low emission (Low-E) windows that keep the elements out to keep you warm or cool inside depending upon the weather outside. But if you're looking to improve cellular reception by standing next to a window, open that window for most impact. Blockage on windows can reach -4db.
Sheetrock and insulation.
Sheetrock is one of the lower blocking agents for a cell phone signal. However, it can cause your signal to be blocked completely if it is already weak. Keep in mind that 3G, 4G, 5G signals are generally the same as a radio signal and so you can see fluctuations in your signal of -2db. Closed rooms, meaning those which are not a part of an open floor plan, are more susceptible to cell phone signal disruption than sheet rocked rooms which are part of an open layout.
Although porous, fiberglass insulation in walls and attic can disrupt cell phone signals slightly, if it is thick enough. Foil-faced design of some insulation products helps keep out unwanted elements. However, foil facing used on insulation products like foam board or fiberglass batts can block radio frequency signals. Additionally, the interior walls made with denser materials can cut the reception down another -2db. In this manner, sheetrock and insulation has the potential to cut your cell phone reception before it even enters your home.
Plywood, Solid wood, Trees around the house.
Plywood which makes the majority of the structure and framework for many residential homes, reduces 3 and 4G networks up to -6db. Reduction is even higher at -9dB on 5G network. This number fluctuates a bit as there're different thicknesses of plywood, and different ways in which the plywood is compressed. Additionally, the cell phone reception loss can be increased should the plywood get damp/wet with numbers as low as -20db. But if the plywood on your house is wet, you have bigger issues to worry about(!)
Solid wood, such as that used in the flooring of the house builds upon the blocked signal of the plywood. While the finishing on the doors, floors, decking, etc. may be nice for that natural look, they are cell phone signal blockers. All wood slows down a signal. The thicker the wood, the more it will disrupt cell phone signal strength. Softer woods, such as pine, may not decrease the strength much, but you could still see a loss of -5 to -12db. Aside from indoor plants, trees outside including Pine trees that have branches with dense growth of leaves block signal to this or greater extent. The degree of blockage depends on the age or how old the trees are, and the size, or how large the trees are. Older and larger a tree surrounding a house, the more dead zones you can expect in the house.
Brick.
Though incredibly sturdy against the elements, brick is one of the top materials for blocking a signal. First you have the thickness of the brick which slows the signal down. Secondly, you have mortar between the bricks which does not allow a signal. Additionally, brick generally has supplementary materials on the interior so that electronics, sheetrock, shelves, etc. can be added. The mere thickness of the wall combined with the density of this building material can block up to a whopping -28db scale.
Metal.
When it comes to building materials, Metal is the top cell phone signal disrupter. Metal roofs as well as metal studs and interior metal will slow down the signal. While metal looks nice on a building, is durable against the elements, and can help with routing electricity and such away from the walls underneath, it can also route the signal away from the house. Most houses which have metal roofs will find that even if they live in an area where exterior signals are strong, interior signal strength will be weak if not non-existent. Ratings can drop as low as -32 to -50db, essentially making your home a dead zone. Along with 3G and 4G LTE, metal roofs deflect 5G signals the most because 5G uses higher frequencies that can penetrate metal the least.
Faraday Products.
If you're in a situation where you need to purposely block signals to prevent oscillation because your cell phone signal booster exterior and interior antennas are too close, then we carry high tech Faraday series maximum signal blocking materials to get the job done.
List of Materials and How Much They Block Cellular Signal:
| Building Material | 800 MHz Cellular Band | 1900 MHz PCS Band |
| --- | --- | --- |
| 1/2" Drywall | 2.03 dB | 2.43 dB |
| Venetian Plaster | 7.91 dB | 16.22 dB |
| 6" Concrete Wall | 10.11 dB | 19.41 dB |
| Glass Window | 4.35 dB | 4.38 dB |
| 1/4" Fiberglass | 1.62 dB | 1.90 dB |
| Low Emission Glass Window | 33.8 dB | 33.8 dB |
| Brick | 7.57 dB | 14.66 dB |
| Solid Wooden Door | 6.11 dB | 12.33 dB |
| Hollow Wood Door | 5.39 dB | 10.11 dB |
| 1/2" OSB Plywood | 3.27 dB | 4.91 dB |
| 1/2" Solid Pine | 2.01 dB | 5.05 dB |
| 1/2" Solid Oak | 4.68 dB | 6.11 dB |
Why should I care about the db and how can I increase my signal strength?
The decibels (dB) detected by your phone is how the signal strength is measured most accurately. This is true whether your phone is using 2G, 3G, 4G LTE, or 5G. A good signal strength metric is RSSI - Received Signal Strength Indicator. RSSI is a negative value, and the closer to 0, the stronger the signal. In other words, the closer to -50db you are, the better the signal because it typically ranges from -50 (strongest) to -120 (weakest). Keep in mind that a -120db is a deadzone while -50 is full bars. This is not to say that metal will put your phone at -120db though (dead zone). It may put it at -100db or more. The closer to -50 dB, the better the cell reception. Find out how to check signal strength in decibels on your phone or see the full scale chart showing the correlation of Received Signal Strength Indication (RSSI) in dBm or Decibel-Milliwatts versus corresponding Signal Strength in laymans terms below:
To increase your signal in your home, use a residential cell phone signal booster. Follow the steps in other articles on finding the best spot for your cell phone booster. Should you have questions about which booster is best for your home, business, or commercial space, try our phone booster selection tool or please call us - we would be happy to help you find the right phone booster.
---
Share this post
---
---