Car, Truck, RV, Boat Cell Phone Signal Boosters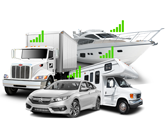 We carry a wide selection of vehicle signal boosters that can be installed on cars, trucks, RVs, and boats. They amplify the best available signal, so that you maintain a strong wireless connection while parked or traveling. They support all major cell carriers in USA. Often, a vehicle's construction can block wireless signals from filling the space, so a vehicle cell phone signal booster is necessary. For example, the Fusion2Go 3.0 includes an amplifier with up to 50 dB Gain, a roof-mount antenna, internal patch antenna, and a power adapter. Carrier- Grade solutions like GO-M exist for rural and remote areas, with up to 65 dB gain. Theses devices keep users connected in rural areas with low signal strength, which is why police officers trust it for their patrol cars and SUVs.
By doubling your uplink power, you can send data faster and keep more calls connected with over the road (OTR) truck cell boosters. Meanwhile, water resistant cellular amplifiers like the Super Halo or Go-Marine're built for active marine vessels, including yachts and ships. You can venture up to 50 miles away from the nearest cell tower and still have consistent coverage. A powerful panel antenna provides ample signal boosted coverage space within the vessel. Choose from top 7 car cell phone boosters or top 7 RV cell phone boosters or top 6 truck cell phone boosters. If needed, get a quote for in-vehicle signal booster installation service.
---