Antennas Expansion Kit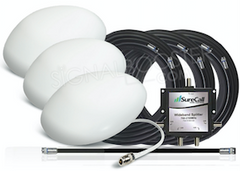 What are Signal Booster Antenna Add-On Kits? Extra add-on antenna expansion kits are excellent for expanding indoor coverage for your existing cell phone signal booster system made by SureCall, Wilson Pro, weBoost or any other manufacturer. Our kits with additional interior antenna(s) / aerial(s) and cable(s) with splitter offer more spaces where you can install indoor antennae. Some of our signal booster kits have 2 to 4 or more antennas in them but these extra antenna kits are great for powerful boosters such as SureCall Force 5, Fusion 5, Wilson Pro 70, 1000, 4000 series and even weBoost Connect 4G-X.
Ceilings are great for installing dome shaped omni-directional antennas / aerials. Walls are great for installing square panel uni-directional antennas. However, the panel antennas or aerials may also be suitable for ceiling installations in instances when coverage boost is required downwards - below the floor, to cover multiple floors. If you have a 50 Ohms cell booster kit, you can directly choose from our 50 Ohms antenna expansion kits section. If you have a 75 Ohms cellular amplifier kit, simply check and choose from our 75 Ohms antenna expansion kits section.
Adding a second, third, or fourth indoor antenna / aerial to cell phone repeater that offers enough downlink output to support daisy chained multiple interior antennas is easy with our expansion kits because they include parts such as splitter and cable that is needed to connect to any existing signal amplifier system.
---