5G Ready: 5G vs 4G / LTE - For Cell Phone Signal Booster End Users
Nov 01, 2019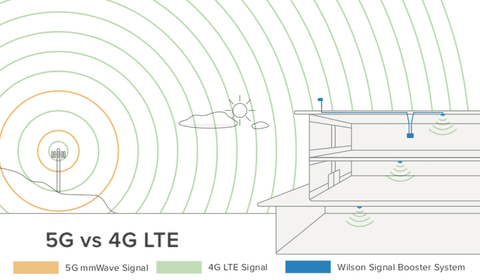 News For Signal Booster End Users: Wilson Electronics Is Ready For 5G.
5G technology is upon us, but SignalBooster.com and Wilson Electronics has been eagerly anticipating this new technology and has all the equipment and infrastructure ready to handle all your cell phone signal boosting needs on the 5G network. No matter which carrier you're on in United States, we're ready to help you embrace 5G technology.
5G Versus 4G LTE.
4G LTE can transmit a low-frequency signal over a vast area. In comparison, 5G transmits using the mmWave signal frequency at a much faster rate, but over a significantly smaller area. Any gaps in coverage on the 5G network will be seamlessly filled by 4G LTE signals using the existing network of signal towers. As such, signal boosters will still be used to enhance the signals within buildings.
Frequently Asked Questions about 5G:
What is the 5G network?
The 5G network is the newest generation of cell phone networks. This new technology has been eagerly anticipated due to its much faster speeds than the existing 4G LTE network. However, with every advantage there comes a disadvantage, and it is important to understand that while 4G LTE coverage is measured in miles, 5G coverage is measured in feet. Due to its significantly limited scope, 5G will not, nor was it intended to completely replace the existing 4G LTE network. Instead, it will greatly enhance data transfer speeds in cities and major metro areas where coverage and demand are highly concentrated.
I thought I was already using 5G on my cell phone. Isn't it true that my carrier is already offering the 5G network?
There certainly has been a lot of talk about 5G lately, and it may sound like you're already connected to the 5G network. However, a lot of what is called 5G today is more accurately a type of bundling of existing 4G LTE signals to deliver greater data transfer speeds. Plenty of improvements have been made to existing signals in recent years, and this has been a vital part of the transition from 4G LTE to a mix of 4G LTE and 5G. In particular, mmWave - the new technology which provides incredibly fast speeds and improved bandwidth synonymous with the 5G network - is just one part of the new 5G spectrum. mmWave won't be complete or available widely for several years, and even then it will only become available in areas of dense population like metro areas and city centers.
How will the 5G network benefit me?
Existing 4G LTE networks can transmit cell phone signals over great distances using cell phone signal towers. In comparison, 5G will only become fully effective in much smaller areas. While 4G LTE signals can benefit from a signal booster and penetrate concrete walls and windows, 5G signals simply won't be able to. As a result, the best coverage you will have on the 5G network will be outdoors and within a small metropolitan area or city center. Even then, you will still need to be within eyesight of a cell tower to enjoy all of the benefits of 5G. As such, the 4G LTE network will still provide the majority of coverage for most people, even after the 5G network has been fully rolled out.
Is there any point buying one of your boosters now? Will it still work on the 5G network?
Absolutely. Remember that United States carriers will still be using the current 4G LTE signal network in addition to the new 5G network until at least 2030. For this reason, all boosters currently sold by SignalBooster.com and Wilson Electronics will continue to be relevant well into the future. The 5G network was not intended to replace the 4G LTE network but has been built to work alongside and in conjunction with the existing network and infrastructure. Therefore, 5G will not phase out 4G. Read more about cell boosters and 5G.
5G Event Timetime for End Users:
---
Share this post
---
---