CEDIA 2016 News: All-In-One Signal Booster SureCall Fusion 7 Revealed.
Sep 19, 2016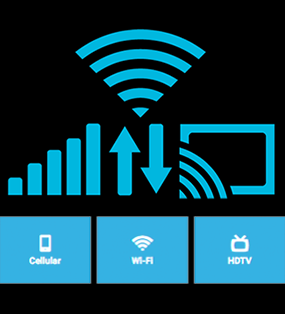 CEDIA 2016 news included introduction and launch of All-In-One Signal Booster SureCall Fusion 7. It is the latest multi-functional signal boosting technology for stronger wireless connections. Whether you want to enjoy clearer cellular voice in your building, surf the web faster using mobile Internet (Mi-Fi) or cable broadband (Wi-Fi), or clearer HDTV viewing, this one does it all. SureCall Fusion-7 is the Consumer grade kit version of the Industrial grade kit, SureCall Force-7 launched just a few months ago. With such incredibly powerful signal boosting equipment available for both consumer and industrial use, why buy only a cellular booster when you can buy a cellular, Wi-Fi, and HDTV signal booster, all in one?
The new Consumer SureCall Signal booster for Cellular, HDTV, WiFi booster boosting up to 20,000 sq. ft. of indoor spaces features following highlights:
7-band signal booster simultaneously enhances Cellular, Wi-Fi and HDTV signals.
SureCall's patented cellular signal booster increases voice, text and 4G LTE signals for all USA carriers including Verizon, AT&T, Sprint, T-Mobile, and Bell, Rogers, Telus in Canada.
Virtually eliminates dropped and missed calls for areas up to 20,000 sq. ft., increasing signal strength for up to 20 simultaneous users.
Built-in Wi-Fi signal booster and router extends network coverage for areas up to 20,000 sq. ft. for fast and reliable data.
Built-in HDTV signal booster brings locally aired HDTV television stations into the building for up to 25 TV's.
Fairly easy to install with installation instructions included. However, installation service is also available for an add'l cost after purchase of equipment.
Why a Multi-Channel, Multi-Technology Signal Booster?

This new amplifier is a first in the consumer signal booster category, enhancing cellular and Wi-Fi reception up to 20,000 square feet and providing over-the-air (OTA) HDTV connectivity. It has been designed so that people don't have to worry about managing multiple devices for reliable cellular, Wi-Fi and HDTV signals throughout the house or building. Being the first of its kind in the consumer category, the SureCall Fusion7 is a leap towards the future of communicating virtually cord-free.

With a maximum cellular gain of 72 dB, SureCall Fusion 7 increases all USA and Canadian carrier's cell signal coverage inside areas up to 20,000 square feet. It can support 20+ simultaneous users, boasts the fastest LTE data rates in the industry and features adjustable cellular uplink and downlink gain controls for each frequency, which leads to virtually eliminating dropped calls and in-building dead zones. View more details.
---
Share this post
---
---