Cable Splitters vs. Taps
Sep 02, 2019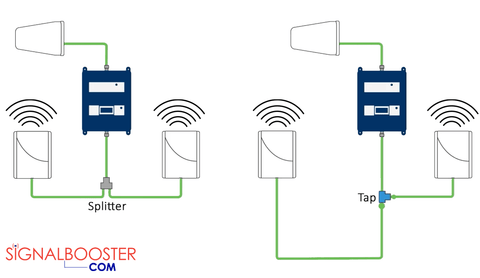 Splitters: Signal is splitted evenly - Good for equal length cable runs. Usually ideal for areas where cellular amplifier is installed in a central location with interior antennas installed roughly equal distances from the main cell phone booster unit. See the first sample left side scenario photo above, showing an instance where signal splitter can be used.
Taps: Signal is splitted unevenly (attentuated based on attenuation capacity of the Tap). Taps are good for unequal length cable runs to interior antennas so all internal antennas can provide roughly the same signal broadcast. See the second sampleset-up on image's right side showing where signal tap canapply. A tap would attenuate or reduce signal going through a shorter cable run and send more signal to the longer cable run to overcome cable loss. A tap or directional coupler sends a fixed amount of signal such as 6dB, 10db, 15dB or 20dB to the direction of the shorter cable run(s) and channels the rest of available signal in the direction of the longer cable run(s). In this manner, it provides equal broadcasting capability for all interior antennas.
The video below talks about the difference between coax cable splitters and taps, and when to use them.
Coax cable signal splitters versus taps.
Above video clarifies the differences between coaxial cable splitters vs. taps as well as and when to use which one. Here's what was talked about on this topic:
What are splitters and taps?
Splitters and taps come in many variations, and they even look the same. But what is the difference? The main difference is that a splitter distributes the incoming signal out to each output port and it does so evenly, while a tap will apply different amount of loss to each output port individually, so that when one cable is shorter than another, the output will still be the same.
Splitters:
Let us look at Splitters first. Splitters are designed to be used in Signal Distribution Systems to split the amplified signal with minimum signal loss. Equal amounts of signal are sent to multiple antennas for areas of similar size. When using a splitter, you want the various cable lengths coming out of the splitter to be more or less the same. You don't want one run to be much shorter than the others or one to be extremely long.
How does signal work traveling through a cable?
Let us quickly illustrate how signal works when traveling through a cable. As signal passes through the cable, it loses strength the longer it travels. When it comes to a splitter or tap, it will split off and travel out to each new run of cable. Splitters and taps inevitably introduce loss, which slightly weakens the signal. If all the cable runs are the same length, an even amount of signal will be sent to all of the antennas, and they will all cover the same amount of area. If one length is shorter, however, it will still get the same amount of signal as the others but has less cable loss. That means it will send out a stronger signal and cover more area, but it robs power from other antennas, weakening their output or coverage area.
Taps:
This is where a tap comes into play. A tap will apply a designated amount of signal loss to the shorter, stronger output port and let the signal pass through the other port with very little loss. So you can run a short leg off of one port and still have plenty of signal to send on to the other ports for longer runs.
Best place to use them.
Splitters are best used in large, centralized areas, where they evenly distribute the signal to numerous other antennas for consistent coverage areas. Taps are best used in situations like long hallways. You can run the signal into a tap that splits into a nearby office, and the rest of the signal continues down the hallway. You can daisy chain taps to repeat this process down the hall as long as you have adequate signal.
---
Share this post
---
---