Guide to Public Safety Distributed Antenna System (Passive)
Oct 25, 2017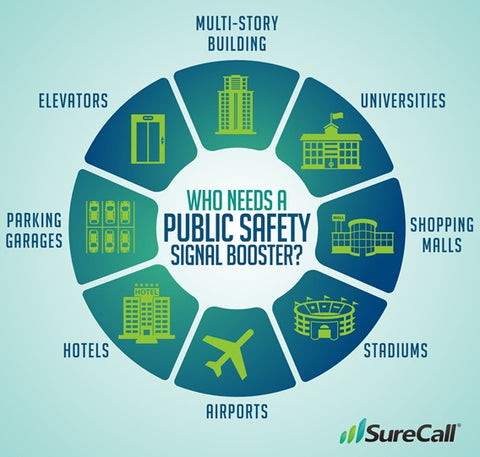 This brief overview of Public Safety Distributed Antenna System (Passive) clarifies where it is required, its capabilities, and its benefits to building owners and residents. The National Fire Protection Association (NFPA) and International Fire Code (IFC) have made it mandatory for all venues, large and small, to ensure maximum safety and security. Public safety distributed antenna systems  or signal boosters help accomplish this mandate.
This means ensuring that first responders such as ambulance services, fire department and the police, as well as disaster response units can communicate clearly over their radios with those that require their help within the building.
One way to do that is to deploy Public Safety Distribution Antenna System (Passive DAS) within the building to ensure that there's enough mobile coverage within the building for Public Safety Bands. Experts suggest having a separate overlay for the public safety network.
This is made possible by a Public Safety BDA. Installing this cell phone signal amplifier or repeater along with all its peripherals such as exterior and interior antennas ensures that all public safety band radio frequencies (RFs), including those that fall in the new FirstNet Public Safety Band can penetrate through to all nooks and corners of the building, including areas that are very difficult to reach.
A top rated passive safety signal booster such as SureCall Guardian 3 ensures that you are never out of the reach of first responders, even when you're in a basement apartment, riding through an elevator, or are passing through thick walls enclosures and other hard to reach areas within the building.
This public safety amplifier can enhance coverage for an area of up to 80,000 sq. feet and is compatible with all Public Safety Bands. It boosts signals of uplink frequencies 788 to 805 MHz, 806 to 824 MHz, 896 to 901 MHz (including D block) and downlink frequencies from 758 to 775 MHz, 851 to 869 MHz, and 935 to 940 MHz (including D block). Supported standards by this particular BDA are Public Safety 700, 800 and SMR 900. It provides a maximum 80 dB Gain which would be more than enough with only a reasonable amount of signal required outside the building.
When it comes to Public Safety DAS, the regulatory aspect of the system is just as important as the technical and economic. There's a regulatory framework designed for public safety communication systems by the National Fire Protection Association (NFPA) and International Fire Code (IFC), which has to be strictly adhered to.
The DAS regulations are also based on the municipality under whose jurisdiction the building falls under. For example, in some cities in the United States, it has been made compulsory for new buildings to pass a public safety communications test. The occupancy permit is granted only after the building owners show that the place has clear radio communication and all the public safety protocols are adhered to.
The building should follow all the requirements as mandated by the National Fire Protection Association (NFPA) and International Fire Code (IFC). NFPA and IFC standards require buildings to have a high level of reliability for mission critical systems, especially when it is a matter of the safety of the people living in or passing through the building.
 Some of the requirements include…
A waterproof installation with NEMA 4X enclosures.
Battery backup or generator backup.
Alarm notifications and monitoring points to ensure availability of the system.
Extension of mobile coverage to areas that are often ignored, such as elevator shafts, staircases and basements. 
Find out more about the National Fire Protection Association (NFPA) and International Fire Code (IFC) requirements for Public Safety DAS.
We sell, market and install cell signal repeaters or amplifiers from Surecall that extend the capacity of the public safety DAS of a building. Contact us to arrange a consultation and make us your public safety DAS partner!
---
Share this post
---
---