How to Turn on Wi-Fi Calling in iPhone & Android Phones
Oct 17, 2019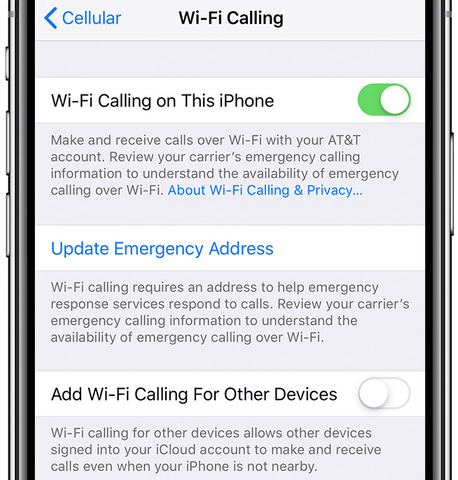 With improvement in technology, you no longer have to limit yourself to apps such as Skype, Messenger or WhatsApp to make calls and videos over WiFi. You can actually activate what is called WiFi Calling on your Smartphone and make calls over a working WiFi network.
WiFi calling makes it possible for Smartphone users to call and text within their geographical location and even while out there traveling the world as far as there's a working WiFi connection.
Why should you make the most of WiFi Calling? Is it worth it?
Firstly, WiFi Calling is provided at no extra cost with the existing call plan you have with your carrier as far as your device is voice compatible.
You don't need an app to call or receive calls via WiFi, just a phone number.
When there's no cell phone service in your building or location or you're facing some of the worst poor cellular signal problems such as dropped calls WiFi Calling can come in handy.
In most cases, even when traveling around the world calling back home to family and friends with US phone numbers will remain free or really cheap.
To make video calls with WiFi Calling service you no longer require LTE network to pull it through.
Why WiFi Calling makes sense.
What WiFi Calling does is give you another way of calling and texting, this time through an active WiFi connection. For instance, most WiFi Calling enabled devices are able to alternate between a weak cell phone signal and a quality, reliable and available WiFi Calling. This allows you to use the service saving you a lot of money.
The service is so robust that you can use it in those indoor areas in your home or office where you're always dropping calls and receiving no text. Actually, one major advantage of WiFi Calling is circumventing the problem of spotty networks, poor signal strength and dropped calls. This is one reason why AT&T discontinued their AT&T Microcell which was a cellular network extender device for indoor use.
Once you turn on Wi-Fi Calling, your Smartphone will be using the closest WiFi hotspot or home WiFi to receive and make calls normally. This can also be the WiFi hotspot you access in hotels, libraries and cafes. Calls within United States through virtually all the cell carriers are provided free.
Even better, WiFi Calling is basically the same as using your phone to call; you will still be using your usual phone numbers.
You could be traveling in the open terrain of North America where cellular coverage might be really bad or visiting buildings in locations where the reception is irregular and spotty. In fact, WiFi Calling follows the same concept many have been engaged in where messages are sent over WiFi wherever SMS services are unavailable.
Messenger and Kik app users understand this very well, including the blue-hued iMessage texts for iPhone users. It means that even if you're in basements without cell services you can still make calls to friends and family as long as there's a working WiFi connection.
Isn't it more like VoIP services?
In a way, WiFi Calling seems to have developed rapidly due to the efficiency and growth of voice over Internet Protocol (VoIP) services such as Skype, Viber, Messenger and WhatsApp where calls can be made using phone data or WiFi.
Even so, WiFi Calling by cellular service providers isn't completely the same as VoIP. It isn't an app in your Smartphone but inbuilt in most modern Android and iOS Smartphones where it works with the phone's dialer. To access the service you don't need to connect with any app. WiFi Calling can actually be set up as the phone's default calling option or set up to allow the service automatically when a cell tower signal is lost.
WiFi Calling is inbuilt in devices that have the service, meaning that you don't really need to add any contact number into the service as you would do with VoIP apps. You will simply use what you have on your phone book. Even better, those you call won't have to download apps to receive your calls. Setting it up is thus so simple; all you need is to enable it on your Android or iOS device.
How do you activate WiFi Calling in Android devices?
On your Android Smartphone:
Go to "Settings", click "More" (Settings) and select "Wi-Fi Calling".
The process activates WiFi Calling feature and actually allows you to know if your device supports the service. If the feature seems unavailable in "More Setting" do look for it on your device; it might be located in another section.
How do you enable WiFi Calling in iOS devices?
For Apple iOS device users, the process of activating WiFi Calling is also really simple and quick. Firstly, note that it is only available in iPhone 5C and newer iOS gadgets on supported carrier networks.
To activate WiFi Calling on your iPhone:
Go to "Settings" and select "Phone" and choose "Wi-Fi Calling" and then slide or tap "Wi-Fi Calling on This iPhone" where the slider will turn green. Do click "Enable" to complete the process.
Onscreen guidelines that follow should help you enter an address in USA which you can use as call originating address in case you need to call 911 or any other emergency service. WiFi Calling service will be activated right away once the emergency service number has been saved and you can now use your iPhone to make calls via Wi-Fi.
Once WiFi Calling has been activated on your phone, a WiFi icon will appear after the name of your cell service provider right on the status bar.
Does WiFi Calling ever cost you more?
Essentially, most US carriers offer WiFi Calling free of charge and come included in typical monthly call plans. The calls are free wherever you might be calling from within U.S.A. except for premium calls such as 411.
WiFi Calling to international phone numbers will be considered as International Long Distance calls and charged as calling internationally while still within United States of America. Whenever WiFi Calling is activated, you will always see its icon on the screen to let you know when you're using the service.
WiFi Calling consumes data (around 1 Megabyte per call minute) and 6-8 Megabytes for one minute of video. Note that this varies from one carrier to another.
WiFi Calling from overseas.
Most carriers allow you to use WiFi Calling to call U.S. numbers for free, but that is not the whole story. Some only offer free calls via Wi-Fi to Canada only and charge you a specific amount per minute to other areas. To be on the safe side, it is better to use other ways of getting in touch with your family and friends rather than WiFi Calling.
For instance, where WiFi Calling is unavailable or costly to make from overseas to friends and family back home, third party VoIP and call apps such as WhatsApp, Messenger and Skype are much better. You can actually use the apps immensely easy when connected to WiFi in hotels, restaurants and parks in foreign lands.
You can also use a dedicated Wi-Fi Calling app such as Wifi Calling to access the service from an app wherever you are.
---
Share this post
---
---