Microduct Solution Benefits for Broadband & Cable Operators
May 20, 2016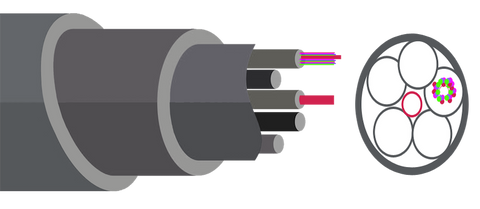 Cable and broadband operators must improve their network architectures to keep up with the data demands of subscribers. One way to achieve this is to push fiber deeper into networks. The cost of reconstructing and/or building networks is however very challenging.
Operators can however meet their infrastructure needs, create new growth, and reduce future construction costs by deploying microducts.
Microducts are tiny conduits that house microcables. Typical microduct sizes included 10 mm, 12.7 mm and 16 mm in which up to 144 fibers can be housed. Microducts can be used in fiber-to-the-business (FTTB), fiber-to-the-home (FTTH), backhaul, long-haul and premise fiber deployment. They are in fact suitable for virtually any location where traditional conduit is used.
Microducts can be pushed into existing conduits already installed, or pre-installed within a bigger conduit. They can also be configured in multiple units or arrays, and as single ducts. Although operators could solve their needs without using microducts by using existing conduit to pull standard cables into, this may be difficult or even impossible.
Up to 144 fibers can presently be deployed in one microduct, while installing more microducts will offer paths for expansion in the future. Microducts can be coupled, allowing operators to jet cables at thousands of feet in one operation, while splice points are minimized.
Microducts not only provide expansion and space saving advantages, but using microcables also provides other benefits. Microcables are installed differently than other cables and can be jetted at speeds exceeding 200 feet per minute. This method saves money and time. The size of the cables also allows for smaller enclosures, allowing them to be placed in most existing locations. This once again generates savings. Microducts and microfibers strike a handy balance between cost today and future needs.
Any comments? Please be sure to post them below. Thank you.
---
Share this post
---
---