Public Safety FirstNet Mobile Network Radio Boosters & Installations
Apr 23, 2018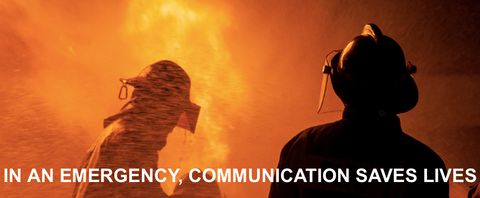 This one thing could have saved hundreds of lives in the 9/11 attacks. 
"In a time of external crisis, internal communications take precedence... before any constructive actions take place...", reports an article titled, "Crisis Communication: Lessons from 9/11" on Harvard Business Review's official website. In aftermath of the horrendous disaster that shook the world, tabloids carried official reports that mirrored these thoughts. All of them pointed towards the same collective conclusion: Communication crisis played a major role in disaster management.
Clearly, radio signal accessibility, even in the remotest locations, is the need of the hour.
Building materials are the number one cause of interference inside buildings.
Modern-day buildings are built to fulfill a host of requirements. Depending on the type of materials used, specific areas in the building can either diminish the signal or completely destroy it, leading to dead zones.
Brick, the most common material used in building construction, is also its worst enemy, reducing signals up to -8 dB.
Most modern-day buildings rely on cement and concrete for their robustness, another silent killer for cellular signals inside buildings, reducing them up to -10 db.
Metals such as aluminum, brass, copper and steel take the cake for being the number one cause of cellular blockage in America, reducing signal reach up to -50 dB.
Latest standards require buildings to be eco-friendly and sustainable. Energy efficient materials such as low-e glass not only reflect the heat waves, but even cellular signals bounce off their surface quite smoothly.
The wood used in the construction of doors, windows, and other furniture absorbs signals like a sponge. In fact, wet wood does this job even better.
Storage units are mostly made up of sheetrocks and drywall. Although sheetrock itself is not potent enough to block the signals completely, but coupled with other materials - they supplement the cellular signal weakening process.
Can you, now, imagine yourself surrounded by so many deadly objects that are fully capable of cutting off all your communication from the outside world whilst you're battling a life and death situation?
The 9/11 attacks were one such incident. It acted as a mass-scale eye-opener, awakening the need for better emergency communications with first responders such as firefighters, emergency medical services (EMS), and other rescue operators.
Towards Public Safety Solutions: Standards and Codes.
Different standards that worked to eliminate cellular dead zones inside buildings were devised. Even today, there's no global or one-size-fits-all approach that eliminates all emergency communication problems within buildings. However, it is safe to assume that below listed three organizations and their enlisted codes act as the benchmark for emergency response and communication.
National Fire Protection Agency (NFPA).

The NFPA is the leading governing body for safety hazards pertaining to fire and electrical safety. More than 200 of its 300 safety standards are backed by the ANSI (American National Standards Institute). With regards building safety, the following are its top five codes.

● NFPA 72: National Fire Alarm & Signaling Code:
Regulates the standards required to install, assess the working of, and maintain fire detection systems and emergency communication systems. It requires 99% cellular coverage in critical areas of the building with the minimum signal strength of -95 dB and up to 24 hours of battery power back-up.

● NFPA 13: Standard for the Installation of Sprinkler Systems:
Determines the design, safety, installation, and maintenance of automatic fire sprinklers.

● NFPA 70: National Electric Code (NEC):
Governs the standards of electrical wiring, its design, and installations across the United States.

● NFPA 70e: Standard for Electrical Safety in the Workplace:
Standards to establish safety requirements, installation, and maintenance of electrical components within a public building.

● NFPA 701: Standard System for the Identification of the Hazards of Materials for Emergency Response:

Standards to assess flammability of textile materials used within buildings.

International Code Council (ICC).

The ICC formulates and regulates a set of global safety standards pertaining to building safety among other safety parameters. In order to meet the progressive safety standards set keeping in mind future safety requirements, the ICC reforms its safety codes once in every three years. Hence, ICC's standards are considered to be one of the most reliable safety standards today. Two of the most relevant ICC codes pertaining to public safety and communication are as below.

● International Fire Code (IFC):
Governs and regulates the fire safety standards in buildings. About 42 states in the USA follow the IFC diligently.

● International Building Code (IBC):
Determines standards for safe, hazard-free, and evolving building designs and installations. All 50 states follow the IBC code.

First Responder Network Authority (FirstNet).

First Net is the country's first high-speed country-wide network dedicated to public safety communication on the 700 MHz radio frequency spectrum. With Nationwide Public Safety Broadband Network (NPSBN), First-Net has set a benchmark for public safety communication in United States for first responders. Needless to say, First Net is the nation's most widely accepted regulatory body for public safety communication.
Building Communication Standards in a Nutshell.
Each state and city has adapted their own versions and amalgamations of these codes to provide safety solutions to people within buildings at the time of disaster. The most basic set of these validations are as listed below.
At least 90% coverage for all areas within the building and at least 95% coverage for critical areas. -95 dB signal strength is an acceptable signal strength for inbound and outbound emergency communications during times of emergencies.
All equipment aimed at enhancing public signals should be enclosed within a NEMA 3R or a NEMA 4 protective enclosure for a complete shield against the most common elements of a natural hazard: fire and water.
A failure alarm system to monitor device failures.
Battery backup lasting for minimum 12 hours.
What do Public Safety Firstnet Mobile Network Radio Booster Installations do?
A public safety radio booster for FirstNet mobile network is a signal boosting device aimed specifically at enhancing the quality of all public safety frequencies - 700 Mhz, 800 Mhz, 900 MHz, Specialized Mobile Radio (SMR) including the new Public Safety Firstnet Wireless Network. Precisely, the 758-769 MHz / 788-799 MHz broadband allotment is licensed to the First Responder Network Authority (FirstNet), which is responsible for building and operating the nationwide broadband public safety network. Such public safety frequencies are used for first responder communications in buildings to communicate with emergency services at the time of crisis. Public safety signal boosters enhance the public safety radio signals. Needless to say, a public safety signal booster can be the deciding factor in a life-and-death situation.
Should I get a Public Safety Signal Booster installed on my premises?
Yes, if you happen to own, or are in charge of one or more of the following types of establishments, then a public safety signal booster is for you:
Multi-story building.
A Shopping Mall.
A Public Building.
A Common Residential Unit.
Stadium.
Airport.
Hotel.
Storage Units.
Restaurant.
Any place flanked with building materials where people gather in large numbers.
Gone are the days when mobile phones were a choice. These pocket-sized devices are a necessity nowadays and equally important is the number of bars or the cellular signal strength inside these embankments.
Public Safety Signal Booster Solutions.
Today, a Distributed Antenna System (DAS) is the fastest growing public safety signal boosting solution for large enterprises. These systems harness the power of a potent signal source and a group of smaller antennas that evenly scatter the public safety signals even in the smaller nooks and corners of public buildings. Active and Passive DAS are two popular and powerful DAS solutions.
Active vs. Passive DAS: Which one should I choose?
An active DAS system is connected directly to public safety core networks. Such signal, after conversion from analog to digital, travels through the length of public premises in fiber optic cables. An Active DAS solution is for you if your building/ premise spans over 500k sq. ft. in a floor area that expects a high volume of public gathering (think stadiums, airports, large schools and universities, tall buildings). It is ideal if outside signal strength is too weak to amplify indoors.
A Passive DAS solution (Bi-directional Amplifiers) is your choice if outside signal strength is strong enough to amplify indoors using signal amplifiers. It is usually most suitable for buildings under 100,000 sq. ft. Small education buildings, small offices, warehouses, retail storages, restaurants fall into this category. You can further choose between a Class A or a Class B BDA if your BDA comes with a digitally programmable bandwidth.
If there're a limited number of RF channels in your premise, then a Class A BDA will channelize individual channels for better filtering. If your premise expects the reception of a large number of different RF signals, then you need a class B signal booster to amplify all channels within a specific group.
Now you see why you need a robust public safety signal booster system that not only meets existing safety requirements but also encompasses the needs of the future.
SureCall Guardian3 QR (Quick Response) Public Safety Radio Booster.
The SureCall Guardian3 QR is a one-of-its-kind revolutionary public safety radio signal booster. Designed specifically to meet indoor public safety communication requirements, the Guardian3 QR meets even the most stringent of these standards, including those set forth by the (National Fire Protection Association) NFPA and National First Responder Network Authority (FirstNet). This device is capable of amplifying public safety signals over thousands of sq. ft. of indoor space and supports two-way first responder communication users.
Packed within a NEMA enclosure, it meets the NEMA4 requirements set forth by both the NFPA and the ICC for public safety devices. It supports all essential public safety bands including the 700 MHz, the 800 MHz, and the 900 MHz bands. Diving more into the technical side of things, the Guardian 3QR allows for a maximum gain of 80 db, meaning that it can amplify the existing signal input to it up to 80 dbs. It also supports a maximum power output of 26 dBm (decibel milliwatts).
It supports uplink frequencies within the range of 788-805, 806-824, and 896-901 and downlink frequencies within 758-775, 851-869, and 935-94. Both uplink and the downlink frequency ranges (in MHz) include the D block. Essentially, all these technical specifications make the Guardian3 QR one of the most powerful public safety devices in operation, with the ability to enhance signal quality even in dead zones with less than -100 db of available signal to convert it into a significant output signals that meets the [public safety requirements at -60 dbs.
The SureCall Guardian3 QR also boasts of the lowest out of band emissions in the industry standards, It is equipped with auto-gain control (AGC) feature and the ability to independently adjust uplink and downlink controls. Apart from all these top-notch specifications, one feature that bumps the SureCall Guardian3 QR in the higher league is its Sentry remote monitoring systems. This built-in remote monitoring feature allows the booster installers to monitor the device and its operations remotely. Any minor tweaks can be made without visiting the installation site itself. In case something major goes wrong, immediate help and assistance can be dispatched from the monitoring center.
The SureCall Guardian3 QR is already setting industry standards as hundreds of public and commercial spaces, including storage units, schools, and restaurants have been fitted with this life-saving device. Clearly, the professionals that install, maintain, and monitor these device are doing their best to help our first responder life-saving heroes.
Public Safety Radio Signal Booster Installation.
Needless to say, public safety radio reception boosters are life-saving devices. Their installation is a highly controlled and monitored process. We, at SignalBooster.com take the matter in our hands to provide you with a fully operational public safety signal booster equipped environment. From performing a site survey to assessing the existing RF reception condition in your premises, we suggest the most appropriate solutions to you. Moreover, our installation team takes care of all the local and the federal requirements, including those set by the local fire authorities. We also ensure that your booster is registered with FCC before it goes into operation. Our team of trained technicians and industry experts guarantees that when it comes to public safety and when your life is at stake, you're in the right hands.
---
Share this post
---
---