Self-Driving Cars To Increase Need for Cell Phone Signal Boosters
Jul 24, 2018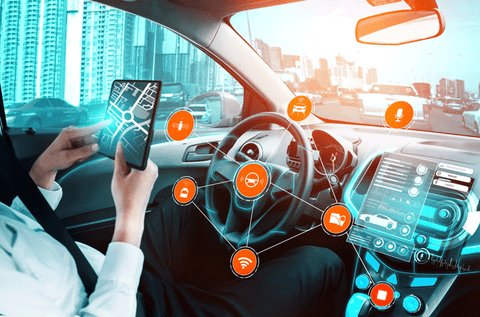 The future is coming and it is coming fast. We're seeing an increased level of artificial intelligence in almost everything we do, from Smart Home technology to our online shopping experiences. and it seems as though we're just weeks away from the infamous Self-Driving Car becoming a reality.
Of course, the idea of self-driving cars gets a mixed reaction. There're a lot of questions that come up regarding autonomous vehicles: Will they be safe? Will we even need to learn how to drive one day? How will they be monitored? These are important questions for sure, but they are all virtually unanswerable right now.
Safety concern is the first that comes to mind when the topic veers to auto-driving vehicles. Conversely, autonomous vehicles are dubbed to be such precise machines that they will in fact one day banish dangerous driving caused by drivers that are distracted anyway or drowsy, drunk, talking on cell phones, etc.
Our biggest question, however, is one that we don't think enough people are talking about and it is one that we feel confident in knowing the answer:
What will we do in our car when we don't have to drive it?
For the most part, we will obviously be on our cell phones. This is an educated guess based on the fact that most of us are on our phones whenever we're not in the car anyway. A lot of us are on them even in our cars (hopefully while safely parked in a parking lot).
With the self-driving car, however, the legality and safety of talking on one's cell phone will likely no longer be a concern (yet to be determined under current laws). Amount of people using their phones while driving will definitely increase dramatically (as long it becomes legal again with self-driving cars). There's just one small problem: Doing so, will lead to a higher level of frustration when we encounter areas with spotty reception.
Thankfully, this doesn't have to become a real concern because there is already a solution with car cell phone signal boosting technology. When we finally do have self-driving cars, it seems only natural that the need for a cell phone signal booster is going to increase. After all, the whole appeal of a self-driving car is that you will be able to be more productive by answering work emails, making calls, or more entertained by watching a movie. Missed the latest episode of that hit show everyone in the office is obsessed with? No longer a problem. That is what commutes will be for. Feels almost like being in a roller coaster on the way down with butterflies in the stomach? But if you can't access the apps you need, you might as well just be… driving, right?
Luckily, with our self driving car cell phone signal boosters, you won't have this issue. When you have an autonomous vehicle signal booster installed, you can relax knowing that you're not going to drop the call with your client, or miss an important email. You can stream shows with ease. You can post photos and share stories with all of your Instagram followers anytime, anywhere.
You can call your family to brag about your sweet new futuristic car that drives itself.
Like we said, the future is coming and it is coming fast, so make sure you can keep up.
---
Share this post
---
---