Southern Baptist of Texas Convention Signal Booster Install Case Study
Jul 31, 2020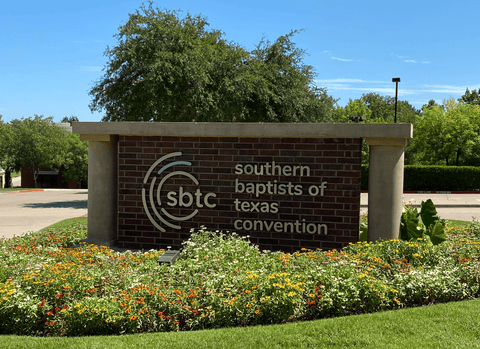 Southern Baptist of Texas Convention contacted the experts at SignalBooster.com to help provide signal to their first floor executive offices, which had little to no signal.
Customer Industry:
Church / Religious / Non-Profit.
Installation Type:
Signal boosters and appropriate antennas.
Product:
Cel-Fi Go X amplifiers with LPDA donor antennas.
Biggest Challenge: Insufficient Signal.
The 1st floor executive offices at Southern Baptist had little to no signal. Not only did this make it virtually impossible for staff and visitors to make and receive cellular phone calls, but a reliable cellular internet connection was also not available.
In addition to wanting reliable cellular signals in the executive offices, Southern Baptist also have a loading dock which has always been a specific problem due to no reliable cellular signal being available.
As staff mainly used two different cellular providers, AT&T and Verizon, it was a specific requirement that the signals of both these providers should be boosted.
How Did SignalBooster.com Resolve The Problem?
The SignalBooster.com technical team visited the site and determined that the cell towers for both providers were located to the south of the building and the building structure was blocking signal from reaching the offices, which are located on the north side.
Their proposed solution was to provide and install two Cel-Fi Go X amplifiers, each with its own LPDA donor antenna - one for ATT Wireless and one for Verizon Wireless. Antennas were to be installed on the roof of the building on extended masts to ensure that there was a clear line of sight to the cell towers.
About Cel-Fi GO-X amplifiers.
Cel-Fi GO-X signal boosters need a separate model for each carrier, rather than being a broadband (multi-carrier) device. This however means that the FCC does not restrict its gain to 70 dB, and it therefore has an industry-leading 100 dB gain. In a home or office setting, the carrier can be switched to any other easily using Cel-Fi Wave app., as needed.
In order to achieve additional gain needed at this large setting which is a convention center, it did however mean that two separate boosters had to be installed, one for AT&T and one for Verizon.
Cel-Fi GO-X is a signal booster system that uses Nextivity's Cel-Fi Smart Signal Booster technology to increase data and voice coverage significantly using already existing signals outside a building or house.
Cel-Fi GO-X boosters provide additional 30 dB gain compared to broadband models makes the Cel-Fi Go X ideal for buildings where outdoor coverage is weak (-80 dBm RSRP or less than 3 bars).
It is ideal for boosting 3G, 4G, LTE signals within urban residential and business structures like small buildings, apartment complexes, and skyscrapers with poor signals inside. It is also ideal for housings in rural and remote places such as cottages and cabins with weak signals inside.
About LPDA donor antennas.
2 Cel-Fi LPDA Antennas Installed Pointing Out From Roof.
This high gain exterior antenna can be used to improve existing 50 Ohm cellular amplifier's performance by catching maximum signal from outside when an antenna is pointed to the nearest cell tower.
Installed Two CelFi LPDA Antennae Pointing From Roof.
It has a rugged, all-weather construction and offers a tilt-swivel bracket. It is designed to fit 1.5 inch to 2 inches diameter pipe, or mast on exterior of any building. This High-Gain LPDA Antenna can be adjusted easily to point in the direction of nearby cell towers.
Outcome.
The 1st floor executive offices now has 4 to 5 bars of reliable signal, both for AT&T and Verizon, while the loading dock now has 4 bars of signal for both carriers.
---
Share this post
---
---