Why Poor Cell Coverage is Telecom's Biggest Challenge in 2021?
Oct 31, 2018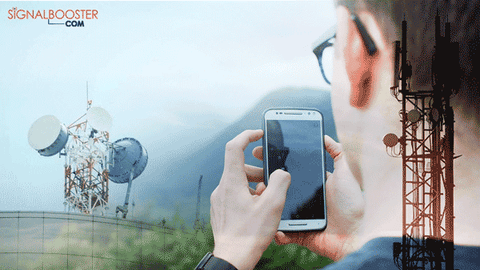 Higher frequency 5G signals do not penetrate building walls and other materials nor do they travel as farther away as do lower frequency signals. This will pose major problem and will require cell signal booster to cover spaces that need 5G coverage.
Cell phones first started emerging as a luxury in the early 90s when wireless communication called upon us a telecom revolution, something people still like to fondly address as "the dawn of the wireless era". Fast forward to 2021, when US is merely a year short of crossing the threshold to 5G. And yet, a recent report by OpenSignal sheds light on how one of the first countries to adopt 4G lags behind some developing countries when it comes to faster network speeds.
Yes. USA was one of the first countries to hop onto the LTE bandwagon. It still boasts of one of the highest 4G penetration rates in the world. However, United States ranks 35th in overall download speed list worldwide. It lies somewhere in the middle of the chart, only next to Germany and Portugal, but way below developing nations such as South Korea and Croatia.
"Everyday" Problems of Signal Consumers.
But we doubt you needed a statistic to make you realize that your cellular services are indeed "slow".
2021 is upon us. We have been using cell phones for a long time now. And yet, merely getting a connection and paying for it doesn't seem to guarantee us good cellular signals. Most people we meet aren't happy with their cellular services. We bet you're one of them.
Do you live in a rural, remote area where the nearest highway isn't for miles? And do you accept it as a reason sufficient for your provider to not provide you with satisfactory services?
Or are you a daily commuter to downtown Manhattan? Like millions of people, you get up and head to an unsatisfactory workplace, with the only respite being a few satisfactory videos, a handful of your favorite songs, or a call from a loved one. Imagine the sheer frustration of listening to music with static or trying to talk with noise disturbance in the phone connection.
Your plush multi-story office building might not be a hospitable environment for cellular signals either. Or if you live in a congested, cramped area, things will be the same even there. Even your eco-friendly bungalow might not be very welcoming for the 20 Mbps speed your carrier promised you.
It is not like you're paying less.
Challenges to the Telecom Industry.
If you reside in an urban zone, your home and office today are padded with obstructions that prevent radio waves carrying signal from reaching you. Modern-day offices are made up of several layers of concrete and metal that prevent mobile signals from passing through. Buildings flanked by thick, sun-reflecting glass are even worse. They reflect or deflect the radio waves from a cell tower, thereby resulting in poor cellular reception in your offices and homes.
If you happen to live in a remote, rural zone, you might not be plagued by such obstructing materials but the long distance from the nearest cellular tower is reason enough for receiving poor cellular signals.
Of course, to a mere onlooker, the solution here seems simple: add more cellular towers (at least in the areas where additional cellular towers can be of some respite). The dark side of the story is: many cellular companies might be a little reluctant to erect a cellular tower in such remote areas. Because doing this requires more money than they can actually make from the low number of subscribers in those areas.
But don't get us wrong, cellular service providers are striving hard to answer your complaints regarding dropped calls and poor signals. Even if they do decide to erect a tower in a certain area, it can take months for the proposal to undergo the tedious approval process from the local zoning authorities and the government. Steve Jobs had sarcastically pointed out at the irony of such a situation to the Wall Street Journal when probed about complaints regarding the iPhone 4's antenna issues, "When AT&T wants to build a tower in Texas, it takes about three weeks to get approval. When AT&T wants to add one in San Francisco it takes three years."
Opposition from local regulatory groups adds to the cellular companies' woes. Many such locals are worried about the harmful effects of radiation emanating from radio waves, and thus their opposition to erect cellular towers anywhere near or in residential areas. However, FCC has a few words to say.
According to a report on Cancer.org, the amount of RF energy at the ground level near a cellular base station is thousands of times less than the safety limit for exposure set by the US FCC and other regulatory authorities. Additionally, the radio frequency(RF) energy levels are relatively lower than other cancer-causing rays such as the X-rays. Moreover, RF waves have longer wavelengths and hence shorter concentration spans which makes it highly unlikely from them to affect the human cells in the ways other harmful rays do.
Following the approval process, the actual process of installation is also time-consuming. Cellular towers that otherwise appear wireless above the ground are actually connected by a sequence of necessary power-supply lines down-under. If your area doesn't already have a network of these underground wires available nearby, the actual installation can take a lot more time.
Even if your cellular provider does manage to install, in some urban areas, especially in the most crowded ones, it is not enough. Each cellular tower is built to handle a specific capacity of users. As the number of cell phone users and fancy cell phones with celestial capabilities increases day-by-day, the burden on the existing cellular tower only increases.
That ride down downtown Manhattan on the subway is a poor experience in connectivity for you as well as for your fellow commuters. The limited (albeit large) number of cell towers in this area are already exhausted catering to the thousands of locals running data-hungry apps on their phones, leaving little room for the additional load brought forth by commuters.
Network congestion is your number one enemy in such crowded areas. Think of it this way: if your provider has promised 20 Mbps download speed, then it is not the speed that has decreased. It is the number of users feeding off the speed that has increased. This is also the reason why three to four bars or your cell phone don't guarantee the same speed in all the conditions.
If our cellular companies can figure out a way to handle dynamic network load such as these, things might get better in the future.
Customer Challenge.
As early as 2010, wireless was being regarded as the fourth utility. In June of 2010, a CommScope representative stated that wireless in the 21st century was becoming just as indispensable in day-to-day operations as plumbing and electricity were in the 20th century. And today we see that statement was absolutely correct. Wireless has definitely become the fourth utility after lights, water, and climate control. And while broadband may not feed your family or keep you warm, it does keep you in a job.
People in buildings whether they be apartments, hotels, condos, schools, or medical facilities simply expect all utilities to work well. Smartphone users assume their devices will work wherever they happen to be, with strong and reliable cellular signal available for voice and high-speed mobile broadband. They certainly do not expect to experience dropped calls when they enter or leave a building.
In-Building Connectivity Problems and Solutions.
The truth is that there are many mid-sized buildings where mobile providers are unable to deliver reliable indoor cellular signal due to concrete and other building materials including low-e glass, cutting out up to 98% of radio signal.
A recent survey revealed that almost 74% of office workers experience weak or unreliable cellular connectivity in their workplace. This is unacceptable because cellular connectivity is vitally important for productivity in today's DYOD connected work environment.
Texas Instruments conducted their own study which revealed that advanced HVAC and lighting IoT solutions were responsible for reducing energy use by a whopping 40% - and this was only from sensor controls!
This is a challenge to apartments, condos, healthcare, hotels, retail, senior living, and student housing.
Cost-Effective In-Building Cellular Solution.
SignalBooster.com's line of cellular amplifiers are innovative patented technology devices. We're experts at delivering in-building wireless solutions for reliable communications. Our cellular carrier-approved technology delivers strong and reliable in-building cellular service for the four national mobile network operators (MNOs).
This unique and seamless solution from SignalBooster.com delivers the dependable mobile service end-users rely on. In addition, this solution provides the lowest total cost of ownership for any building or structure under 1-million square feet.
For building owners, building managers, and developers, this innovative technology is ground-breaking. This solution is easy to deploy and delivers capacity and coverage affordability. Everyone wins with this technology – building owners, building managers, and of course residents and visitors to buildings.
Notable Benefits:
911 access emergency response.
Bring Your Own Device (BYOD) productivity.
Consistent connectivity for Smart building IoT applications.
Employee, resident, and visitor satisfaction.
Higher rental value, higher occupancy, and higher lease renewal rates.
Increased property value.
What Experts Have to Say.
Joe Madden, the principal analyst at mobile consulting firm Mobile Experts, tells Business Insider that the carriers simply lack the extra capacity to handle the large volume of web traffic we have nowadays. The need for capacity is growing faster than a cellular provider's ability to deploy new infrastructure.
Moreover, deploying new cellular towers face a lot of deregulation and corruption in this move, Ritholtz Wealth Management's founder, Barry Ritholtz points out.
Thankfully, with 5G around the corner, is there hope?
Will Things Get Any Better with 5G?
5G isn't just the name for 4G's successor. Many look up to it as the solution to current network problems.
5G is predicted to be four to eight times "faster" than the current 4G speeds. This is because 5G operates on much higher frequencies than 4G, making it more directional and focused. This is why 5G is supposed to be more "consistent" in the delivery of data speeds. Not only this, but improvements in antenna and coding standards will also enable 5G to solve network congestion problems and lower latency. However, the drawback is that more transmitters will be required and penetration will be weaker due to the type of frequency making signal boosters even more essential for those not able to access the new 5G network. While mid-and-high-band spectrum can achieve this in urban areas, the low-band spectrum will be used for the same in rural areas. These are just a few of the improvements the upcoming 5G technology promises to deliver. Is 5G the answer to an average troubled cellular consumer's woes? You will have to wait to find out.
Until then, use a signal booster to enhance your 4G cellular experience, as well as 5G frequencies that are covered with it. 5G-DSS – Dynamic Spectrum Sharing (DSS) is a technology that is used by network operators to share their spectrum between 4G LTE services and 5G services, in a single hybrid channel. This makes 4G LTE signal boosters 5G ready, and enables them to work in the 5G world as well.
If you have any questions or if we can help in any way, please do not hesitate to contact us.
---
Share this post
---
---