Work From Home Efficiently with a Cell Phone Signal Booster
Oct 09, 2020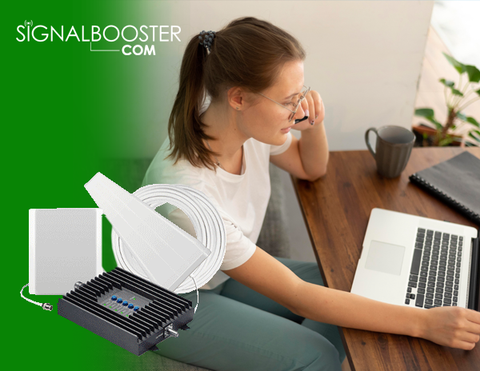 With the global lockdowns due to the Covid-19 pandemic forcing millions of employees to start working from home, many have had to face numerous challenges to face this new reality.
Although it may sound idyllic to be able to work from home and not having to commute every day, there are a number of issues that need to be resolved before working from home becomes practical and even pleasant and productive. You will need to find a dedicated space where you can work uninterrupted, build the discipline required to actually get the work done, and help other members of the household understand that there are times that you are not to be disturbed.
One other factor that catches many people unawares is the need to have good and uninterrupted cell phone signals. While you may not have had any problems with signal while you only needed it for social purposes, in reality it might not be good enough for business use. Efficiency and productivity is affected adversely when a call is dropped or downloads are slow.
When working from home, you need good cell phone signal inside. A stronger signal will ensure that you will be able to work without interruptions. You need clear voice calls and fast data speeds with the best work from home cellular coverage solutions. With a home cell signal booster kit, get the best work from home experience that results in maximum productivity.
Fortunately, SignalBooster.com has a range of cell phone signal boosters that will help you stay connected in your home, office, and even vehicle if you drive for work. There are different combinations available to cater for various sized homes or offices, and these boosters will provide strong, reliable connections for talk, text, and fast 4G LTE data in the most remote and challenging areas. For company or business initiatives to purchase multiple kits, we offer volume discounts.
Some signal boosters use 2XP technology, doubling the uplink transmission power up to 26 dBm to maintain connections in the weakest cell signal environments. Assembled and tested in USA with outstanding quality, award-winning technologies, all-carrier compatibility, and world-class support, they are premier cell phone signal boosters for homes or small office buildings.
Features:
Boosts all North American carrier's signals including AT&T, Verizon, Sprint, and T-Mobile to reduce missed and dropped calls and increase 4G LTE Data speed.
Most kits support multiple users simultaneously.
High downlink gain for best data speeds and indoor coverage.
Compatible with all cellular devices including hotspots, while extending their battery life.
5G Phone Compatible - Boosts voice and 4G LTE data signals on 5G phones and devices.
Built with the highest quality materials for longevity and connectivity when you need it most.
Simple DIY setup with option for local installation assistance.
---
Share this post
---
---