1000 Ft. Armored Half Inch Plenum Cable, Hard Line, Fire Rated (Red)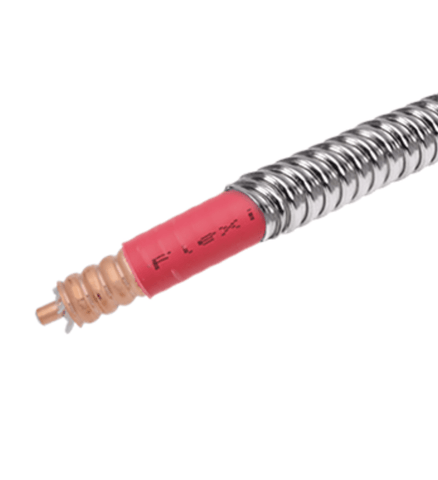 1000 Ft. Armored Half Inch Plenum Cable, Hard Line, Fire Rated (Red)
Regular price

$5,500.00 USD

Sale price

$4,999.00 USD
Best Price Guarantee. [1, 2, 3]
Buy Now, Pay Later with No Interest if paid in full within 6-12 months. Choose Klarna payment option at the checkout for details of this, and other long-term low-interest financing options.
Free Lifetime Support. SKU / Model: SC-PL-Half-A-1000
Best Price Guarantee [1 2 3]
Call for FREE consultation:
1(855)846-2654
Need installation quote, or help with designing a custom solution? Submit a request for quote.
Description
Reviews
Questions & Answers
Data Sheet / User Guide
Make An Offer
Warning
Description
Product Description
1000 Ft. Armored Half Inch Plenum Cable, Hard Line, Fire Rated (Red). Ultra Low-Loss Coaxial Cable Inside Metal Casing for Plenum Ceilings. Buy 1000 feet Armored 1/2 inch thick Ultra Low Loss Coaxial Plenum Fire Rated Cable. For public safety applications that require mechanical protection. Connectors not included with this coax cable. Buy SC-CN-99 separately. This is an orange / red colored cable. This is UL Listed and Fire Rated Top Quality Plenum Cable branded under SureCall brand name.
1/2" Plenum-Rated Armored Copper Coaxial Cable for Public Safety Applications that Require Mechanical Protection.
UL-rated for plenum ceilings.
50 Ohm.
Weatherproof, heat shrunk and tested.
Spooled, connectors not Included.
N-Male plenum-rated connector for 1/2" cable is part # SC-CN-099.
Fire Retardant Properties.
ETL Listed to UL 444, Canadian CSA C.22.2/FT6, CATV/CMP, NFPA-262, *NFPA 72 section 12.4.2 Pathway.
Specifications.
SKU: SC-PL-HALF-A-1000
UPC: 888063263927
Weight: 300 Lbs.
Construction Materials and Dimensions:
| | |
| --- | --- |
| Inner Conductor | Material: Copper Clad Aluminum Wire; Diameter: 0.189 inch |
| Dielectric | Material: PE Spline; Diameter: 0.465 inch |
| Outer Conductor | Material: Ring Corrugated Copper; Diameter: 0.543 inch |
| Jacket | Material: PVC, Plenum Rated; Diameter: 0.629 inch |
Electrical Specifications:
| | |
| --- | --- |
| Inner conductor DC resistance | 0.486 Ohm/k. ft. |
| Outer conductor DC resistance | 0.689 Ohm/k. ft. |
| Impedance | 50 ±2 Ohm |
| Inductance | 0.058 μH/ft. |
| Capacitance | 23 F/ft. |
| Propagation velocity | 88 Percent |
| DC breakdown voltage | 6.0 kV |
| Insulation resistance | >5 X 10 Cube M-Ohm km |
| Peak Power | 40 kW |
| Screening attenuation | >120 dB |
| Cut-off frequency | 8.80 GHz |
Mechanical Specifications:
| | |
| --- | --- |
| Bending radius | Single: 2.76 inches; Repeated: 4.92 inches |
| Tensile strength | 254 lbs. |
| Crush resistance | 80 lb/inch |
| Bending moment | 11.4 ft. lb. |
| Storage Temperature | -94 to +185 Degrees Fahrenheit |
| Installation Temperature | -40 to +140 Degrees Fahrenheit |
| Operating Temperature | -67 to +185 Degrees Fahrenheit |
VSWR:
| | |
| --- | --- |
| 806-960 MHz | 1.15 |
| 1700-2400 MHz | 1.15 |
| 5-3000 MHz | 1.25 |
Attenuation:
| | |
| --- | --- |
| 10 MHz | 0.21 dB/100 ft. |
| 100 MHz | 0.67 dB/100 ft. |
| 200 MHz | 0.96 dB/100 ft. |
| 450 MHz | 1.48 dB/100 ft. |
| 800 MHz | 2.03 dB/100 ft. |
| 900 MHz | 2.15 dB/100 ft. |
| 100 MHz | 2.30 dB/100 ft. |
| 1500 MHz | 2.88 dB/100 ft. |
| 1800 MHz | 3.20 dB/100 ft. |
| 2000 MHz | 3.40 dB/100 ft. |
| 2300 MHz | 3.69 dB/100 ft. |
| 3000 MHz | 4.36 dB/100 ft. |
| 6000 MHz | 6.58 dB/100 ft. |
This longest thousand feet Plenum coaxial cable is very durable and high safety cable thanks to its rugged characteristics. It may not bend as easily because the flexibility is minimized due to the safety jacket insulation which protects it from external elements. However, its ruggedness and durability enables it to be used practically anywhere, indoors or outdoors because it meets maximum safety standard possible for cables.
SureCall Plenum rated cables are completely insulated with low smoke and low flame characteristics. Almost all large buildings utilize the ceiling for returning air to the central AC unit, thereby making it a plenum ceiling. This means all cables running through the ceiling need to be plenum rated cables. Our 1000ft. cables for plenums are rated to meet or exceed industry standard requirements.
What exactly is Plenum? In building construction, the "plenum" is the compartmental space that is used for air circulation in heating and air conditioning systems. It is typically between the structural ceiling and the suspended ceiling or under a raised floor. What is the standard used for manufacturing these type cables? All materials intended for use on wire and cables to be placed in plenum spaces are designed to meet rigorous fire safety test standards in accordance with NFPA 262 and outlined in NFPA 90A.
NFPA 90A is the Standard used for Installation of Air-Conditioning and Ventilating Systems. This cable for plenum spaces meets or exceeds industry standards. Please click the data sheet tab above to read detailed characteristics of this best in industry One Thousand Feet Plenum Cable (SCPLHALFA1000).
References.
Per NFPA 72, 2019, section 12.4.2 Pathway Survivability Level 1. Pathway survivability Level 1 shall consist of pathways in buildings that are fully protected by an automatic sprinkler system in accordance with NFPA 13 with any interconnecting conductors, cables, or other physical pathways protected by metal raceways or metal armored cables.
Per NFPA 70, 2014, Raceway is defined as: An enclosed channel of metallic or nonmetallic materials designed especially for holding wires, cables, or busbars, with additional functions as permitted in this code.
Per NFPA 70, 2014. Section 348.2 Definition: Flexible Metal Conduit (FMC). A raceway of circular cross section made of helically wound, formed, interlocked metal strip.
Reviews
Questions & Answers
QUESTIONS & ANSWERS
Have a Question?
Be the first to ask a question about this.
Ask a Question
Data Sheet / User Guide
Make An Offer
Warning
Note: For any signal booster to help, outside signal strength must be at least -110 dB or there must be a clear line of sight to a cell tower that is within twenty miles. Before ordering, please check outside signal level in decibels or ensure that you can make and hold a phone call at any good spot outside where you can mount an exterior antenna. Square footage stated in signal booster listings is based on good signal outside. If it is any weaker, the boosted sq. ft. area will be considerably lower, accordingly.
Kevin K. of Anderson, California gave the following review:
Website is easy to use with plain straight forward info but could have had more on testing signal strength to make sure you get a strong enough booster.
Therefore, please note that stated sq. ft. coverage is based on good signal outside. For best results: If outside signal is weak, we suggest choosing the next higher sq. ft. coverage kit. If outside signal is very weak, we suggest choosing the kit with even more higher sq. ft. range bracket. Basically, higher the sq. ft. bracket, the more powerful the signal amplifier with greater Gain as well as higher uplink and downlink output power.
If outside signal is too weak (weaker than -110 dB), submit request for cell coverage solution assessment. Upon receipt of questionnaire, we will perform residential or business site survey. This will help us determine the system that is needed to improve cell coverage. Then, we will create system design using that system such as femtocell, active or hybrid distributed antenna system (DAS), or other carrier feed signal enhancing method available that will work at your signal-challenged location. Finally, we will schedule for installation after equipment and installation service quote has been approved by you, or your company.
For non installation-included kits: Most home / office / building cell signal booster kits only include bracket to mount exterior antenna on outside wall, edge of roof, or existing pipe up to 2 inches in diameter. Mounting pole not included with most kits, unless stated specifically that it is included for free. Therefore, a mounting post must be purchased separately if you will require it to mount exterior antenna.
---
Related Products