Business Cell Phone Signal Booster With Installation for up to 35K sq. ft.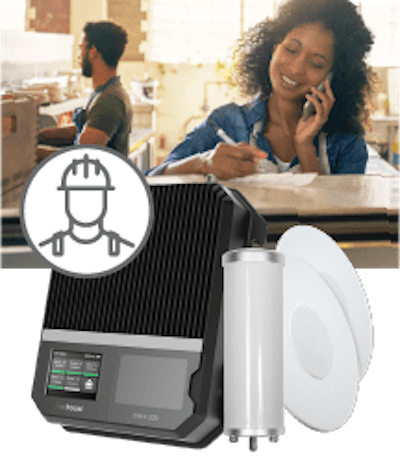 Business Cell Phone Signal Booster With Installation for up to 35K sq. ft.
Regular price

$5,000.00 USD

Sale price

$3,799.99 USD
Best Price Guarantee. [1, 2, 3]
Buy Now, Pay Later with No Interest if paid in full within 6-12 months. Choose Klarna payment option at the checkout for details of this, and other long-term low-interest financing options.
Free Lifetime Support. SKU / Model: BUSINESS-BOOSTER+INSTALL
Best Price Guarantee [1 2 3]
Call for FREE consultation:
1(855)846-2654
Need installation quote, or help with designing a custom solution? Submit a request for quote.
Description
Reviews
Questions & Answers
Make An Offer
Warning
Description
Product Description
Business 4G/5G Cell Phone Signal Booster With Installation Nationwide - We Install For You.
This business cell phone signal booster is for businesses up to 35,000 sq. ft. with good cell signal outside (indoor coverage space will be proportionally less if signal is weaker). If signal outside is weak and/or larger indoor cell coverage space required, consider a more power cell signal booster from the list of cell phone signal boosters with installation.
This purchase includes nationwide USA professional installation service by a certified installer that is trained and insured. Schedule convenient day and time suitable for you just as soon as you receive the kit. An installer will arrive to install it for you within approx. 2-4 hr. time-frame.
For businesses, this is a fast turnkey solution to frustrating cell signal problem indoors. For guaranteed satisfaction, you will receive before and after cellular signal readings to ensure you notice immediate improvement in the strength of cellular signal within your building office environment. The reason is that this business grade cell signal booster provides maximum 15dBm downlink power and maximum 25dBm uplink power which is higher uplink/downlink output power than all consumer grade kits.
How Does It Work?
Powerful directional exterior antenna captures cell signals from cell towers far away.
Powerful commercial grade signal amplifier boosts the cellular signals received from exterior antenna.
Amplified cell signals are then transmitted throughout your office area for use by all customers and employees, regardless of which carrier they may use.
Any Cell Phone Signal Booster Installers Near Me?
Yes, we have fully licensed, bonded, and insured installers ready to install across USA, in every state, county, city, and zip code with purchase of any of our complete cell signal booster and installation packages. If you need cell phone signal booster and installation service in Canada, please request custom quote for our Canadian cell booster and installation service that is available near you.
Who will install?
It is certainly understandable that you may be concerned about who the installer will be. Please be assured that you're in good hands because signal booster installation trained employee that will install it locally at your address is certified to install, licensed to perform designated work, fully insured, and background checked. Rest assured that SignalBooster.com takes full responsibility for their work and performance.
Installation Service Capabilities.
Nationwide network of installers across all ZIP Codes in all 50 states of USA.
All technicians are Certified and Licensed.
8000+ highly trained professionals at your service.
Professional installers have been known get scheduled and assigned to arrive at the doorstep within just 3-hours.
Our customer service is second-to-none: We will be on time – every time.
Real-time support and field coordination.
Pinpoint resource planning.
Your professional installer will get the job done right – the first time.
Digital, mechanical, and electronic skills.
Broad solutions expertise.
Focus on connectivity and technology.
All installers are insured, certified, and background checked.
Focus on customer education and product demonstration.
Collaborative, and creative problem solving.
Professional, first-class, white-glove no-contact business location installation service: Professional technicians protect your flooring by wearing shoe covers when working inside your business office, or retail store.
While you can schedule installation time that causes least disruption to your business flow, installers will work in the best way possible to prevent getting in the way of your business operations.
What is included with this purchase?
Nationwide USA professional installation service by certified installer.
Main signal amplifying unit offering up to 72 decibels gain.
Omni plus commercial grade exterior antenna.
Flat ceiling-flushed low-profile dome antennas (quantity 2).
Lightning surge protection system to protect entire system from lightning strikes.
Two feet RG11 low-loss cable - Not in box, installer will bring for installing custom-fitted cable length.
Sixty feet RG11 low-loss cable (quantity 2) - Not in box, installer will bring for installing custom-fitted cable length.
Seventy five feet RG11 low-loss cable - Not in box, installer will bring for installing custom-fitted cable length.
Limitations.
How much enhanced coverage space will the system provide in your business location?
Coverage Area: Entire Building / Up to 35000 square feet.
Actual Approx. In-Building Coverage Based On "Exterior Signal Strength":
5 Bars or more accurately -40 to -70 dB = 35,000 square feet.
4-5 Bars or more accurately -70 to - 80 dB = 25,000 square feet.
3-4 Bars or more accurately -85 to -95 dB = 20,000 square feet.
2-3 Bars or more accurately -95 to -105 dB = 15,000 square feet.
1-2 Bars or more accurately -105 to - 115 dB = 10,000 square feet.
0-1 Bar or more accurately -115 to - 120 dB = Less than 3000 square feet. This kit may not work if no signal outside that can be captured by exterior antenna.
There are other factors that may also affect coverage area and our technician will explain if these factors are applicable to your situation. For example, in addition to lower coverage area when outside signal is weak, interior walls may also diminish such weakly dispersed signals. This can greatly limit coverage to the office, or surrounding area of location where interior antenna is installed.
Will this kit work with my cellular service carrier?
Yes, this 2G 3G 4G LTE 5G-E cell signal booster kit is compatible with all U.S.A. wireless service providers simultaneously, including:
| American Service Providers |   |   |
| --- | --- | --- |
| AT&T Mobility | Boost Mobile | C Spire |
| Cricket Wireless | Dish Wireless | Net10 |
| Simple Mobile | Sprint | Straight Talk |
| T-Mobile USA | Ting Mobile | TracFone |
| US Cellular | Verizon Wireless | Virgin Mobile USA |
Summary.
Recommended coverage area 15,000 square feet but rated coverage area (in ideal conditions) 35,000 square feet.
Enjoy enhanced indoor cellular coverage within any warehouse, business retail store, or office building up to 35K sq. ft.
Comes complete with an outdoor omni-directional antenna and two indoor low-profile antennas.
It is compatible with the 5G network. It supports 4G and 5G devices including MiFi hotspots, cellular data hubs and routers.
Capable of improving cellular signals on all USA carrier networks simultaneously including T-Mobile, Sprint, AT&T, Verizon, and others.
Every purchase includes 3 years manufacturer's warranty and 60-days money-back guarantee by SignalBooster.com.
Signal Amplifier Specifications.
| | |
| --- | --- |
| Frequency | 700 MHz - Band 12/ 13/ 17, 850 MHz - Band 5, 1700/ 2100 MHz - Band 4, 1900 MHz - Band 25/ 2. |
| Maximum Gain | 72 Decibels (dB) |
| Max. Uplink Power | 25 dBm. |
| Max. Downlink Power | 15 dBm. |
| Impedance | 75 Ohm |
| Connector | F-Female |
| Voltage / Power | 110-240V AC, 50-60 Hz, 20W |
| Dimensions | 14.25 x 10.75 x 2.25 inches (amplifier) |
| Amplifier Weight | 7.70 lbs. (booster only). |
Consumer Alert:
Reviews
Questions & Answers
Will it work to boost signal of all carriers at the same time?

Yes, it is designed to enhance network signal of all Carriers simultaneously including Verizon, T-Mobile, AT&T and Sprint as well as their MVNOs.

Will the signal booster cover multiple floors of a building or just a single level?

Yes, installer will design the system to make sure that it works on multiple floors if needed, as long as total area for coverage does not exceed maximum 35,000 sq. ft. (with good outside signal strength). Please note that indoor coverage space can be considerably lower if signal outside the building is weak.

How do I know it will work for our location?

Site survey is included with purchase. Therefore, installer will first perform site survey and then design the system to make sure that it works and provides useable signal indoors for cell devices, consistently. Satisfaction guaranteed or your money back.

Is this only for business addresses? Can I buy this for my large residential home?

While this purchase has been designed for businesses, it can be purchased by residential customers that require such powerful system for large scale cellular signal coverage boost indoors.
Data Sheet / User Guide
Make An Offer
Warning
Note: For any signal booster to help, outside signal strength must be at least -110 dB or there must be a clear line of sight to a cell tower that is within twenty miles. Before ordering, please check outside signal level in decibels or ensure that you can make and hold a phone call at any good spot outside where you can mount an exterior antenna. Square footage stated in signal booster listings is based on good signal outside. If it is any weaker, the boosted sq. ft. area will be considerably lower, accordingly.
Kevin K. of Anderson, California gave the following review:
Website is easy to use with plain straight forward info but could have had more on testing signal strength to make sure you get a strong enough booster.
Therefore, please note that stated sq. ft. coverage is based on good signal outside. For best results: If outside signal is weak, we suggest choosing the next higher sq. ft. coverage kit. If outside signal is very weak, we suggest choosing the kit with even more higher sq. ft. range bracket. Basically, higher the sq. ft. bracket, the more powerful the signal amplifier with greater Gain as well as higher uplink and downlink output power.
If outside signal is too weak (weaker than -110 dB), submit request for cell coverage solution assessment. Upon receipt of questionnaire, we will perform residential or business site survey. This will help us determine the system that is needed to improve cell coverage. Then, we will create system design using that system such as femtocell, active or hybrid distributed antenna system (DAS), or other carrier feed signal enhancing method available that will work at your signal-challenged location. Finally, we will schedule for installation after equipment and installation service quote has been approved by you, or your company.
For non installation-included kits: Most home / office / building cell signal booster kits only include bracket to mount exterior antenna on outside wall, edge of roof, or existing pipe up to 2 inches in diameter. Mounting pole not included with most kits, unless stated specifically that it is included for free. Therefore, a mounting post must be purchased separately if you will require it to mount exterior antenna.
---
Related Products