An item you're pre-ordering is on backorder so it will take few days to ship - are you sure you want to proceed to order it?
Close
4G LTE Cellular Mobile Signal Security Camera System w/Solar Power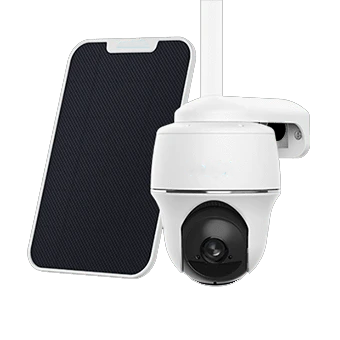 4G LTE Cellular Mobile Signal Security Camera System w/Solar Power
Regular price

$525.00 USD

Sale price

$499.99 USD
Best Price Guarantee. [1, 2, 3]
Buy Now, Pay Later with No Interest if paid in full within 6-12 months. Choose Klarna payment option at the checkout for details of this, and other long-term low-interest financing options.
Free Lifetime Support. SKU / Model: RLGOPTSOLARAFC
Best Price Guarantee [1 2 3]
Call for FREE consultation:
1(855)846-2654
Need installation quote, or help with designing a custom solution? Submit a request for quote.
Description
Reviews
Questions & Answers
Make An Offer
Warning
Description
Product Description
4G LTE SIM Card Connected Outdoor and/or Indoor Solar Battery Powered Camera Surveillance System.
4G LTE/3G Signal Outdoor & Indoor Solar-Powered Cellular Security Camera with PAN and TILT, Cable-free Rechargeable Battery Camera System with 1080p Night Vision, SD Socket and Cloud, PIR Motion Sensor, 2-Way Audio, and Solar Panel.
What is it?
This cellular network video camera is a Wi-Fi-free, cable-free indoor and outdoor surveillance camera that runs on 3G and 4G LTE networks. Due to its extra wide viewing angle of 355 degrees pan and 140 degrees tilt, this is the ideal security solution for warehouses and any other large area.
Notable Features:
An indoor and outdoor surveillance camera that is 100% wire-free. No wiring cables are required when mounting it on the wall of your cabin, shed, or other building.
No Wi-Fi required. 4G connectivity steps up when Wi-Fi can't reach.
Extra wide monitoring area. Able to rotate 355 degrees horizontally and 140 degrees vertically, this surveillance camera delivers a wide-range viewing area.
1080p Full HD. Record, stream, and play back videos in real HD.
Solar powered. For continuous power, it can be powered with solar energy. It also has capability to power its rechargeable battery using standard wall power outlet using 110V power supply cord provided.
Rechargeable battery. Save money with a long lasting single-charge battery.
IP64 Weatherproof. This camera has waterproof casing for protection against harsh weather conditions.
Wide-angle lens. With a 105 degrees field of view, you have access to wide range viewing.
Starlight night vision. It has a Starlight CMOS sensor, allowing you to shoot good-quality images, even in darkness.
Intelligent alerts. Once motion is detected you will be notified with an instant alert.
PIR motion sensor. Has a detection range of 33 feet and will instantly trigger a real-time alert.
Live view. You can watch and protect the things you care about from anywhere, anytime.
Customized voice alerts. Scare away hostiles by personalizing your own audio alert.
Two-way radio. With a simple tap you can talk to or hear from your family and friends.
Micro-SD card. This surveillance camera comes complete with a 16GB Micro-SD Card so you can store videos locally. Note that no monthly fees are required.
Protect What is Important to You with Pan and Tilt.
Pan 355 degrees and tilt 140 degrees. This smart security camera can provide almost complete coverage without any blind spots due to its ability to pan left and right and tilt up and down. Using its free app, the pan-tilt feature can be controlled remotely. You could be on the other side of the world but you can still keep a close eye on your property.
See Everything – All the Time.
This is a 4G mobile camera with 1080p full HD, capable of capturing clear and sharp videos during the daytime. But that is not all: because it has an advanced Starlight CMOS image sensor, you will be able to see night vision images clearly and in great detail.
Rechargeable Battery or Solar-Powered.
Eco-friendly design ensures reduced bills. This wire-free surveillance camera comes with a durable and long lasting rechargeable battery, so in case of a sudden blackout it can work independently. Please note that the battery is non-removable.
For non-stop power supply, connect your surveillance camera to the Solar Panel included. This added security means you never have to worry about dead batteries or dismounting the camera for recharging.
Solar Panel: For non-stop power, you can connect your surveillance camera to a the solar panel. It comes complete with 4 meter connection cable and other accessories necessary to complete the installation.
Get Real-Time Notification Alerts.
This surveillance camera uses PIR (Passive Infrared) motion sensor to detect movements. You will be notified immediately when an event is captured. To suit your own specific needs the motion sensitivity can be customized using the easy-to-use App/Client, as follows:
Push Notifications: You will receive an alert message on your phone.
Email: You will immediately receive an on-site motion snapshot.
Customized Voice Alert: You can personalize your own audio alert and have that broadcast.
Built in Siren: Warn off intruders with a powerful and automatic siren.
Two-Way Audio Plus Live View.
See, hear, and talk. Security is just a tap away when you have the free companion app installed on your phone or tablet. You can press on the talk button to conduct a two-way conversation as if you never left, or view live streaming and stay tuned in to see what is happening.
Motion-Triggered Recording.
When the security camera detects motion, it is instantly awake, and records a video clip ready for you to play back. These videos can be saved either to the Cloud or to a Micro-SD Card. The 16 GB Micro-SD Card comes included in the kit. All videos can be watched at any time.
Cloud Storage.
An alternative to SD card included, your motion triggered recordings can be uploaded to the Cloud. This encrypted service ensures you have off-site backup of important events, and you also have access to your playback video history anywhere and at any time.
What is in the Box?
1 x Surveillance Camera.
1 X Reset Needle.
1 X Bracket.
1 X Mounting Template.
1 X Pack of Screws.
1 X USB Cable.
1 X Surveillance Sign.
1 X Quick Start Guide.
This Surveillance Camera provides:
4G Wireless Communication Technology.
Alert type - motion only.
Video Capture Resolution - 1080p.
Solar and Battery powered supply.
About the Cellular Solar Battery-Powered Camera.
This is a solar-powered, wire-free, mobile surveillance camera system. User achieves 100% wire-free security with 3G and 4G LTE network connectivity and continuous solar power supply from the solar panel. This portable security camera comes with a weatherproof, long-lasting 7800 mAh high-capacity battery. The camera can be installed anywhere, indoors or outdoors.
With 1080p Full HD with 6pcs 850nm infrared LEDs, this wide-angle surveillance camera with 110 degrees wide field of vision delivers stunning starlight night vision. With its Starlight CMOS image sensor, it captures sharp, crystal-clear wide-view videos. Colorful images can even be captured in poor light, with clear night vision up to 33 feet.
When motion is detected, it can be set to automatically record video to either the Micro-SD card or the Cloud. Cloud videos can be reviewed for free for the previous 7 days. By customizing the PIR sensor, every potential danger to your business or home will be accurately identified, with alerts being immediately sent to your phone.
This security camera system is easy to set up and use. Simply mount the camera, then insert the battery, Sim Card, and SD Card. Use the app to scan the QR code, and you're done. This is the perfect solar powered security camera to use when you're located in an area with limited or no Wi-Fi access or areas with no electrical power source, like campers, hotels, trailers, RVs, your workplace, construction sites, farms, warehouses, ranches, and so on.
The system contains two-way audio, with remote access. This means you can ward off would-be burglars or listen and talk interactively with family and friends. Access live view and/or playback via your computer or phone. Live view simultaneously with up to 10 friends or family members by managing multiple devices.
A 2-year warranty ensures there's no risk involved when purchasing this mobile camera with solar panel system.
No Wi-Fi? No Problem! 3G or 4G LTE Connectivity Is All You Need.
Available carriers in the United States include:
Virtual Network Operator: US Mobile (T-Mobile service ONLY) (Recommended) Ting, Mint, Cricket, FreedomPop.
Network Operator: T-Mobile Prepaid Card (prepaid data only) (Recommended).
Available carrier in Mexico:
Available carriers in Canada include:
Telus Mobility, Rogers Wireless, Bell Mobility, Vidéotron.
Advantages of The Cellular / Mobile Network Surveillance Camera System:
Stable 3G GSM And 4G LTE Network Connectivity.
100% Wire Free.
Solar Powered and 7800 mAh Capacity.
7 Day Free Cloud Storage.
IP65-Certified Weatherproof.
Free Mobile App And Client.
Customizable Detection Sensitivity And Schedule.
Points to Note:
It only works with 3G/4G cellular networks. It does not support Wi-Fi connection and is not supported by other carriers like Verizon Wireless.
A cellular data plan and SIM Card are required before using. You must get a SIM card with data plan with your Carrier to use with this.

Does not support 24/7 recording.

This surveillance camera only works with its camera app and client: other third-party apps are not supported.

Does not support IP address access, and does not support ONVIF/WPS.
IP65 Weatherproof, and Multiple Charging Methods.
Using the solar panel, this surveillance camera is capable of running 24/7, 365 days a year, delivering non-stop power. Note that it cannot record 24/7 - it is motion activated and records during those periods. The weatherproof design ensures that the surveillance camera and solar panel are completely protected against nasty weather conditions.
Wide Viewing Angle, and Enhanced Color Night Vision.
This camera will monitor your home in 1080 HD video. With 6pcs 850nm infrared LEDs and the Starlight COS sensor, you will have access to 33 ft. night vision. Even in low light conditions you will receive sharp and colorful videos. The 110 degrees viewing angle ensures a wide field of vision. This Surveillance Camera is the only camera you need to provide safety and security for your family and your business.
Local and Cloud Storage for Instant Playback.
Once motion has been detected, that event will be recorded by the camera. It will immediately be sent to the Micro-SD card or to the Cloud. Cloud videos for the past 7 days can be viewed for free. It works in conjunction with Amazon Web Services for its secure data storage, ensuring all information is encrypted from beginning to end.
Customize Your Voice Alerts.
The 110 degrees wide viewing angle and highly sensitive 120 degrees detecting angle of the PIR motion sensor enables the camera to capture all human movements – you will almost never have a false alarm caused by insects or trees. Once a motion event is detected, the camera will trigger your customized voice alert or a loud siren, instantly informing you via email or push notification.
The Surveillance Camera is Also a Trail Camera.
You can also use this system as a trail camera. Imagine the enjoyment of watching what the wildlife are up to when you're not physically there. Simply install the trail camera in a location where you anticipate wildlife activity so that when the motion detector is tripped by a passing animal, the camera will automatically record video or snap a picture per your settings.
The Solar Panel Security System.
This surveillance camera system is the perfect video monitoring solution for your home or business premises. There are no wiring problems, no cords, and no required electrical power source when installed in areas with limited or no Wi-Fi access. It is a perfect way to protect vacation homes, hotels, warehouses, campsites, construction sites, RVs, farms, trailers, ranches, and so much more.
Installation Tips.
The camera should be installed in the direction crossing the potential intruder – not facing it. It should be installed no higher than 9 feet from the ground.
Angle of the solar panel should be adjusted when the adjusting control on the bracket is loosened – not when it is tightened.
Please Note: This product cellular connectivity is only supported by stated wireless service providers or carriers in United States, Mexico, and Canada. It is not supported by other countries.
Specifications
Model
RLGOPTSOLARAFC
Video & Audio
Image Sensor
Starlight CMOS Image Sensor.
Video Resolution
1080p HD at 15 frames per second.
Video Format
H.264.
Field of View
Fixed Lens, 105 Degrees Diagonal.
Pan/Tilt Angle
Horizontal: 355 Degrees.
Vertical: 140 Degrees.
Night Vision
Up to 10m (33 feet).
Digital Zoom
6x Digital Zoom.
Audio
High-Quality Speaker and Microphone.
PIR Detection & Alerts
PIR Detecting Distance
Adjustable up to 10m (33 feet).
PIR Detecting Angle
90 Degrees Horizontal.
Audio Alert
Customized Verbal Alerts.
Other Alerts
Instant Email Alerts and Push Notifications.
3G/4G Bandwidth
Frequency Bands
Europe:
LTE FDD: B1/B3/B5/B7/B8/B20.
WCDMA: B1/B5/B8.
United States & Canada:
LTE FDD: B2/B4/B12.
WCDMA: B2/B4/B5.
Australia:
LTE FDD: B1/B2/B3/B4/B5/B7/B8/B28.
LTE TDD: B40.
WCDMA: B1/B2/B5/B8.
Transmission Data
LTE FDD: Max 10Mbps (DL), Max 5Mbps (UL).
LTE TDD: Max 8.96Mbps (DL), Max 3.1Mbps (UL).
HSPA+: Max 42Mbps (DL), Max 5.76Mbps (UL).
UMTS: Max 384Kbps (DL), Max 384Kbps (UL).
Power
Battery
6500 mAh Rechargeable Battery (Battery Life Varies Based on Settings, Usage & Temperature).
Solar
Included Solar Panel is a Separate Detached Accessory.
DC Power
5V/2A USB Power Adaptor.
Storage
Local Storage
with 16 GB Micro SD Card.
Cloud Storage
Cloud by Amazon Web Services Available Only in USA & Canada.
Working Environment
Operating Temperature
-10° to 55° C (14° to 131° F).
Weather Resistance
IP64 Weatherproof.
Size & Weight
Size
Փ98 x 112mm (Փ3.7 x 4.4 inches).
Weight (Battery included)
485g (17.1 oz).
Warranty
Limited Warranty
2-Year Limited Warranty.
Introducing World's First Go-Anywhere 4G LTE Mobile Security Camera with Pan and Tilt.
It is a 4G LTE pan tilt security camera, working with no wi-fi, no power. It is completely wire free, weatherproof and goes wherever you go. It monitors your off-grid barns, farms, campsites, building sites, rural houses, in the middle of fields, up the side of mountains, and pretty much anywhere. With camera pan and title feature, move up and down, turn right and left, monitor large areas with just one cam. Choose flexible charging options powered by rechargeable battery, or go 100 percent green and let the sun do the charge with included solar panel. Stay in the know with PIR motion alerts, one tap to get live view in full HD, and color night videos. You see, hear, and talk back through your phone. Stop the crime before it happens.
Unboxing, Setup, and Installation of 4G LTE Pan-Tilt Security Camera.
What do you get?
The package includes the camera itself and all the components you will need to easily use and install in any surface. It offers 100 percent wire free and weatherproof design, powered by rechargeable battery and running on 4G LTE or 3G cellular network. It has a wide angle lens, 105 degree viewing angle, 1080p full HD and starlight night vision. You see color videos in the dark at up to 33 feet, PIR motion sensor, detecting motion events and sending alerts, built-in mic and speaker for two-way talk. Tilt the camera up, and you will find the nano sim card slot and the 16 gigabyte micro SD card slot to store motion videos locally.
Setting it up.
Before set-up, choose the right SIM card and ensure it is activated by your service provider. Then insert that SIM card to the camera with the gold contacts facing down. Turn the camera switch on and wait for a few seconds. Your camera is successfully connected to the network when you hear the voice prompt, "Network Connection Succeeded". Download and open the free app, click the "Add New Device" button and scan the QR code on the device. Name your camera, and set a login password. Done.
Installation.
It is designed for easy do-it-yourself installation. Install it 2-3 meters above the ground and mount it upside down outdoors for best weatherproof performance. Drill holes in accordance with the mounting hole template and screw the security mount to the wall. Install antenna to the camera, screw the camera to the security wall mount, and adjust it to a proper direction. Remove the screw, and you will get a security mount to help install the camera on the ceiling. Drill holes and screw the security mount on the ceiling. Install the camera to the security mount. You can also install camera to a tree. Thread the hook and loop strap through the security mount. Fasten the strap to a tree. Screw the camera to the security mount. Done.
Solar Power.
This camera also works with included solar panel, so you get non-stop power and all-round security in places where wi-fi and power can't reach.
Reviews
Questions & Answers
What is the maximum motion detection distance?

There are 2 classes of PIR sensors: analog PIR sensor and digital PIR sensor. Digital PIR sensors are much more sensitive and immune to false triggers.

There are three levels of PIR​ ​sensitivities​ including​ ​​Low​,​ ​​Mid​,​ ​and​ ​​High​.​ Each level has a corresponding PIR detecting distance or PIR detecting range. For different objects, there are also different detecting distance.

For analog PIR, you can refer to the below table for the detecting distance.

Sensitivity | Detecting Distance (For moving and living things) | Detecting Distance (For moving vehicles)

Low | Up to 4 meters (13 ft.) | Up to 10 meters (33 ft.)
Mid | Up to 6 meters (20 ft.) | Up to 12 meters (40 ft.)
High | Up to 9 meters (30 ft.) | Up to 15 meters (50 ft.)

For Digital PIR, you can refer to the below table for the detecting distance.

Sensitivity | Value | Detecting Distance (For moving and living things) | Detecting Distance (For moving vehicles)

Low | 0-50 | Up to 5 meters (16 ft.) | Up to 10 meters (33 ft.)
Mid | 51-80 | Up to 8 meters (26 ft.) | Up to 12 meters (40 ft.)
High | 81-100 | Up to 10 meters (33 ft.) | Up to 15 meters (50 ft.)

Please note that actual detecting distance is also associated with the mounting height and angle of your cameras in practical use.
Data Sheet / User Guide
Make An Offer
Warning
Note: For any signal booster to help, outside signal strength must be at least -110 dB or there must be a clear line of sight to a cell tower that is within twenty miles. Before ordering, please check outside signal level in decibels or ensure that you can make and hold a phone call at any good spot outside where you can mount an exterior antenna. Square footage stated in signal booster listings is based on good signal outside. If it is any weaker, the boosted sq. ft. area will be considerably lower, accordingly.
Kevin K. of Anderson, California gave the following review:
Website is easy to use with plain straight forward info but could have had more on testing signal strength to make sure you get a strong enough booster.
Therefore, please note that stated sq. ft. coverage is based on good signal outside. For best results: If outside signal is weak, we suggest choosing the next higher sq. ft. coverage kit. If outside signal is very weak, we suggest choosing the kit with even more higher sq. ft. range bracket. Basically, higher the sq. ft. bracket, the more powerful the signal amplifier with greater Gain as well as higher uplink and downlink output power.
If outside signal is too weak (weaker than -110 dB), submit request for cell coverage solution assessment. Upon receipt of questionnaire, we will perform residential or business site survey. This will help us determine the system that is needed to improve cell coverage. Then, we will create system design using that system such as femtocell, active or hybrid distributed antenna system (DAS), or other carrier feed signal enhancing method available that will work at your signal-challenged location. Finally, we will schedule for installation after equipment and installation service quote has been approved by you, or your company.
For non installation-included kits: Most home / office / building cell signal booster kits only include bracket to mount exterior antenna on outside wall, edge of roof, or existing pipe up to 2 inches in diameter. Mounting pole not included with most kits, unless stated specifically that it is included for free. Therefore, a mounting post must be purchased separately if you will require it to mount exterior antenna.