An item you're pre-ordering is on backorder so it will take few days to ship - are you sure you want to proceed to order it?
Close
RFID/ Cisco Aironet Lightning Protector RP-TNC Male to Female 0-6.4 GHz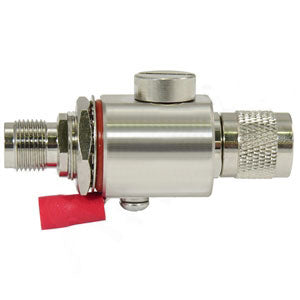 RFID/ Cisco Aironet Lightning Protector RP-TNC Male to Female 0-6.4 GHz
Regular price

$75.00 USD

Sale price

$39.99 USD
Best Price Guarantee. [1, 2, 3]
Buy Now, Pay Later with No Interest if paid in full within 6-12 months. Choose Klarna payment option at the checkout for details of this, and other long-term low-interest financing options.
Free Lifetime Support. SKU / Model: AFCLC06RTMRTFBQ5
Best Price Guarantee [1 2 3]
Call for FREE consultation:
1(855)846-2654
Need installation quote, or help with designing a custom solution? Submit a request for quote.
Description
Reviews
Questions & Answers
Make An Offer
Warning
Description
Product Description
RFID and Cisco Aironet Lightning Surge Protector (50 Ohm) with RP-TNC Male to Female connectors for coax cables operates over DC-6.4 GHz frequencies. This RP-TNC Lightning Protector is perfect for protecting RP-TNC equipped RFID Readers and Cisco Aironet Wi-Fi equipment. It also helps protect other wi-fi equipment operating at 800 MHz, 900 MHz, 2.4 GHz, 3.65 GHz, 5 GHz and 6.2 GHz.
It uses a high power gas discharge tube to limit both the amplitude and duration of ESD surges which it then transients to ground. Protect your sensitive elecronic communication equipment from ESD and surge events with this premium quality RFID and Aironet Lightning Protector operating on 50 Ohm impedance for all frequencies in the range of 0-6.4 GHz.
This is our premium signal booster custom class 5 inventory item. The design features a replaceable high power gas discharge tube capsule that protects communications equipment from lightning and ESD surges.
It features a replaceable 230V gas discharge tube. In addition to 230 V - 90V, 350V and 600V replacement gas tubes are also available. This protector features RP-TNC Male to RP-TNC Female Bulkhead coaxial connectors which are compatible with all Reverse Polarity TNC equipped RFID Readers and Cisco Aironet access points and bridges.
This protector is compatible with:
RFID Readers (partial list):
Impinj Speedway Revolution R120, R220, R420.
Alien ALR-9650, ALR-9680, ALR-9900, ALR-FX800-X, F800.
Motorola / Zebra FX-7400, FX-7500, FX9600.
Invengo XC-RF861, XC-RF807.
Trimble ThingMagic Vega Ruggedized, ThingMagic M6, Astra EX.
Intermec Mercury6 (M6), Intermec IF2.
CAEN RFID R4300P.
Unitech RS700.
Cisco Aironet WiFi Routers and AP's (partial list):
1200.
1220.
1230.
1230AG.
1231.
1231G.
1232AG.
1242AG.
1242G.
1252G.
1252AG.
1250 Modular Unified Access Point Platform.
1252AG Standalone Access Point.
1252AG Unified Access Point.
1252G Unfied Access Point.
1260 Series Access Point (Controller-based).
Cisco Aironet Note: This unit performs the same function as Cisco AIR-ACC245LA-R (UPC 746320958903) for a fraction of the cost.
Cisco and Aironet are registered trademarks of Cisco Systems, Inc.
Features.
Wide DC-6.4 GHz Broad Bandwidth.
Gas Tube Element can be replaced with 90V, 230V, 350V and 600V elements.
Capable of handling High Power Surges.
50 Ohm RP-TNC Male to RP-TNC Female Connectors.
Low VSWR and Loss.
Bulkhead Connetor for Thru-Hole Mounting.
Applications.
GPS Receivers.
RP-TNC Equipped RFID Readers.
Cisco® Aironet Access Points and Bridges.
802.11b/g/n & 802.11ac WiFi Access Points.
800MHz, 900MHz, 2.4 GHz, 3.65 GHz, 5 GHz and 6.2 GHz Operation.
Indoor and Outdoor Antenna Feed Line Installations.
UPC: 697691003443.
Specifications:
| | |
| --- | --- |
| Frequency Range | DC-6.4 GHz |
| VSWR | 1:1.2 typ. |
| Insertion Loss | 0.4 dB typ. |
| Impedance | 50 Ohms |
| Gas Tube DC Breakdown Voltage | 230V+/-20% (90V, 230V, 350V and 600V replacement gas tubes are available) |
| Gas Tube Impulse Breakdown Voltage | 1000V 20% |
| Gas Tube Insulation Resistance | 2000 MegOhm min |
| Rated Surge Current | 20 KA max |
| Connectors | RP-TNC Male (Plug) to RP-TNC Female (Jack) Bulkhead |
| Ground Lug | 10 AWG Max. |
| Dimensions | 2.3 x 1.1 x 0.9 Inches (58.4 x 28 x 23 mm) |
| Max. Panel Thickness (Bulkhead Connector) | 0.12 Inches (3.17 mm) |
Reviews
Questions & Answers
QUESTIONS & ANSWERS
Have a Question?
Be the first to ask a question about this.
Ask a Question
Data Sheet / User Guide
Make An Offer
Warning
Note: For any signal booster to help, outside signal strength must be at least -110 dB or there must be a clear line of sight to a cell tower that is within twenty miles. Before ordering, please check outside signal level in decibels or ensure that you can make and hold a phone call at any good spot outside where you can mount an exterior antenna. Square footage stated in signal booster listings is based on good signal outside. If it is any weaker, the boosted sq. ft. area will be considerably lower, accordingly.
Kevin K. of Anderson, California gave the following review:
Website is easy to use with plain straight forward info but could have had more on testing signal strength to make sure you get a strong enough booster.
Therefore, please note that stated sq. ft. coverage is based on good signal outside. For best results: If outside signal is weak, we suggest choosing the next higher sq. ft. coverage kit. If outside signal is very weak, we suggest choosing the kit with even more higher sq. ft. range bracket. Basically, higher the sq. ft. bracket, the more powerful the signal amplifier with greater Gain as well as higher uplink and downlink output power.
If outside signal is too weak (weaker than -110 dB), submit request for cell coverage solution assessment. Upon receipt of questionnaire, we will perform residential or business site survey. This will help us determine the system that is needed to improve cell coverage. Then, we will create system design using that system such as femtocell, active or hybrid distributed antenna system (DAS), or other carrier feed signal enhancing method available that will work at your signal-challenged location. Finally, we will schedule for installation after equipment and installation service quote has been approved by you, or your company.
For non installation-included kits: Most home / office / building cell signal booster kits only include bracket to mount exterior antenna on outside wall, edge of roof, or existing pipe up to 2 inches in diameter. Mounting pole not included with most kits, unless stated specifically that it is included for free. Therefore, a mounting post must be purchased separately if you will require it to mount exterior antenna.
---
Related Products