110V AC to DC 12V Converter with Car Adapter Socket (2 Amp / 2000 mA)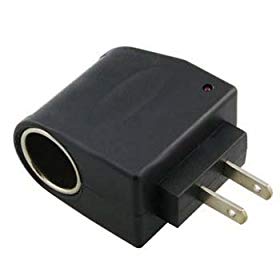 110V AC to DC 12V Converter with Car Adapter Socket (2 Amp / 2000 mA)
Regular price

$39.95 USD

Sale price

$24.90 USD
Best Price Guarantee. [1, 2, 3]
Buy Now, Pay Later with No Interest if paid in full within 6-12 months. Choose Klarna payment option at the checkout for details of this, and other long-term low-interest financing options.
Free Lifetime Support. SKU / Model: 110V-AC-DC-12V-2A
Best Price Guarantee [1 2 3]
Call for FREE consultation:
1(855)846-2654
Need installation quote, or help with designing a custom solution? Submit a request for quote.
Description
Reviews
Questions & Answers
Make An Offer
Warning
Description
Product Description
110 V AC to DC 12 V Converter with Automotive Power Supply Adapter Socket (2Amp / 2000mA)
Universal adapter helps convert 110v and 120v AC plugs to DC 12 volts car power adapter socket. This AC plug to DC socket converter transmits up to 2 Amp. power to your DC plug. If your DC device is not capable of higher than 1 Amp. power, use lower cost 1 Amp / 1000 mA converter. If your DC device is capable of higher Amp. for faster charging or optimal operation, buy the 3 Amp / 3000 mA supply converter or 8.5 Amp / 8500 mA adapter or 20.8 Amp / 20800 mA.
With this mini AC to DC socket converter, auto parts and accessories with standard 12V plug-in power supply can be used inside homes and offices in North America with standard 110V electrical outlet. This AC to DC adapter is essentially a 110-volt to 12-volt reducer.
It converts household current to 12 volt for powering medium power intensive car electronics requiring up to 2 ampere power (a unit of electric current equal to a flow of one coulomb per second) such as vehicle cell phone signal boosters that have 12v male plug-in jack that can be inserted into this adapter's 12v female port. Its other end has two standard wall plug-in prongs.
Enjoy 12v car socket requiring gadgets inside home or office with this powerful 2000mA output AC wall to Female DC car power convertor or adaptor. "mA" stands for milliamps. It is a measure of the current flowing through a given circuit. Read the differences between volts and amps to know you're buying the right kind with the right amount of current measured in Amps, to make your DC device work optimally.
Any car plug-in charger can now be used as wall plugin travel charger. Pricewise, this aftermarket power converter is very cheap and low cost when compared to brand name power converters.
However, please note that this 120V AC to 12V DC converter only provides enough power for smart phones, MP3 players, GPS systems, cameras and other similar small portable devices. It is not recommended for devices that require more than 2 amps of power such as tire and airbed inflators, handheld car vacuums, heated blankets and other similar heavy duty devices.
The two electrical prongs plug easily into standard 110/120V AC wall outlet.
Instantly converts 110 volts and 120 volts AC power into 12V DC power.
Input: 110 - 240V ~ 50 / 60Hz 0.1A. Output: 12V ~ 2000 mA.
Car plug to wall plug converter is universal and works all across United States and Canada.
Difference between different Amp. in Power Supplies.
This Cellet universal adapter helps convert 110v and 120v AC plugs to DC 12 volts car power adapter socket.
Although many different devices may all work with 12 volts (V) DC, different devices use different current, measured in Amps (A). Current is measured in Amps (A), but some devices show the current they need as milliamps (mA). 1 Amp = 1000 milliamps. Using the same conversion, 0.7A = 700mA.
To determine which of our ACDC converters is suitable for your specific device, you will need to look at the specifications normally printed on the device. Use the 1 Amp / 1000 mA AC to DC converter for devices that need equal or less than 1 Amp / 1000 mA. For e.g., if your device is rated at 0.7A, or 500mA, 1 Amp adapter is suitable.
If your device is rated for example at 1.2A or 1500mA, this is more than 1A, but less than 2A. In this case, this 2 Amp / 2000 mA AC to DC converter (this listing) would be most cost efficient. For devices rated between 2A and 3A (2000mA and 3000mA), the 3 Amp / 3000 mA AC to DC converter can be used. For devices requiring more than 3 Amp but equal to, or less than 8.5 Amps, buy our AC to DC 12V 8.5 converter.
If you're unsure how much Amp your device uses because maybe the text ink on device has faded or somehow wiped off, you can safely use the 8500 mA / 8.5 Amp AC to DC converter since your device will use only amount of Amp it needs (but know that it will cost you more than you may need to spend in an event your device uses only 1, 2, or 3 Amps).
Reviews
Questions & Answers
QUESTIONS & ANSWERS
Have a Question?
Be the first to ask a question about this.
Ask a Question
Data Sheet / User Guide
Make An Offer
Warning
Note: For any signal booster to help, outside signal strength must be at least -110 dB or there must be a clear line of sight to a cell tower that is within twenty miles. Before ordering, please check outside signal level in decibels or ensure that you can make and hold a phone call at any good spot outside where you can mount an exterior antenna. Square footage stated in signal booster listings is based on good signal outside. If it is any weaker, the boosted sq. ft. area will be considerably lower, accordingly.
Kevin K. of Anderson, California gave the following review:
Website is easy to use with plain straight forward info but could have had more on testing signal strength to make sure you get a strong enough booster.
Therefore, please note that stated sq. ft. coverage is based on good signal outside. For best results: If outside signal is weak, we suggest choosing the next higher sq. ft. coverage kit. If outside signal is very weak, we suggest choosing the kit with even more higher sq. ft. range bracket. Basically, higher the sq. ft. bracket, the more powerful the signal amplifier with greater Gain as well as higher uplink and downlink output power.
If outside signal is too weak (weaker than -110 dB), submit request for cell coverage solution assessment. Upon receipt of questionnaire, we will perform residential or business site survey. This will help us determine the system that is needed to improve cell coverage. Then, we will create system design using that system such as femtocell, active or hybrid distributed antenna system (DAS), or other carrier feed signal enhancing method available that will work at your signal-challenged location. Finally, we will schedule for installation after equipment and installation service quote has been approved by you, or your company.
For non installation-included kits: Most home / office / building cell signal booster kits only include bracket to mount exterior antenna on outside wall, edge of roof, or existing pipe up to 2 inches in diameter. Mounting pole not included with most kits, unless stated specifically that it is included for free. Therefore, a mounting post must be purchased separately if you will require it to mount exterior antenna.
---
Related Products