12V DC Hard-Wire Power Supply for weBoost Drive Reach OTR Fleet | 850022/951179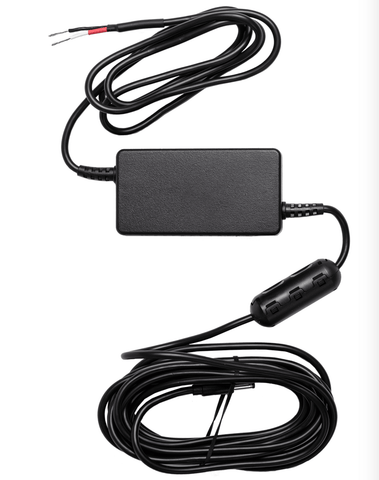 12V DC Hard-Wire Power Supply for weBoost Drive Reach OTR Fleet | 850022/951179
Regular price

$29.99 USD

Sale price

$29.95 USD
Best Price Guarantee. [1, 2, 3]
Buy Now, Pay Later with No Interest if paid in full within 6-12 months. Choose Klarna payment option at the checkout for details of this, and other long-term low-interest financing options.
Free Lifetime Support. SKU / Model: 850022/951179
Best Price Guarantee [1 2 3]
Call for FREE consultation:
1(855)846-2654
Need installation quote, or help with designing a custom solution? Submit a request for quote.
Description
Reviews
Questions & Answers
Make An Offer
Warning
Description
Product Description
12V DC Hard-Wire Power Supply for Drive Reach Fleet & OTR Fleet | weBoost 850022 / 951179 by Wilson Electronics / WilsonPro.
weBoost 12V DC Fused Hardwire Power Supply (5V / 4A) for weBoost Drive Reach Fleet and OTR Fleet vehicle cell phone signal boosters. This We Boost replacement power supply adapter cord or cable helps power the cellular amplifier kit directly through vehicle battery in any car, truck, rv or boat. It plugs in directly to vehicle's 12-volt powering system (12VDC). Please note that you may receive part # 850022 or the newer part 951179 with minor changes that do not affect its operation - both work the same.
This weBoost Drive Reach hard wired car adapter (5 Volts & 4 Amps) is always powered on when vehicle ignition switch is turned on. It does not use the user-facing 12 volts female power port provided in all vehicles for powering portable electronic devices. This replacement power supply adapter and cord is already included in complete kits, weBoost Drive Reach Fleet (470254).
It can also be used to hardwire weBoost Drive Reach to replace the 12 volt power adapter included with that kit. Does not work on 24V system, this is for 12V systems only. Hardwire PS for use with "Drive Reach Fleet" and "Drive Reach OTR Fleet" Only.
Specifications: DC/DC Hardwire Power Supply 5V/4A with Ferrite Core, and Fuse Kit with 11.5 ft. cable. GTIN / UPC: 697691002439.
Reviews
Questions & Answers
Do I need inline fuse with your 12v power supply part # 850022?

There should be an inline fuse included with purchase. See pictures at image links below:

https://cdn.shopify.com/s/files/1/1142/1404/files/12v_power_supply_850022_inline_fuse.png

https://cdn.shopify.com/s/files/1/1142/1404/files/inline_fuse_with_12v_power_supply_850022.png

Will this work with drive OTR 472154. Thanks

Yes, that is the only hardwire power supply for Drive reach series products.

I just received DC/DC Hardwire Power Supply 5V/4A 12-24VDC (850022) but there were no installation instructions. Which wire connects to what? Please would you help or provide link where I can read DC power supply 850022 installation instructions?

Sorry instructions were not included. The positive wire (with red on the end) will connect to the positive terminal on the battery, while the negative (all black wire) will connect to the negative terminal on the battery. Some of our power supplies came with a white line on the cable, so that would be the positive in that case. The wire that is entirely black will be the negative one. Here's a video you can watch to help understand how to install (although this is not the same product, but this video has the hardwire power supply installation for one of our products - weBoost Drive X): https://signalbooster.wistia.com/medias/9bok0x5mii?wtime=2m24s

I have weBoost Home 4G model 470101. I have a cabin that runs on solar power and have a 12 volt battery bank. I have the ac adapter but would prefer to run straight from the batteries. If this power supply will work, I will buy one.

Manufacturer states that weBoost Home 4G 470101 requires 5 Volts, 4 Amps to power up. This hardwire kit provides the same 5V and 4A. Therefore, it should technically work. This power supply was not designed for such non-standard application, though. It was designed for vehicle cellular amplifier to be powered using the vehicle battery. How you would connect it to the 12V battery bank and how it would perform under consistent 24/7 powering conditions are the variables we do not know since they have not been tested. Therefore, we cannot unfortunately guarantee its performance. We will offer 60 days refund if it does not work out but we're sorry you would have to order at your own risk in event of any potential damage to your power bank or the signal amplifier.

Can I hardwire the weboost cell phone booster to an existing 12v led light circuit?

We do not suggest hard-wiring weBoost booster to an existing already used circuit, to prevent issues. If possible, a clean circuit would be best.
Data Sheet / User Guide
Make An Offer
Warning
Note: For any signal booster to help, outside signal strength must be at least -110 dB or there must be a clear line of sight to a cell tower that is within twenty miles. Before ordering, please check outside signal level in decibels or ensure that you can make and hold a phone call at any good spot outside where you can mount an exterior antenna. Square footage stated in signal booster listings is based on good signal outside. If it is any weaker, the boosted sq. ft. area will be considerably lower, accordingly.
Kevin K. of Anderson, California gave the following review:
Website is easy to use with plain straight forward info but could have had more on testing signal strength to make sure you get a strong enough booster.
Therefore, please note that stated sq. ft. coverage is based on good signal outside. For best results: If outside signal is weak, we suggest choosing the next higher sq. ft. coverage kit. If outside signal is very weak, we suggest choosing the kit with even more higher sq. ft. range bracket. Basically, higher the sq. ft. bracket, the more powerful the signal amplifier with greater Gain as well as higher uplink and downlink output power.
If outside signal is too weak (weaker than -110 dB), submit request for cell coverage solution assessment. Upon receipt of questionnaire, we will perform residential or business site survey. This will help us determine the system that is needed to improve cell coverage. Then, we will create system design using that system such as femtocell, active or hybrid distributed antenna system (DAS), or other carrier feed signal enhancing method available that will work at your signal-challenged location. Finally, we will schedule for installation after equipment and installation service quote has been approved by you, or your company.
For non installation-included kits: Most home / office / building cell signal booster kits only include bracket to mount exterior antenna on outside wall, edge of roof, or existing pipe up to 2 inches in diameter. Mounting pole not included with most kits, unless stated specifically that it is included for free. Therefore, a mounting post must be purchased separately if you will require it to mount exterior antenna.
---
Related Products