3 Inside Building Panel Antennae (50 Ohm) with 4-way Splitter & Cables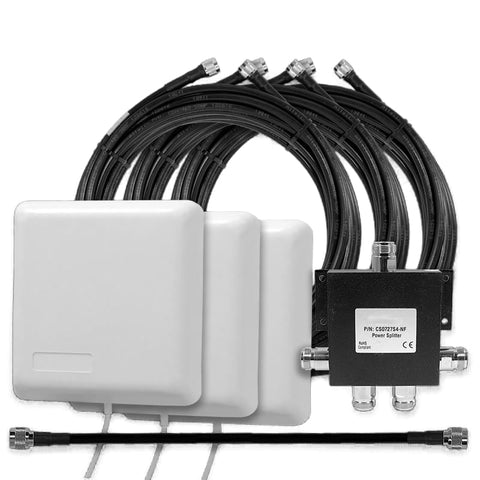 3 Inside Building Panel Antennae (50 Ohm) with 4-way Splitter & Cables
Regular price

$500.00 USD

Sale price

$399.99 USD
Best Price Guarantee. [1, 2, 3]
Buy Now, Pay Later with No Interest if paid in full within 6-12 months. Choose Klarna payment option at the checkout for details of this, and other long-term low-interest financing options.
Free Lifetime Support. SKU / Model: AFCEK3P50L3
Best Price Guarantee [1 2 3]
Call for FREE consultation:
1(855)846-2654
Need installation quote, or help with designing a custom solution? Submit a request for quote.
Description
Reviews
Questions & Answers
Make An Offer
Warning
Description
Product Description
Premium quality expansion kit contains three Ceiling or Wall Mount Panel Antennae plus all the components needed to connect them to an existing 50 Ohm cell phone booster system. This is our premium signal booster custom lot # 3 inventory item: 3 Inside Building Panel Antennae (50 Ohm) with 4-way Splitter and Cables. UPC: 697691010304.
Mount the panel antennae where the cellular reception is weakest. This can be up to 50 feet away from the existing antenna if the cables that are included in the kit are used. For longer distances, extension cables can be purchased separately. The kit comes with N-connectors and is compatible with any 50 Ohm cell phone booster and repeater including Uniden, Hiboost, SureCall and Wilson weBoost. 
Expansion kit installation is straight-forward. The panel antenna can be installed on a wall easily by using the concealed mounting bracket that is included. Use both the 50 foot 400 series cables provided with the kit and the existing cell booster cable to connect the antennas to the Signal Splitter. The signal splitter is then connected to the cell booster using the 2 foot jumper cable provided.
This expansion kit includes:
3 x AFCAPW0727G8NFL8 50 Ohm Wall Mount Panel Antennas.
1 x AFCCS0727S4NFM7 50 Ohm 3-Way Wideband Signal Splitter.
1 x 2 foot AFCAX-400 Low Loss Cable (N-Male to N-Male).
3 x 50 foot AFCAX-400 Low-Loss Cable (N-Male to N-Male).
SignalBooster.com expansion kits provide an easy way to expand the cell coverage in your office or home. It might also be a good idea to add lightning protection to safeguard your outdoor antenna and booster against any electrical surges. SignalBooster.com recommends the AFCLC03NMNFBC3 50 Ohm Lightning Surge Protector shown in the accessories section.
Antenna details.
The SignalBooster.com AFCAPW0727G8NFL8 Wide Band 50 Ohm Panel Antenna will cover all international cellular bands for data and voice with any carrier, including Sprint, AT&T, Telus, T-Mobile, Bell Canada, Verizon, DigiCel, Rogers and many more. It can also be used for 900MHz and 2.4GHz Wireless Video applications. 
The antenna is ideal for all 50 Ohm cellular and SOHO DAS booster systems. Designed for in-building operation, its wide frequency range allows it to be used for numerous wireless applications. The wall mounting bracket and hardware are included, makings it easy to install this antenna. 
This panel antenna comes complete with an 11 inch low-loss RG58 antenna lead terminated with an N-Female connector.
Antenna Specifications.
Frequency Range

698 – 960 / 1710 - 2700 MHz

Gain

5dBi/8dBi (typical)

Polarization

Vertical or Horizontal

Horizontal Beamwidth

80 / 65 Degrees

Vertical Beamwidth

73 / 60 Degrees

VSWR

1.8:1

Impedance

50 Ohm

Cable length

11 Inches (279 mm)

Connector

Type N Female

Maximum Power

50 Watts

Dimensions

6.5 x 6.5 x 2.0 Inches 

165 x 165 x 50 mm

Temperature Range

-67°F to 140°F (-55°C to 60°C)

Weight

0.7 Lbs. (0.32Kg)
4-Way Signal splitter description.
The SignalBooster.com AFCCS0727S4NFM7 is a 50 Ohm signal splitter which is used to divide a signal evenly between 4 output ports. It is weather-proof and can be used for indoor and outdoor installation.
This signal splitter is compatible with any 50 Ohm cell phone booster and repeater including Uniden, Hiboost, SureCall and Wilson weBoost. It is typically used to connect several indoor antennas to a single booster. They are also often used to couple or "stack" many outdoor antennas together to increase gain or shape signal coverage.
This wide band splitter operates at all cellular bands from 698 MHz to 2700 MHz. This design allows it to be used with many frequency bands making it useful for many applications including 900MHz and 2.4GHz WiFi and wireless video systems. They use an efficient micro-strip design which has low VSWR and insertion loss.
Features.
Compatible with any 50 Ohm Cell Phone Booster, Amplifier and Repeater.
Full Band Coverage (698 MHz to 2700 MHz).
Low VSWR and insertion loss.
Weatherproof.
High isolation between ports.
N Female Connectors (50 Ohm).
Machined Aluminum Housing.
Micro-strip Design using PTFE/Fiberglass.
Applications.
Operates for all carriers.
2G, 3G, 4G and LTE Cellular.
Indoor and Outdoor use.
CDMA, LTE, UMTS, GSM and AWS.
Uniden, Hiboost, SureCall and Wilson weBoost Boosters.
802.11b/g/n WiFi, WiMAX.
Distributed Antenna Systems.
Splitting Power.
Combining Power.
4-Way Splitter Technical Specifications.
Model

AFCCS0727S4NFM7

Frequency Range

698-2700 MHz

Splitter Loss

6 dB

Insertion Loss

0.6 dB Max.

Isolation

20 dB Typ.

VSWR

< 1.35:1

Impedance

50 Ohm

Maximum Power

50 Watts

Connectors

5 x Type N-Female

Dimensions

3.1 x 3.0 x 0.7 Inches

77 x 75 x 19 mm

Temperature Range

-49°F to 149°F 

-45°C to 65°C

Weight

0.53 lbs. / 0.24 kg
AFCAX-400 Low Loss Cable.
SignalBooster.com AFCAX-400 is a 400-series coaxial cable featuring high-performance, low insertion loss and a durable PE jacket. This cable is manufactured with high quality construction techniques and achieves electrical performance similar to Commscope CNT-400, Times Microwave LMR-400 and other 400-series cables. It is available in 500 foot reels, or by the foot. It is compatible with industry standard 400-series connectors and also supplies a wide range of solderless, clamp and crimp connectors. Various off-the-shelf cable assemblies are stocked and custom series assemblies can be manufactured quickly.
Features.
Compatible with Standard 400-Series Connectors.
Direct replacement for Commscope CNT-400, RG-8/9913 and Times Microwave LMR-400 Air-Dielectric Cables.
High Performance / Low Loss.
Durable PE Jacket.
Applications.
Land Mobile Radio (LMR).
WLL, WiFi, WiMax and WLAN.
SCADA and GPS Systems.
Antenna Feeds.
RF Pigtails and Jumper Cables.
Mobile Use and Ham Radio.
Construction Specifications.
#

Description

Material

Diameter mm (in)

1

Inner Conductor

Copper Clad Aluminum

2.74 (.11)

2

Dielectric

Foam Polyethylene

7.24 (0.29)

3

Inner Shield

Bonded Aluminum Foil

8.1 (0.32)

4

Outer Shield

Tinned Copper Braid

5

Jacket

Polyethylene

10.16 (.4)
Electrical Specifications.
| | |
| --- | --- |
| Impedance | 50 ohm |
| Capacitance | 78.4pF/m |
| Velocity | 85% |
| Peak Power | 16 KW |
Mechanical Specifications
| | |
| --- | --- |
| Bending Radius | 51 mm (2.01 in) |
| Operating Temp | -40 to 80 ̊C |
| RoHS | Compliant |
| Tensile Strength | 72.6 Kg (160lb) |
RF Performance.
| | | |
| --- | --- | --- |
| Frequency (MHz)  | Attenuation (dB/100ft)  | Average Power (KW) |
| 30 | 0.7 | 2.91 |
| 50 | 0.9 | 2.21 |
| 150 | 1.5 | 1.28 |
| 220 | 1.9 | 1.05 |
| 450 | 2.7 | 0.72 |
| 900 | 3.9 | 0.50 |
| 1500 | 5.1 | 0.38 |
| 1800 | 5.7 | 0.34 |
| 2000 | 6.0 | 0.33 |
| 2500 | 6.8 | 0.29 |
| 5800 | 10.8 | 0.18 |
Reviews
Questions & Answers
QUESTIONS & ANSWERS
Have a Question?
Be the first to ask a question about this.
Ask a Question
Data Sheet / User Guide
Make An Offer
Warning
Note: For any signal booster to help, outside signal strength must be at least -110 dB or there must be a clear line of sight to a cell tower that is within twenty miles. Before ordering, please check outside signal level in decibels or ensure that you can make and hold a phone call at any good spot outside where you can mount an exterior antenna. Square footage stated in signal booster listings is based on good signal outside. If it is any weaker, the boosted sq. ft. area will be considerably lower, accordingly.
Kevin K. of Anderson, California gave the following review:
Website is easy to use with plain straight forward info but could have had more on testing signal strength to make sure you get a strong enough booster.
Therefore, please note that stated sq. ft. coverage is based on good signal outside. For best results: If outside signal is weak, we suggest choosing the next higher sq. ft. coverage kit. If outside signal is very weak, we suggest choosing the kit with even more higher sq. ft. range bracket. Basically, higher the sq. ft. bracket, the more powerful the signal amplifier with greater Gain as well as higher uplink and downlink output power.
If outside signal is too weak (weaker than -110 dB), submit request for cell coverage solution assessment. Upon receipt of questionnaire, we will perform residential or business site survey. This will help us determine the system that is needed to improve cell coverage. Then, we will create system design using that system such as femtocell, active or hybrid distributed antenna system (DAS), or other carrier feed signal enhancing method available that will work at your signal-challenged location. Finally, we will schedule for installation after equipment and installation service quote has been approved by you, or your company.
For non installation-included kits: Most home / office / building cell signal booster kits only include bracket to mount exterior antenna on outside wall, edge of roof, or existing pipe up to 2 inches in diameter. Mounting pole not included with most kits, unless stated specifically that it is included for free. Therefore, a mounting post must be purchased separately if you will require it to mount exterior antenna.
---
Related Products