Nextivity Cel-Fi PRO-X Accessory (Includes 40M Cable)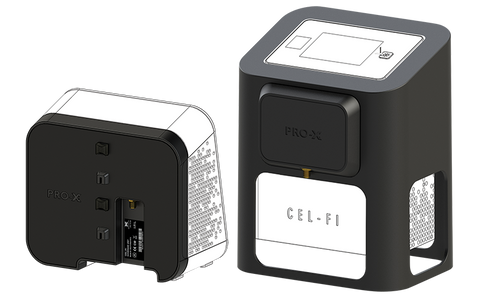 Nextivity Cel-Fi PRO-X Accessory (Includes 40M Cable)
Regular price

$378.99 USD

Sale price

$349.99 USD
Best Price Guarantee. [1, 2, 3]
Buy Now, Pay Later with No Interest if paid in full within 6-12 months. Choose Klarna payment option at the checkout for details of this, and other long-term low-interest financing options.
Free Lifetime Support. SKU / Model: 590N030-006-10
Best Price Guarantee [1 2 3]
*For all Cel-Fi branded products only: 30 days return policy. Must be returned in mint condition for refund. 2 years limited manufacturer warranty for repair or replacement due to manufacturer defect(s).
Call for FREE consultation:
1(855)846-2654
Need installation quote, or help with designing a custom solution? Submit a request for quote.
Description
Reviews
Questions & Answers
Make An Offer
Warning
Description
Product Description
The Cel-Fi PRO-X was made exclusively as an accessory for the Cel-Fi PRO kits with external antenna connector. It helps combat certain issues that have arisen with the range of function on the PRO. While the PRO does boost network signal and reduce instances of dropped calls, poor audio and dead zones in most situations, sometimes the place where the device is needed is not easily accessible. For offices, homes, or buildings where a specific area is too far from the network unit to receive signal, is underground, or faces more signal blockers than other areas, the Cel-Fi PRO-X provides an easy solution. SKU: 590N030-006-10, 590N030006-10, 590N030-00610, 590N03000610.
Sold separately from the Cel-Fi PRO unit, the PRO-X, once connected to a PRO unit by cable, allows coverage in these problematic areas. Includes 40 meter or 131.25 feet cable that accompanies this unit. It is recommended that a professional is consulted and hired to install it. Other available cable types vary by diameter and estimated range, and the most suitable is dependent on your needs.
The PRO-X brings the same FCC approved 100db worth of signal gain to the area it is placed in, just as the PRO unit, and it works with any Cel-Fi PRO booster without the need for modifications. The cable that is included can easily be installed by a professional, and then wired to the area where signal problems occur. Because it allows coverage in internal structures where signal might be unable to penetrate, the PRO-X can cover any blind spots that come about where the Cel-Fi PRO is the only device used. It is also compatible with PRO mounting brackets, and no additional power is required to run it.
As a plug and play device, there is no configuration needed. Just connect the cable and start boosting your signal.
Why would a wireless signal booster need a cable?
It is s simple - there are many environments in the world where radio frequency (RF) propagation is a bigger issue than we come across in the everyday world. Manufacturing, mining, marine, parking facilities to name a few, can make it impossible to boost cellular coverage over a wireless link due to external interference and other issues.
This Cel-Fi PRO-X accessory is easy for professional installers to set up and is a cost-effective add on to any Cel-Fi PRO. It allows for a cable connection between the Network and Coverage units to deliver a strong cellular signal even in the most challenging environments. Simply slide the Cel-Fi PRO Network Unit into the PRO-X sleeve, and attach the LMR-200 cable to the front using an SMA connector. A second PRO-X adapter snaps onto the Coverage Unit, providing an SMA connector to attach the cable. Cel-Fi PRO-X can provide a cabled connection of up to 40 meters. And because it uses a passive coupling, it doesn't require any additional certification or power.
Reviews
Questions & Answers
Is this model Cel-Fi-P34-2/4/5/12 Does it come with both the network and coverage units? Let me know. Thanks

Yes, Cel-Fi-P34-2/4/5/12 listed at https://www.signalbooster.com/products/cel-fi-pro-signal-booster-for-att-3g-4g-lte includes both network unit and coverage unit.

Please note that this product listing on this page (Cel-Fi PRO-X) is only an "accessory" for the kit at link provided above, and does not contain the signal amplifier kit itself (no network unit, and no coverage unit).

Thank you.
Data Sheet / User Guide
Make An Offer
Warning
Note: For any signal booster to help, outside signal strength must be at least -110 dB or there must be a clear line of sight to a cell tower that is within twenty miles. Before ordering, please check outside signal level in decibels or ensure that you can make and hold a phone call at any good spot outside where you can mount an exterior antenna. Square footage stated in signal booster listings is based on good signal outside. If it is any weaker, the boosted sq. ft. area will be considerably lower, accordingly.
Kevin K. of Anderson, California gave the following review:
Website is easy to use with plain straight forward info but could have had more on testing signal strength to make sure you get a strong enough booster.
Therefore, please note that stated sq. ft. coverage is based on good signal outside. For best results: If outside signal is weak, we suggest choosing the next higher sq. ft. coverage kit. If outside signal is very weak, we suggest choosing the kit with even more higher sq. ft. range bracket. Basically, higher the sq. ft. bracket, the more powerful the signal amplifier with greater Gain as well as higher uplink and downlink output power.
If outside signal is too weak (weaker than -110 dB), submit request for cell coverage solution assessment. Upon receipt of questionnaire, we will perform residential or business site survey. This will help us determine the system that is needed to improve cell coverage. Then, we will create system design using that system such as femtocell, active or hybrid distributed antenna system (DAS), or other carrier feed signal enhancing method available that will work at your signal-challenged location. Finally, we will schedule for installation after equipment and installation service quote has been approved by you, or your company.
For non installation-included kits: Most home / office / building cell signal booster kits only include bracket to mount exterior antenna on outside wall, edge of roof, or existing pipe up to 2 inches in diameter. Mounting pole not included with most kits, unless stated specifically that it is included for free. Therefore, a mounting post must be purchased separately if you will require it to mount exterior antenna.
---
Related Products