High Gain Omni Antenna for WiFi & Cell 3G 4G LTE (10 dBi)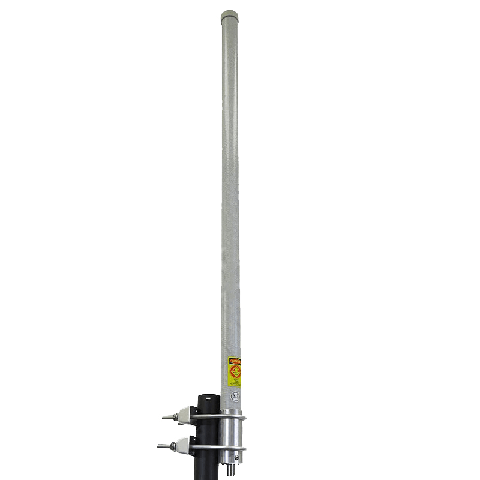 High Gain Omni Antenna for WiFi & Cell 3G 4G LTE (10 dBi)
Regular price

$259.99 USD

Sale price

$225.00 USD
Best Price Guarantee. [1, 2, 3]
Buy Now, Pay Later with No Interest if paid in full within 6-12 months. Choose Klarna payment option at the checkout for details of this, and other long-term low-interest financing options.
Free Lifetime Support. SKU / Model: AFCAU0727G10PROS5
Best Price Guarantee [1 2 3]
Call for FREE consultation:
1(855)846-2654
Need installation quote, or help with designing a custom solution? Submit a request for quote.
Description
Reviews
Questions & Answers
Make An Offer
Warning
Description
Product Description
Premium Quality High Gain (10 dBi) Antenna. It covers Wide Frequency Bands of 698MHz to 960MHz and 1710MHz to 2700MHz. Wireless network technologies incorporated include 2G, 3G, LTE and 2.4GHz Wi-Fi.
This exceptionally powerful omni-directional antenna also attracts/ draws/ pulls wireless signals from all directions in all 360 degrees. Outside/ Outdoor Building Roof Mount/ Pole Mount Omni Antenna has 50 Ohm impedance.
Summary.
It is an exterior building mount antenna that features a professional quality construction and offers high gain plus broad bandwidth. Its utilizes solid brass elements for improved efficiency.
More Details.
This antenna can be used outdoors as a building antenna to improve access to cell tower signals for boosters and amplifiers located indoors. This is our premium signal booster custom style # 5 inventory item: High Gain Omni Antenna for WiFi & Cell 3G 4G LTE (10 dBi) with UPC 697691010557.
It is compatible with all major carriers, including Sprint, AT&T Wireless, Telus Mobility, T-Mobile USA, Bell Canada, Verizon, Rogers, Freedom Mobile, and many more. It is compatible with 50 Ohm cellular boosters, and can also be used for commercial DAS installations.
Features.
High Gain Omnidirectional Coverage.
698-960, 1710-2700 MHz bandwidth.
Commercial Grade Construction.
Durable Fiberglass Radome.
All Weather Operation.
Robust Mounting Base and Hardware to withstand storms and bad weather.
Applications.
All Carrier Operation.
2G, 3G, 4G and LTE Cellular Applications.
Designed for Outdoor use, but can be installed Indoors.
Small Cell and Micro Cell Installations.
900MHz and 2.4GHz Wireless Video Applications.
DAS Systems in Stadiums and Public Venues.
Specifications:
| | |
| --- | --- |
| Frequency Range | 698 to 960 / 1710 to 2700 MHz |
| Gain | 10 dBi |
| Polarization | Vertical |
| Horizontal Beamwidth | 360 Degrees |
| Vertical Beamwidth | 55 / 18 Degrees |
| VSWR | 1.5:1 Typical |
| Impedance | 50 Ohm |
| Connector Type | Integral N-Female |
| Fits | Type 400 Cable with N-Male Connector |
| Maximum Power | 100 Watts |
| Dimensions | 2.3 x 37.5 Inches (52 x 1067 mm) |
| Temperature Range | -40°F to 149°F (-40°C to 60°C) |
| Weight | 2.25 Lbs. (1 Kg) |
| Mast Diameter | Conical 1.2 to 2 Inches (30 to 50 mm) |
| Lightning Protection | DC Short |
698 MHz, 960 MHz, 1710 MHz RF Antenna Patterns:
2200 MHz, 2400 MHz, 2700 MHz RF Antenna Patterns:
Reviews
Questions & Answers
I don't see any set up details. How is this installed? What does it connect to? How is it mounted?

It simply has N-Female connector which would connect to your 50 Ohm cable with appropriate connector. Purchase includes bracket for installing on any pole but the mounting pole itself is not included. If you don't have anything to mount on, and need a pole to mount, it must be purchased separately.

Here's one pole: https://www.signalbooster.com/products/j-pipe-for-antenna-pole-installation-19-inches-fully-adjustable

Here's another pole: https://www.signalbooster.com/products/jbar-mount

I purchased this antenna a long time ago and just opened up the package. There was no mount included. Is there any way you can point me to be able to purchase them? I realize it's been too long to get reimbursed, but am having a hard time finding the exact mounting hardware for this antenna. Thanks.

Correct, this antenna purchase does not include a pole to mount antenna. We carry many poles and brackets to mount antennas. You may consider J-Bar Pipe which includes hardware to mount pole to wall, etc. and you may consider L-Bracket and U-Bolt to fasten antenna to the pole.

So a coaxial cable runs down from antennae and connects to a WiFi receiver (modem). But there's no coax connector (female)... only ethernet jacks. How will that work?

Some modems have an open antenna port marked, "Coax" and for some you would remove the whip antenna or right angle antenna from the router or modem and connect the coax cable coming from exterior antenna there.

This antenna has N-Female connector so you would first need a cable like LMR400 with N-Male connectors (whichever length you need to reach your modem or router).

Then you may need a N-Female to SMA-Male connector or N-Female to SMA-Female connector or similar to match whichever your cellular or wifi modem/router antenna port has got.

This is how you're basically replacing your underperforming cellular modem or router antenna with a more powerful exterior antenna which can catch signals better from outside, instead of interior stock antenna trying to catch already degraded signal inside (degraded due to building structure that blocks signals to cellular modem) for the modem to stay connected consistently and broadcast signals strongly across your living spaces indoors.

What indoor amplifier do I need?

You can use this as a passive antenna by connecting cable from it to your own wifi or cellular modem which requires boosted signal.

No signal amplifier is required in between.

However, you can use one if you want a powered amplifying system.

There're too many in the market to list here - practically any wifi amplifier or cell amplifier can work with this antenna because it covers both wi-fi network 2.4ghz (2400 MHz) and mobile network frequencies 698MHz to 2700MHz.

Please note that all cellular amplifier kits come complete with exterior antenna but you can choose to switch it out with this one as it may offer higher Gain at 10dBi, than the stock antenna that comes with most cell phone signal booster kits.

Please contact us if you need help.
Data Sheet / User Guide
Make An Offer
Warning
Note: For any signal booster to help, outside signal strength must be at least -110 dB or there must be a clear line of sight to a cell tower that is within twenty miles. Before ordering, please check outside signal level in decibels or ensure that you can make and hold a phone call at any good spot outside where you can mount an exterior antenna. Square footage stated in signal booster listings is based on good signal outside. If it is any weaker, the boosted sq. ft. area will be considerably lower, accordingly.
Kevin K. of Anderson, California gave the following review:
Website is easy to use with plain straight forward info but could have had more on testing signal strength to make sure you get a strong enough booster.
Therefore, please note that stated sq. ft. coverage is based on good signal outside. For best results: If outside signal is weak, we suggest choosing the next higher sq. ft. coverage kit. If outside signal is very weak, we suggest choosing the kit with even more higher sq. ft. range bracket. Basically, higher the sq. ft. bracket, the more powerful the signal amplifier with greater Gain as well as higher uplink and downlink output power.
If outside signal is too weak (weaker than -110 dB), submit request for cell coverage solution assessment. Upon receipt of questionnaire, we will perform residential or business site survey. This will help us determine the system that is needed to improve cell coverage. Then, we will create system design using that system such as femtocell, active or hybrid distributed antenna system (DAS), or other carrier feed signal enhancing method available that will work at your signal-challenged location. Finally, we will schedule for installation after equipment and installation service quote has been approved by you, or your company.
For non installation-included kits: Most home / office / building cell signal booster kits only include bracket to mount exterior antenna on outside wall, edge of roof, or existing pipe up to 2 inches in diameter. Mounting pole not included with most kits, unless stated specifically that it is included for free. Therefore, a mounting post must be purchased separately if you will require it to mount exterior antenna.
---
Related Products