LMR-400 Equiv. White Coax Cable with N-Male Connectors (50 Ohm)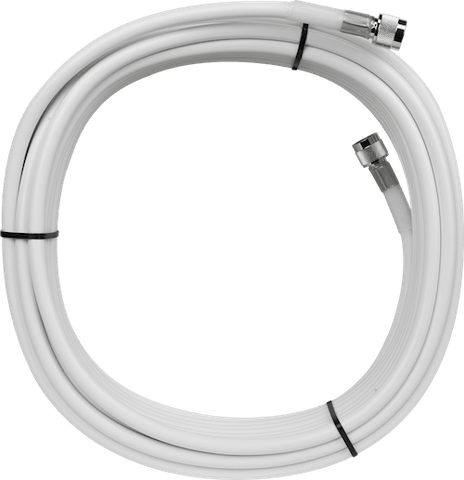 LMR-400 Equiv. White Coax Cable with N-Male Connectors (50 Ohm)
Regular price

$43.73 USD

Sale price

$32.80 USD
Best Price Guarantee. [1, 2, 3]
Buy Now, Pay Later with No Interest if paid in full within 6-12 months. Choose Klarna payment option at the checkout for details of this, and other long-term low-interest financing options.
Free Lifetime Support. SKU / Model: 400-WHITE-COAX-NMALE-2FT
Best Price Guarantee [1 2 3]
Call for FREE consultation:
1(855)846-2654
Need installation quote, or help with designing a custom solution? Submit a request for quote.
Description
Reviews
Questions & Answers
Make An Offer
Warning
Description
Product Description
White color 2 ft. to 100 ft. LMR400 equivalent ultra low loss coax cables are comparable, or equivalent to LMR-400 coaxial cables. "Ultra low loss" means that they incur a very low loss of under 1dB. Signal loss per 10 ft. on 800 MHz is only 0.45 dB. Signal loss per 10 ft. on 1900 MHz is only 0.7 dB. All white cables include N-Male connectors on both ends.
All of them are white in color. White wires are perfect for camouflaging on light colored paint background walls so they don't stand out like dark color cables. If aesthetics is very important, these light colored 400 series cables are best because they look elegant when placed against any color wall or ceiling - especially white. Each white wire's available in sizes from small 2 feet to 100 feet long. Choose the size you need from the drop-down menu provided above. They have 50 Ohm Impedance. 
Cables like these can be used inside building or outside buildings. They enable perfectly secure connections between an amplifier to both indoor or outdoor antennae, taps, splitters or surge protectors. The N-Male connector on each of the two ends makes them ideal for use with any brand 50 Ohm in-building cell phone signal booster amplifier system equipped with Type N connectors. The cable sizes in stock and available are 2 ft., 10 ft., 30 ft., 50 ft., 75 ft. and 100 ft. They come finished with N/Male connectors crimped and installed at the factory. All size cables are weatherproof, heat shrunk, and tested. Please contact us to special-order any other custom sizes you need.
Compatibility.
This cable will connect directly to an N/Female terminated device such as most 50 Ohm Yagi/ Dome antennas or cellular building amplifiers. Other items may require an adapter.
Features:
WORKS WITH 50-OHM AMPLIFIERS - Designed for use with 50-Ohm amplifiers and accessories, these cables work with any in-building amplifier equipped with N connectors. The coaxial cable facilitates uninterrupted transfer of signals from devices and gadgets, while also reducing the amount of signal loss.
CL3 RATED - This coaxial cable is CL3 rated and can carry up to 300 volts, making it ideal for commercial applications. Constructed from premium double-shielded twisted pairs and triple-shielded coaxial cable, this superior product suits single, three-phase three-wire, and three-phase four-wire systems, so it is perfect for gadgets and appliances.
N-TYPE CONNECTOR - Most signal boosters and all cables feature N-type connector with a threaded, weatherproof structure. Those medium-sized RF connectors quickly receive large amounts of data and easily handle frequencies of up to 11 GigaHertz.
COMES WITH A 1-YEAR WARRANTY - Created to maximize the functionality of cellular amplifiers, these cables allow transfer of signals over large distances with minimum signal loss. They come with one-year warranty so you can feel confident of your purchase.
WORKS WITH ALL CARRIER NETWORKS - This cable is designed to work with devices and appliances with 50-Ohm impedance. Ideal with an antenna and amplifier, this coaxial cable works on all carrier networks including AT&T Wireless, T-Mobile, Verizon Wireless, Sprint, and U.S. Cellular. These cables are guaranteed to help increase your antenna's or amplifier's coverage, giving you enhanced call quality and superior data connectivity. 
| | | |
| --- | --- | --- |
| Part # | Description | Price |
| 400-WHITE-COAX-NMALE-2FT | 2 ft. LMR400 Equiv. Coax Cable with N-Male to N-Male Connectors. | $43.73 |
| 400-WHITE-COAX-NMALE-10FT | 10 ft. LMR400 Equiv. Coax Cable with N-Male to N-Male Connectors. | $61.23 |
| 400-WHITE-COAX-NMALE-30FT | 30 ft. LMR400 Equiv. Coax Cable with N-Male to N-Male Connectors. | $113.73 |
| 400-WHITE-COAX-NMALE-50FT | 50 ft. LMR400 Equiv. Coax Cable with N-Male to N-Male Connectors. | $139.98 |
| 400-WHITE-COAX-NMALE-75FT | 75 ft. LMR400 Equiv. Coax Cable with N-Male to N-Male Connectors. | $192.48 |
| 400-WHITE-COAX-NMALE-100FT | 100 ft. LMR400 Equiv. Coax Cable with N-Male to N-Male Connectors. | $244.98 |
Reviews
Questions & Answers
QUESTIONS & ANSWERS
Have a Question?
Be the first to ask a question about this.
Ask a Question
Data Sheet / User Guide
Make An Offer
Warning
Note: For any signal booster to help, outside signal strength must be at least -110 dB or there must be a clear line of sight to a cell tower that is within twenty miles. Before ordering, please check outside signal level in decibels or ensure that you can make and hold a phone call at any good spot outside where you can mount an exterior antenna. Square footage stated in signal booster listings is based on good signal outside. If it is any weaker, the boosted sq. ft. area will be considerably lower, accordingly.
Kevin K. of Anderson, California gave the following review:
Website is easy to use with plain straight forward info but could have had more on testing signal strength to make sure you get a strong enough booster.
Therefore, please note that stated sq. ft. coverage is based on good signal outside. For best results: If outside signal is weak, we suggest choosing the next higher sq. ft. coverage kit. If outside signal is very weak, we suggest choosing the kit with even more higher sq. ft. range bracket. Basically, higher the sq. ft. bracket, the more powerful the signal amplifier with greater Gain as well as higher uplink and downlink output power.
If outside signal is too weak (weaker than -110 dB), submit request for cell coverage solution assessment. Upon receipt of questionnaire, we will perform residential or business site survey. This will help us determine the system that is needed to improve cell coverage. Then, we will create system design using that system such as femtocell, active or hybrid distributed antenna system (DAS), or other carrier feed signal enhancing method available that will work at your signal-challenged location. Finally, we will schedule for installation after equipment and installation service quote has been approved by you, or your company.
For non installation-included kits: Most home / office / building cell signal booster kits only include bracket to mount exterior antenna on outside wall, edge of roof, or existing pipe up to 2 inches in diameter. Mounting pole not included with most kits, unless stated specifically that it is included for free. Therefore, a mounting post must be purchased separately if you will require it to mount exterior antenna.
---
Related Products