Tower IQ Guardian QR700 (Canada) | SC-TriPSBS-80-700/3996126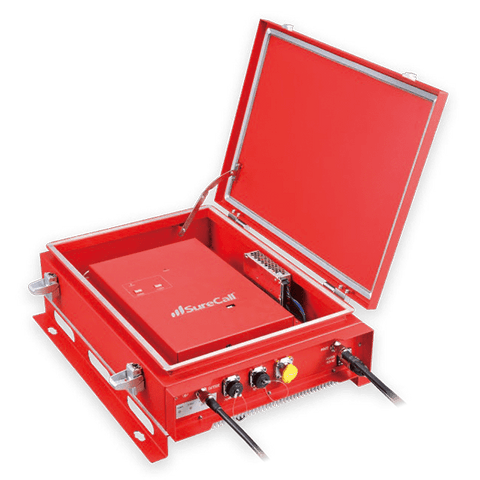 Tower IQ Guardian QR700 (Canada) | SC-TriPSBS-80-700/3996126
Regular price

$7,500.00 USD

Sale price

$5,599.99 USD
Best Price Guarantee. [1, 2, 3]
Buy Now, Pay Later with No Interest if paid in full within 6-12 months. Choose Klarna payment option at the checkout for details of this, and other long-term low-interest financing options.
Free Lifetime Support. SKU / Model: SC-TriPSBS-80-700/3996126
Best Price Guarantee [1 2 3]
Call for FREE consultation:
1(855)846-2654
Need installation quote, or help with designing a custom solution? Submit a request for quote.
Description
Reviews
Questions & Answers
Data Sheet / User Guide
Make An Offer
Warning
Description
Product Description
Tower-IQ Guardian QR700 Canada Public Safety Signal Booster.
Previously SureCall, Potter Signal's Tower IQ Guardian QR700 Canada Public Safety Signal Booster is a Canadian Public Safety Communications Signal Amplifier for Coverage up to 80,000 sq. ft.
Overview.
SureCall's latest innovation, the Guardian QR700 Canada, is a Bi-Directional Amplifier that services the growing Public Safety 700 MHz bands for Canada. The Guardian-700 QR meets Chapter 24 of NFPA 72 standards, improving weak First Responder signals for critical and non-critical areas within the building. UPC: 858507006700.
Unique Features.
Provides improved coverage for Public Safety 700 MHz bands for coverage up to 80,000 sq. ft.
80 dB Wideband and 3W EIRP for Public Safety Bands.
Linear Design increases number of simultaneous users to 100+ per band.
Features built-in SureCall Sentry remote monitoring system with Ethernet port.
Integrated 7-pin alarm and UPS port for external battery backup.
Meets Chapter 24 Emergency Communications System of NFPA 72.
NEMA 4 rated amplifier housing. No additional NEMA enclosure(s) needed.
Meets the code for NFPA 1221 and IFC 510.
Dry contact 7-pin alarm, UPS and Ethernet port for remote monitoring.
Energy-saving operation allows bands to remain dormant when not in use.
Automatic gain control (AGC).
A/C 110V or D/C 16-24V power option.
Independently adjustable frequency attenuation for uplink and downlink (reduces gain in -1 dBm increments).
Package Contents.
Your BDA box contains the following items:
Guardian QR700 Bi-directional Amplifier.
NEMA-4 rated housing.
Mounting kit.
DC power supply.
Wall anchors.
Additional Items Needed.
The Guardian QR700 needs the following additional components for a complete install:
External antenna.
Lightning protector.
Cable splitter if installing multiple antennas.
Sufficient SC-400 ultra-low loss interior/ exterior cable, 50 ohm.
Multiple antennas (omnidirectional domes and/or panels by SureCall).
Grounded surge suppressor for DC power supply.
How it works.
The Guardian QR-700 amplifies signals that reach a building from the nearest radio tower, and from radios inside the building going back to the tower. This compensates for weak reception caused by distance, topography, building structure, etc. The BDA receives the signal from an outside antenna, amplifies that signal, and then rebroadcasts it via antenna(s) inside the building, where it can then be picked up by radios inside. In the reverse direction, interior antennas also pick up signals coming from radios, where they are amplified by the BDA, and then passed to the exterior antenna for rebroadcast back to the tower.
Industry Canada (IC) Compliance.
This is a Class B device. The product has also been tested and found to comply with the Industry Canada (IC) RF Exposure Requirements, pursuant to IC RSS-131.
Single vs. Multiple Carrier Operation.
SureCall's rated output power of this equipment is for single-carrier operation. It is recommended that you factor in loss when dealing with multiple carrier signals. We suggest 3 to 5 dB loss factor.
Summary.
The Guardian QR700 significantly improves the quality of crucial first-responder communications in buildings with weak signal strength. For optimal coverage, the BDA uses built-in safeguards to eliminate interference to public-safety networks. Plus, the Guardian QR700 offers the industry's best three-year warranty.
The Guardian QR700 is enclosed in a NEMA-4 compatible housing, and enhances the coverage area of first responder radio communications for in-building applications. It is equipped with bi-directional paths (down-link & up-link) for transmit and receive frequencies, and advanced filtering technology for low-noise amplification of signals.
Key Product Specifications.
Uplink Frequency Range: 798-806 MHz
Downlink Frequency Range: 768-776 MHz
Supported Standards: Public Safety 700 MHz
Maximum Gain: 80 dB
Gain Adjustment: 31 dB
Noise Figure: ≤ 8 dB
VSWR: ≤ 2.0
Maximum RF Output Power: 27 dBm / 24 dBm
RF Connectors: N Female (both ends)
Power Consumption: 50W
Alternate Part Numbers:
SC-TriPSBS-80-700
SCTriPSBS80700
TriPSBS-80-700
TriPSBS80700
BEFORE USE, you must meet all requirements set out in CPC-2-1-05. You MUST operate this device with approved antennas and cables as specified by the manufacturer.
Antennas MUST NOT be installed within 20 cm of any person.
You MUST cease operation of this device immediately if requested by ISED or a licensed wireless service provider.
WARNING: E911 location information may not be provided or may be inaccurate for calls served by using this device.
In addition, Consumer Zone Enhancers certified for fixed operation shall include the following: This device may operate in a fixed location only, for in-building use.
Latest news related to this product:
Potter Signal purchased SureCall's public safety business unit, including the Guardian product line: The Guardian4, GuardianA and GuardianQR 700 signal boosters. Based in St Louis, Potter Signal has been US-owned-operated for over 120 years and has quickly established itself as a leader in the evolving field of ERCES technology for first responder emergency communications. Potter's team offers decades of expertise and we're confident in their ability to support ERCES as it continues to grow and expand.
This sale allows SureCall to focus on the continued growth of its core business - commercial and consumer products. This sale also provides significant resources for investing in future business growth through the development and expansion of SureCall's product innovation.
SureCall CEO statement:
"SureCall introduced this product because of a market opportunity where our technology was a good fit. We now recognize that Potter is better positioned to serve this market because of their suite of products that support the entire public safety community. Selling the business unit provides strategic capital that better positions SureCall to focus on the growth of our commercial and consumer products. It also provides significant resources for investing in further innovation."
WARNING. Per Canadian laws and regulations, this INDUSTRIAL GRADE device must not be installed by consumers. It is designed for installation by QUALIFIED INSTALLERS only. You MUST have an express consent in writing from all Carriers in your service area to operate this device. Unauthorized use may result in significant forfeiture penalties, including penalties in excess of $100,000 for each continuing violation. Please contact us for a quote if you require professional installation and assistance with consent and approval process.
Reviews
Questions & Answers
QUESTIONS & ANSWERS
Have a Question?
Be the first to ask a question about this.
Ask a Question
Data Sheet / User Guide
Make An Offer
Warning
Note: For any signal booster to help, outside signal strength must be at least -110 dB or there must be a clear line of sight to a cell tower that is within twenty miles. Before ordering, please check outside signal level in decibels or ensure that you can make and hold a phone call at any good spot outside where you can mount an exterior antenna. Square footage stated in signal booster listings is based on good signal outside. If it is any weaker, the boosted sq. ft. area will be considerably lower, accordingly.
Kevin K. of Anderson, California gave the following review:
Website is easy to use with plain straight forward info but could have had more on testing signal strength to make sure you get a strong enough booster.
Therefore, please note that stated sq. ft. coverage is based on good signal outside. For best results: If outside signal is weak, we suggest choosing the next higher sq. ft. coverage kit. If outside signal is very weak, we suggest choosing the kit with even more higher sq. ft. range bracket. Basically, higher the sq. ft. bracket, the more powerful the signal amplifier with greater Gain as well as higher uplink and downlink output power.
If outside signal is too weak (weaker than -110 dB), submit request for cell coverage solution assessment. Upon receipt of questionnaire, we will perform residential or business site survey. This will help us determine the system that is needed to improve cell coverage. Then, we will create system design using that system such as femtocell, active or hybrid distributed antenna system (DAS), or other carrier feed signal enhancing method available that will work at your signal-challenged location. Finally, we will schedule for installation after equipment and installation service quote has been approved by you, or your company.
For non installation-included kits: Most home / office / building cell signal booster kits only include bracket to mount exterior antenna on outside wall, edge of roof, or existing pipe up to 2 inches in diameter. Mounting pole not included with most kits, unless stated specifically that it is included for free. Therefore, a mounting post must be purchased separately if you will require it to mount exterior antenna.
---
Related Products