An item you're pre-ordering is on backorder so it will take few days to ship - are you sure you want to proceed to order it?
Close
weBoost Signal Booster Installer Site Survey Kit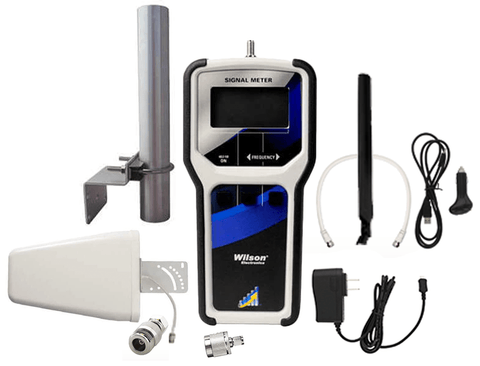 weBoost Signal Booster Installer Site Survey Kit
Regular price

$750.00 USD

Sale price

$598.49 USD
Best Price Guarantee. [1, 2, 3]
Buy Now, Pay Later with No Interest if paid in full within 6-12 months. Choose Klarna payment option at the checkout for details of this, and other long-term low-interest financing options.
Free Lifetime Support. SKU / Model: 460118SK1WEBOOST
Best Price Guarantee [1 2 3]
Call for FREE consultation:
1(855)846-2654
Need installation quote, or help with designing a custom solution? Submit a request for quote.
Description
Reviews
Questions & Answers
Make An Offer
Warning
Description
Product Description
This item has been discontinued and replaced with the new spectrum analyzer.
weBoost Signal Booster Installer Site Survey Kit has an RF Meter, Outside Building Unidirectional Antenna, Short Connecting Cable, and associated Connectors.
The Must-Have Site Survey Kit by weBoost for Installers of Phone Boosters:
The Survey Kit by weBoost is a vitally important piece of equipment for the installer of cell phone signal boosters. Including an exterior unidirectional antenna, RF meter, connectors, and coaxial cable, the installers Survey Kit by weBoost measures the strength of cellular signal both outdoors and indoors to assist with the installation of cell phone signal booster systems.
Everything an installer requires to perform a site survey for the planned installation of a cell phone signal booster comes included in the Survey Kit. The use of a powerful signal meter ensures an efficient and successful installation, and measures RF levels for 4G LTE, AWS, PCS, and cellular frequencies. The unidirectional antenna works in conjunction with the built-in antenna of signal meter to assist with mapping the frequencies and dead zones within the building.
Complete with rechargeable battery, the wideband signal locator with its large LCD display detects all channels, LTE, 4G, and 3G mobile bands. This signal detector is a must-have tool for all installers of cell phone signal boosting systems because of its incredible ability to accurately gauge and isolate cell phone signal bands in realtime. With the Survey Kit by weBoost, installers can not only accurately locate the strongest cell signal within a building, it can also map the external cell signal strength. All major signal frequencies will be recorded by the RF locator, including PCS, AWS, LTE, and cellular frequencies.
The weBoost Survey Kit for installers of cell phone signal boosting systems is the ideal tool for installers to find and record existing bands and signal strengths, map outside signal frequencies, access the most reliable external signal, locate the ideal placement for external directional antenna/s, and ensure that the new phone boosting system is maximized for top performance.
What is included with weBoost installer survey kit?
460118 weBoost Signal Meter.
311159 No Gain Antenna for Signal Meter.
2D9910/ 859977 DC Plug-in 5.5 V/2A Power Supply and USB Cable.
859969 A/C Power Supply Adapter Cord.
901117 Antenna Mounting Pole and Assembling Hardware Parts.
314475 Wideband Unidirectional Antenna.
950602 Two Ft. RG6 Cable.
971132 Type SMA-Male to N-Male Connector.
971151 Type F-Male to N-Female Connector.
weBoost RF Meter Specifications:
| | |
| --- | --- |
| Frequency | 800 MHz (Cellular), 1900 MHz (PCS), 2100 MHz (AWS), 700 MHz LTE (bands 12 and 13). |
| Input Impedance | 50 ohm |
| Max. detectable in-band signal (dBm). | -38 dBm |
| Max. detectable in-band signal with 1.5 MHz BW (dBm). | -110 dBm |
| Max. detectable in-band signal with 10 MHz BW (dBm). | -105 dBm |
| Max. recommended RF input (dBm). | -38 dBm |
| Standard Supported | LTE/ Cellular/ PCS/ AWS |
| Power Requirements | 5V / 1.5A |
| RF connectors | SMA Female |
| Dimensions | 1.25 x 3.25 x 6.75 inches |
| Weight | 0.51 lb. |
Need weBoost Installer?
Contract a weBoost installer to install your cell phone signal booster kit and have it installed professionally by a certified weBoost installation specialist.
Reviews
Questions & Answers
QUESTIONS & ANSWERS
Have a Question?
Be the first to ask a question about this.
Ask a Question
Data Sheet / User Guide
Make An Offer
Warning
Note: For any signal booster to help, outside signal strength must be at least -110 dB or there must be a clear line of sight to a cell tower that is within twenty miles. Before ordering, please check outside signal level in decibels or ensure that you can make and hold a phone call at any good spot outside where you can mount an exterior antenna. Square footage stated in signal booster listings is based on good signal outside. If it is any weaker, the boosted sq. ft. area will be considerably lower, accordingly.
Kevin K. of Anderson, California gave the following review:
Website is easy to use with plain straight forward info but could have had more on testing signal strength to make sure you get a strong enough booster.
Therefore, please note that stated sq. ft. coverage is based on good signal outside. For best results: If outside signal is weak, we suggest choosing the next higher sq. ft. coverage kit. If outside signal is very weak, we suggest choosing the kit with even more higher sq. ft. range bracket. Basically, higher the sq. ft. bracket, the more powerful the signal amplifier with greater Gain as well as higher uplink and downlink output power.
If outside signal is too weak (weaker than -110 dB), submit request for cell coverage solution assessment. Upon receipt of questionnaire, we will perform residential or business site survey. This will help us determine the system that is needed to improve cell coverage. Then, we will create system design using that system such as femtocell, active or hybrid distributed antenna system (DAS), or other carrier feed signal enhancing method available that will work at your signal-challenged location. Finally, we will schedule for installation after equipment and installation service quote has been approved by you, or your company.
For non installation-included kits: Most home / office / building cell signal booster kits only include bracket to mount exterior antenna on outside wall, edge of roof, or existing pipe up to 2 inches in diameter. Mounting pole not included with most kits, unless stated specifically that it is included for free. Therefore, a mounting post must be purchased separately if you will require it to mount exterior antenna.
---
Related Products