Wilson Pro 1000R for up to 35,000 Sq. Ft. | WilsonPro 460237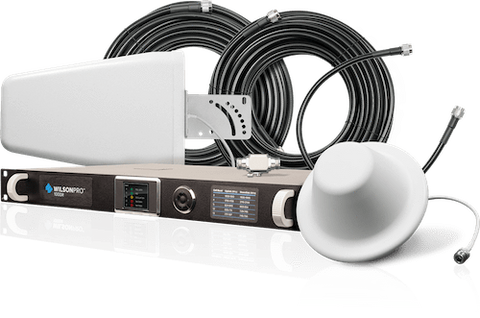 Wilson Pro 1000R for up to 35,000 Sq. Ft. | WilsonPro 460237
Best Price Guarantee. [1, 2, 3]
Buy Now, Pay Later with No Interest if paid in full within 6-12 months. Choose Klarna payment option at the checkout for details of this, and other long-term low-interest financing options.
Free Lifetime Support. SKU / Model: 460237
Best Price Guarantee [1 2 3]
Sold as a complete cell signal booster kit with all required parts.
Boost in-building coverage for up to 35,000 sq. ft.
Color LCD toggle screen for easy access to monitor settings.
Extra Dynamic Range technology for continuous connectivity.
Highest downlink and uplink power (adjustable).
Expand coverage indoors even more by purchasing add'l 50 Ohm in-building antenna kits that include required cables and splitter to connect to this 50 Ohm booster kit.
Call for FREE consultation:
1(855)846-2654
Need installation quote, or help with designing a custom solution? Submit a request for quote.
Description
Reviews
Questions & Answers
Data Sheet / User Guide
Make An Offer
Warning
Description
Product Description
WilsonPro 1000R Product Review and Description. 
Wilson Pro 1000R cell phone signal booster with part number Wilson 460237/ wa460237 is a cost-effective, quick deployment commercial booster kit that works exceptionally well in vast indoor settings and a unique booster targeting IT enterprise professionals. Designed, engineered, and assembled in USA by Wilson Electronics/ weBoost.
5G Ready - Per manufacturer, this WilsonPro cell phone booster will work for the next decade and beyond.
What does the WilsonPro 1000R Commercial Signal Booster Kit (460237) cost? Call us, chat live, or email us to find out because these can be customized or kitted with variable number of antennas depending on your needs.
As the rack mounted amplifier, Wilson Pro1000R can form a network of multiple interior antennas covering up to 35,000 sq. ft. of indoor spaces (under strong outside signal conditions). This one cell boosting amplifier can therefore provide indoor coverage up to 35k square feet depending upon the strength of incoming signal from the cell tower.
Wilson 1000R is designed with in-building solutions in mind. It is capable of enhancing cellular coverage for huge indoor spaces such as offices, warehouses, hotels and hospitals. Essentially, weak cell signals are amplified to offer the most reliable data and voice coverage, including 4G within inside spaces where signals have not been penetrating. The downlink and uplink adjustable gain controls on every band give the user the chance to customize the Wilson 1000-R to meet the needs of any particular signal environment.
Wilson Pro1000-R also comes with features unique to WilsonPro signal boosters for the cellular network. This includes auto detecting site protections particularly for cell tower interference prevention. With a 3-year warranty, the cell booster is a high quality product for professional and extensive technology integration.
Overall, the device has great benefits such as:
Wide coverage area.
Elimination of dropped calls.
Voice quality is highly improved.
Emails and text message reception and sending is enhanced.
Internet data streaming, downloads and uploads is made faster than ever.
Reception is heavily improved.
Makes services across the office consistent.
Raises the number of signal bars.
Boosts phone battery life.
Booster remains connected all the time and remains on, always.
As a rack mounted type of cell booster in the industry, Wilson Pro 460237 is a professional-grade multi-carrier all-band signal booster that enhances and amplifies voice calls, 4G LTE data, 3G, and 2G networks on all Canadian and US carriers.
WilsonPro 460237 unit provides an FCC-approved downlink power of up to 15 dB higher than other cell boosters out there. This ensures the signal remains strong even when incoming signal is not very strong. Uplink power is the highest permitted, providing an increased range and user capacity. A lower shutdown and overload threshold guarantees Wilson Pro 1000R performance remains very high even in the strongest signal surroundings such as locations close to cell towers and cities. It will not shut down or overload due to a powerful incoming signal, as a result of a low threshold.
Installation friendly.
In contrast with other cell phone signal boosters, Wilson Pro 1000 R is installation-friendly. It comes in a rack mounted design that fits into the server rack. The unit is accessible with ease whenever you need it. The four-way navigation of the LCD color screen ensures integrators control the unit easily.
What is WilsonPro 1000R cell phone booster best for?
It is best for businesses operating within multi-story buildings including large offices, industrial metal-framed buildings, hospitals, convention centers, warehouses, schools. It is best for establishments with basements and multiple floors, including underground floors, libraries and underground parking spaces. Basically, if a cell booster is needed for a large indoor area, then businesses will find Wilson 1000 R cell phone signal booster to be a huge advantage for making wireless communication strong indoors.
WilsonPro 1000R Signal Booster Specifics.
Rack mounted.
WilsonPro 1000-R is a rack-mounted installation that fits into an on-hand server rack. Installation is not just clean but also seamless, leaving the unit easily accessible.
Better control.
The cell booster has onboard software specifically to make control much better. As such, every indoor path of the antenna is automatically and independently controlled. The software also ensures there's wider and better connectivity across multi-story buildings and gigantic spaces. Every port is controlled independently. Each port adjusts its own gain level down and up effortlessly, as needed as per immediate signal conditions within that environment. This happens without any disruption of any antenna coverage. 
Continuous connectivity assured.
The XDR (Extra Dynamic Range) technology that comes with the 1000R guarantees continuous connectivity. As a result, the cell booster tolerates excessive signal better than other competing boosters. It deflects the strongest signal by lowering its power to prevent damaging the cellular network without shutting itself down. Wilson Electronics' proprietary XDR technology makes sure the booster does not shutdown when the signal is too strong. Continuous connectivity is assured as the signal strength does not overpower the WilsonPro 1000R which in other signal boosters, results in an immediate shutdown. 
Color LCD.
Most cell boosters out there are not the easiest to access. Not so with the 1000R. Its LCD color screen sets it apart, including its four-way inimitable navigation that makes integration effective, and easy. 
WilsonPro 1000R Assurances.
WilsonPro 1000R is a high quality booster and the first ever solution made with IT enterprise professionals in mind. The easy to manage and rack mounted boosted instantly becomes the central part of a business' total communications infrastructure. It is the first ever indoor wide area booster with amplification ports dynamically adjusted to boost cellular coverage. Its intelligent ground breaking multi-port feature has eliminated previous limitations in the industry that relegated boosters to small-size areas only. That is why the 1000R comes with a number of assurances.
- Top downlink power.
With higher downlink power of about +15 dB, it is way better than the current competition. This allows for a stronger signal in vast indoor spaces, especially if incoming signal isn't reliable. The assurance is a stronger signal continuously sent to the antennas indoors to provide a larger extra coverage from a distinct booster. 
- Top uplink power.
1000R uplink power remains the highest in the industry. This allows the strongest signal to be transmitted all the way to the cell tower by up to about +3 dB - Way better than any other booster out there. As a result, user capacity is highly enhanced and the range increased from cell environment. 
- Never overpowered.
Most cell boosters are overpowered and shut down easily due to the strength of the incoming signal. Not so with the WilsonPro 1000R. Due to the Extra Dynamic Range technology the booster comes with, it doesn't shut down nor stop working even when the signal in the environment is the strongest.
- Control intelligence.
The 1000R has very unique intelligent control features. The booster adjusts signal gain automatically, simultaneously offering standard signal coverage across the indoor space. 
- Software sophistication.
If there's something that happens always is that cellular signals never stop fluctuating. The WilsonPro 1000R has the best software for the job that helps to check for fluctuations. This is done through the monitoring of signal levels as well as immediately adjusting the signal on the spot if need be. Thus the booster has the chance to operate consistently at a maximum gain. 
How Does the WilsonPro 1000R Work?
The 1000R signal cell booster comes with a single line that enters in from the outdoor antenna with four other lines going out towards the inside of the building. As a result of a single line from outside antenna coming in, the installation is very easy, faster and affordable. Every inside antenna path on the 1000R is onboard software controlled, automatically and independently. There's greater connectivity across vast spaces as well as in multi-story internal spaces. 
As a result of all the ports being independently controlled, it is very easy to adjust each of the ports gain level either up or down. Of course, adjustment is done as required courtesy of the signal environment at the time without coverage disruption from other antennas. 
It is worth noting the outdoor antenna draws in the weak signal around the building's outer area. The repeater (amplifier) then boosts the weak signal through a patented technology. The outdoor antennas essentially can be omni-directional or directional, mandated with reception and transmission of the signal to the closest cell phone tower. A stronger signal is then rebroadcasted into the building. 
The WilsonPro 1000R promises more bars and remains connected for a reliable service best for emergencies, convenience, work and business. In addition to other types of cell signal boosters, the 1000R unique technology, particularly Extra Dynamic Range offer the amplifier enhanced tolerance. This gives it the backbone to avoid shut down in case the incoming signal is very strong as it leaves the tower. Through Extra Dynamic Range the system will easily work with tremendous amount of decibels within an incoming signal - Which most competing boosters are unable to endure. 
While other competing signal boosters shut down and overload due to the inability to tolerate the incoming signal, the 1000R engineering keeps the business running as if nothing has happened. Remember the indoor antennas are mandated with the job of rebroadcasting the signal within the building. Kits with more indoor antennas help to distribute the amplified signal within the building. 
Carrier compatibility of the 1000R.
As mentioned, the WilsonPro 1000R is compatible with 4G, 3G and 2G services. It works with cellular enabled mobile devices such as iPad, Tablets, Galaxy series, iPhones and other Smartphones and devices. All United States carriers are compatible with the signal booster, including 3G and 4 LTE networks. This includes Metro PCS, C SPire, Leap Wireless, US Cellular, T-Mobile, Sprint, Verizon Wireless and AT&T among others. At the same time all Canadian carriers, 3G and 4G LTE as well, are also covered, such as Wind, Fido, Telus, Bell, Rogers among others. The 1000R works with diverse frequencies from 700MHz-bands 13, 12/17, AWS 1700-2100 MHz-band 4, 1900MHz-band 2 and 850MHz-band 5. 
General specifications.
1000R supports N-Female 50 Ohm connectors. Power requirements include 30W, 50-60Hz, 110-240V AC. The signal booster is delivered with a 3-year warranty.
Please Note:
As a commercial device, the WilsonPro 1000R should be registered before use with the wireless provider, including seeking the consent of the provider. In essence, lots of wireless providers across the divide consent without a problem for cell phone signal booster use.. 
The device has to be operated with the right approved cables and antennas as the manufacturer has specified. This means antennas need to be installed about 8 inches or 20 centimeters from any individual. Note that if a wireless service provider who's licensed or FCC requests you to stop using the device, you need to comply. E911 location details might not be offered or inaccurate particularly for calls made under the amplification of the device. 
Also note that the largest carriers especially in the United States such as Sprint, Verizon, T-Mobile and AT&T plus over 90 extra regional carriers across the divide have consented to the use of any booster out there as far it has met the laid down certification standards, which the 1000R already has. However, since this a commercial grade booster, it has more stringent requirements and requires permission from all carriers within the city.
Antennas and reception.
It is also important to remember to use the right antennas for the 1000-R. Every signal booster is different and the huge numbers of antenna types are there to meet this diversity. There're new antennas such as the wide-band Indoor Dome or the outdoor wide-band Omni Donor capable of receiving and transmitting signals in a 360 degrees (360°) pattern. These are compatible with frequency ranges of between 698MHz and 2700 MHz, perfect for the WilsonPro 1000R.
Lots of factors determine and affect the signal booster coverage within buildings. These include hardwoods, firewalls, steel, concrete, strength of outside signal and frequency among others. Of course an accurate and professional system design can make it possible to ascertain the coverage of a building. The WilsonPro 1000R is one of the boosters protected from the interference of a problematic cell signal tower. Excessive signals are easily detected and hindered from seeping through. It works with higher signals by about 10 dB in contrast with most boosters out there.       
Any user can easily change the gain controls of the downlink and uplink of the 1000R. Accordingly, the signal booster is the best type of signal booster to use in virtually any type of in-house setting. By playing a bit with the controls, it is easy to find the best controls that would work perfectly for your building or indoor space.
Parts and Accessories Included:
Wilson Pro 1000R complete commercial, industrial, and enterprise cell phone signal booster kit includes following.
Rack mounted signal amplifier Part # WilsonPro 460037 (Model Number: U460037).
One directional donor antenna (exterior antenna) Part # 314411.
Interior ceiling mount dome antenna Part # 304412
One two feet Wilson 400 cable Part # 952302.
One seventy five feet Wilson 400 cable Part # 952375.
One 100 feet Wilson 400 cables Part # 952300.
One lightning surge protector Part # 859902.
Optional Parts and Accessories (not included):
Optional Omni Directional Exterior Antenna: 3G & 4G Omni Wide-band External Antenna.
Yagi (included) is more powerful than Omni (not included, can be purchased separately), but Omni's attract signals from all directions and from all cellular service carriers. Omni's also do not have to be pointed to any cellular tower.
Wilson Pro 1000R Installation by Certified Installers.
This commercial grade cell signal booster kit (WIL-460237) needs to be installed by a professional installer that has commercial amplifier kit installing experience. We provide Wilson Pro 1000R installation service that installs WilsonPro 1000R professionally in your commercial building or residential apartment complex at an affordable price. Please contact us for installing WilsonPro 1000R by certified cell phone signal booster installers.
Consumer Alert:
Reviews
Questions & Answers
QUESTIONS & ANSWERS
Have a Question?
Be the first to ask a question about this.
Ask a Question
Data Sheet / User Guide
Make An Offer
Warning
Note: For any signal booster to help, outside signal strength must be at least -110 dB or there must be a clear line of sight to a cell tower that is within twenty miles. Before ordering, please check outside signal level in decibels or ensure that you can make and hold a phone call at any good spot outside where you can mount an exterior antenna. Square footage stated in signal booster listings is based on good signal outside. If it is any weaker, the boosted sq. ft. area will be considerably lower, accordingly.
Kevin K. of Anderson, California gave the following review:
Website is easy to use with plain straight forward info but could have had more on testing signal strength to make sure you get a strong enough booster.
Therefore, please note that stated sq. ft. coverage is based on good signal outside. For best results: If outside signal is weak, we suggest choosing the next higher sq. ft. coverage kit. If outside signal is very weak, we suggest choosing the kit with even more higher sq. ft. range bracket. Basically, higher the sq. ft. bracket, the more powerful the signal amplifier with greater Gain as well as higher uplink and downlink output power.
If outside signal is too weak (weaker than -110 dB), submit request for cell coverage solution assessment. Upon receipt of questionnaire, we will perform residential or business site survey. This will help us determine the system that is needed to improve cell coverage. Then, we will create system design using that system such as femtocell, active or hybrid distributed antenna system (DAS), or other carrier feed signal enhancing method available that will work at your signal-challenged location. Finally, we will schedule for installation after equipment and installation service quote has been approved by you, or your company.
For non installation-included kits: Most home / office / building cell signal booster kits only include bracket to mount exterior antenna on outside wall, edge of roof, or existing pipe up to 2 inches in diameter. Mounting pole not included with most kits, unless stated specifically that it is included for free. Therefore, a mounting post must be purchased separately if you will require it to mount exterior antenna.
---
Related Products