Barnes & Noble Signal Booster Case Study in North Wilmington, Delaware
Jul 13, 2019
Location Details.
Barnes & Noble is a nationwide book chain offering all types of books for adults and kids and much more. The location was a new prototype store at North Wilmington's Concord Square. Before launching the unique prototype store, it was found that the building had no cellular signal. A survey was done by expert technicians and a working signal boosting system installed ending zero signal problems inside the store.
Inside the Barnes & Noble new prototype store
Major Concern.
Dealing with books, including online based materials requires access to wireless data, voice and text messages at all time. Barnes & Noble's new book store couldn't exist without a working cell phone signal across the building. The nature of the building, including lots of enhancements and transformations done to prepare the store for books, visitors and other services meant that the cellular signal was impossible to penetrate inside.
Dropped calls, zero data and internet connection as well as lack of texting ability meant communication with clients and buyers would be impossible after the launch. A solution was needed right way before the new store opened its doors.
Entire bookstore needed a working cellular signal
Solution.
SignalBooster.com was contacted and sent expert technicians to perform a survey around the new premises. After an extensive study of the place and exhaustive tests, a unique signal boosting system perfect for the new prototype Barnes and Noble store was recommended.
Installation.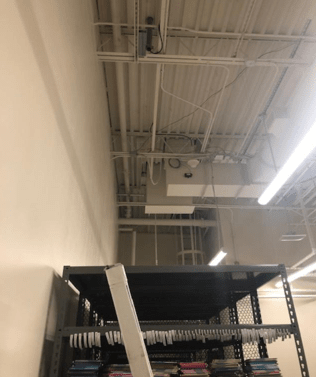 Installation encompassed the entire building
The recommended signal boosting system was installed taking into account every part of the building needed to have a working cellular coverage. As a result, antennas, both indoor and outdoor antennas were involved including an effective, meticulous signal booster installation by expert technicians that ensured every single spot was covered.
Installation on the building's roof, including the antenna system
Results.
After the installation, SignalBooster.com technicians, together with the Barnes and Noble team tested the cellular signal strength, including internet connection and other services. The store now had an excellent cell signal from all carriers inside the building and was now ready for the launch.
Complete installation on the roof of the building
The Company.
With the closure of Concord Mall location, Barnes & Noble had set its eye on the North Wilmington's Concord Square prototype store. The store represents the bookstore chain's ongoing tests of new stores across United States to offer a tidy, modern design for its customers with easier and friendly shopping parameters, such as low profile bookshelves, illuminated bookcases and big book theaters allowing a 360-degree book shopping experience.
Conclusion.
No building, residential or commercial deserves to go through the horrors of a poor or zero cellular signal. Contact us today if having problems with your cellular coverage at your office, home or business premises. An extensive survey by professional technicians will be carried out inside and outside your building and an effective, tested and tried cellular reception booster system unique for your case recommended. Our quote will include the entire installation process and recommended equipment to get you calling, browsing the internet and receiving and sending text messages immediately. Request cell phone signal booster installation service, today.
---
Share this post
---
---