Best Cell Phone Signal Booster for a Camper/ RV/ Motor Home/ Trailer
Sep 11, 2018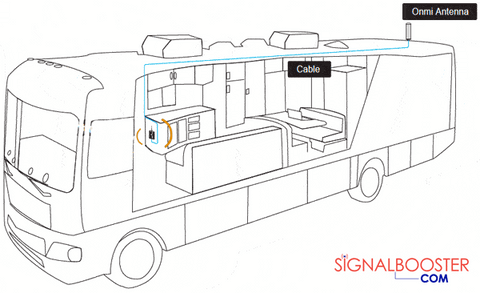 In today's connected world, we always want to have good connectivity on our cell phones, both for voice calls and data, irrespective of where we are. In our normal office and home environments, this is relatively easy to achieve as cell phone carriers tend to have good coverage in densely populated areas. If we however move outside those areas, cell phone signal reception could become a problem. This would happen if we go on vacation to other parts of the country, or do long distance travelling with a camper, RV, Motor Home / Toter Home, or trailer.
This post discusses and lists standard kits available, but if you want to learn more about more powerful antenna kit combinations available for your particular Motorhome Class A, B, or C, read our post about cell phone booster for Motorhomes Classes A, B, and C.
When we visit less populated areas, there are fewer cell phone towers around and we move much farther away from these than we normally do. We don't even have to travel very far for this to happen. Simply hiking or going on a picnic not too far from urban areas will often result in cell phone reception that is spotty at best.
The signal strength on a cellular device depends on a number of factors, including the distance from a cell phone tower and which obstacles (manmade or natural) exist between the device and the cell phone tower. This is also why the cell phone coverage at a specific spot will often be better for one cellular carrier than another. If you're closer to the cell phone tower of a specific carrier, or there are less obstacles between you and that carrier while you are on vacation, travelling, hiking or simply having a picnic in the countryside, the cellular reception for that carrier will be better than that for another whose tower is farther away.
If the cellular reception where you are is not good, it will result in bad voice reception and dropped calls, and data connections will be slow or intermittent.
To solve these connectivity problems, you could use a RV cell phone signal booster that is designed specifically to be mounted in vehicles such as cars, trucks and RVs. These type of cellular amplifiers also work well in motor homes and trailers and will improve your cellular reception while you're on vacation, travelling, or hiking.
In this post, we will look at two signal boosters that have been designed specifically for such vehicles:
Fusion2Go 3.0 RV USA (for USA) or Fusion2Go 3.0 RV Canada (for Canada).
This RV cell phone signal booster is one of the most powerful currently in the market and works with all types of cellular phones with 3G, 4G, LTE connectivity. It works with all carriers in USA & Canada, with respective models. It provides boosted connectivity on the move when you're travelling, or when parked for extended periods of time.
The Fusion-2-Go RV 3.0 amplifier reduces dropped and missed calls and extends battery life for multiple users simultaneously. It provides clear and consistent coverage for all cellular devices inside an RV.
This kit has been designed for use in over-sized vehicles such as buses and recreational vehicles. It provides 50 db 5-band signal boosting for voice and text messages, and improves data and connectivity for all mobiles and devices within the vehicle.
In rural areas, the Fusion2Go 3.0 RV uses it's 2X higher amplification power to access faraway cellular towers better, keeping you connected further into the fringe of the network.
This signal booster is also available in two different models – one for use in the USA, and the other for use in Canada. Choose your selection from the drop-down menu.
The RV 4G LTE cell phone signal booster kit for RVs will work while the vehicle is moving, or when it is parked at your favorite hiking or picnic spot.
All cellular devices being used inside the RV, Camper, Trailer, or Motor Home will get simultaneous signal boost. It supports all cellular devices including smartphones, tablets, turbo sticks, internet sticks, air cards, and mobile hotspots like Mi-Fi, Jetpack, etc.
This RV kit will also work while the vehicle is moving, or when it is parked at campground. Boost signal reception inside the vehicle with stronger connection to cell towers of all United States and Canadian wireless networks. Strong connections will result in fewer dropped or missed calls, fewer garbled conversations, and fewer Internet hang-ups, freezing, or buffering.
This kit is the most powerful but per FCC rules and regulations, it must only be used when camper, RV, motorhome, toterhome, or trailer is parked or stationary. If you need clear voice conversations, instantaneous texting, and fast 3G + 4G LTE mobile internet downloads and uploads while on vacation or travelling, both in the USA and Canada, installing this RV cell phone signal amplifier kit will provide the signal boost needed even in weakest areas. It is fairly easy to install using the DIY installation instructions provided and videos at this website.
---
Share this post
---
---