Cell Phone Signal Booster Warranty for 5 Years
Jul 30, 2021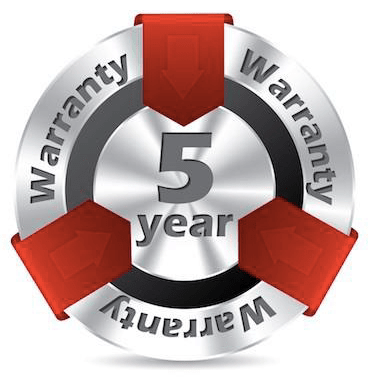 There's a signal booster available for all types of networks and uses from ATVs, boats, cars, trucks, homes and residential commercial buildings among others. As a show of confidence in their signal boosting products, cellular amplifier brands offer basic warranty period from 2 years to 5 years.
For example, consumer grade kit maker weBoost offers 2 yrs. warranty whereas its parent company Wilson Electronics offers 3 years warranty on their commercial signal boosters, the WilsonPro amplifiers. However, if you desire an extended warranty for your cellular amplifier, you can actually get one with five year warranty. Therefore, for a small additional upfront fee, you can get an industry leading 5 years warranty on a qualifying cell phone signal coverage booster such as industrial signal booster, the Force 5 Warranty and public safety signal booster, the Guardian 4 Warranty.
Why does it matter?
One of the best ways of enjoying an efficient, reliable and solid cell phone signal in your home, office, car, boat or any other place with spotty cellular coverage is with the use of an effective cell phone signal booster. However, it is important that it works as intended perpetually. Unfortunately, as with other electronics, the device can malfunction. If it is out of warranty, it may cost a lot to have it repaired or it may even need to be replaced. Therefore, longer the warranty period, the better. If it does not work properly due to defect while under warranty, it can be repaired or replaced by manufacturer at practically no cost (except one-way shipping charge).
Qualifying products.
Obviously, not all cellular signal amplifiers qualify for the five-year extended warranty program. For instance, SureCall's qualifying products for the extension of the warranty are the commercial signal booster series called the Force5 and public safety booster series called the Guardian4. Each of these products comes with the limited standard warranty of three years, which starts from the moment the product is purchased. The warranty covers material and workmanship defects.
If you feel that the basic 3-year limited warranty isn't sufficient enough, all you need is to request and purchase additional 2 years for a total of 5-years of warranty. As a result, the five-year products warranty guarantee covers the cell phone coverage amplifier for that stipulated period under the same terms as the limited 3-year warranty.
Even so, for products to benefit from the five-year extended limited warranty program, certain terms must be met. These include:
Customer returned products should not have changed from their original state and must be unmodified. They must be returned packaged protectively in their original packaging with documentation on proof of purchase enclosed.
Amplifiers must be returned along with all accessories that were originally shipped with the amplifier for testing, repair or replacement of entire kit.
If the product is deemed to have been damaged or altered, affecting its electronic or physical constitution by mishandling, neglect, abuse or misuse then the extended warranty won't apply.
With extended warranty the product can be replaced or repaired as deemed fit by the manufacturer. For products returned, the buyer must pay shipping fees to the destination address. It will be shipped back after repair/replacement at no cost.
An extended 5-year warranty ensures that you get peace of mind for additional 2 years after the expiry of the basic 3-year warranty period. The extension is swift and completed after the upfront payment of an additional one-time cost. SignalBooster.com offers the five-year extension of signal amplifiers from the basic 3 years fast online.
Enjoy consistent better coverage with peace of mind for 5 years.
It doesn't matter where you are across North America, whether driving or living in the roughest terrains of Canada to the prairies and metropolitans of United States; poor signals to dead zones do manifest anywhere.
Rather than travel, work or live in areas where you cannot reach friends, coworkers, family or emergency services due to lack of a proper cellular signal, SignalBooster.com offers diverse brands of cell phone reception boosters to choose from to help you enjoy the best possible cell phone coverage possible.
3 to 5 years of manufacturers warranty helps in case the device malfunctions during initial three to five years. Please read full disclosures and disclaimers when purchasing industry leading cell phone signal booster warranty for five years.
---
Share this post
---
---