Five Year Extended Limited Warranty for SureCall Force5*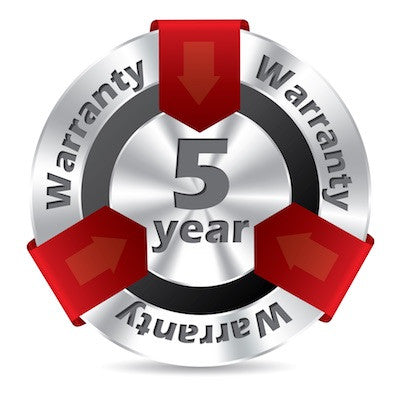 Five Year Extended Limited Warranty for SureCall Force5*
Regular price

$399.99 USD

Sale price

$375.00 USD
Best Price Guarantee. [1, 2, 3]
Buy Now, Pay Later with No Interest if paid in full within 6-12 months. Choose Klarna payment option at the checkout for details of this, and other long-term low-interest financing options.
Free Lifetime Support. SKU / Model: SC-Force5-EXT
Best Price Guarantee [1 2 3]
Call for FREE consultation:
1(855)846-2654
Need installation quote, or help with designing a custom solution? Submit a request for quote.
Description
Reviews
Questions & Answers
Data Sheet / User Guide
Make An Offer
Warning
Description
Product Description
*This is an option available only at the time of purchase or on the same say of purchase to extend SureCall's manufacturer's warranty to 5 years for SureCall Force-5 Signal Booster Kits.

Please note that the manufacturer's cell phone signal booster warranty on SureCall Force-5 products is already 3 years without purchasing this extended warranty.

However, by buying this cell phone booster warranty extension now, the manufacturer's warranty will be extended by an additional 2 years for a total of five from the date of purchase. SKU: SC-Force5-EXT. UPC: 697691002378.
The following are the stipulations, terms, and conditions of this cell booster warranty:
SureCall Force 5 Products: Five-Year Extended Limited Warranty.
The SureCall 5-Year Extended Limited Warranty Program on Force5 products is an extension of the basic coverage offered on the limited warranty of SureCall equipment. Beyond the basic 3-year warranty period, Sure-Call products that qualify are covered for an additional 2-years; providing a maximum of 5-years' warranty coverage.
Products that qualify are products that have been manufactured and sold by SureCall after April 30, 2014 whereby a basic limited warranty is provided against defects in materials and/or workmanship by SureCall for 3-years from the date of purchase. At its sole discretion and option, the buyer has the option of extending the basic limited warranty for an additional period of 2-years, totalling 5-years, by extending the limited warranty for an additional 2-year period and paying an amount to be determined by SureCall. See below for the terms of the 5-year extended limited warranty.
1.  Any product returned by a customer must be returned in its original, unmodified condition; it must be shipped in either the original packaging or protective packaging with enclosed proof of purchase documentation; and the RMA (Return Merchandise Authorization) number must be clearly shown on the outside of the shipping container. For warranty returns, an RMA number can be obtained by calling the SureCall Returns Department on (toll-free) 1-888-365-6283. Please note that, if a return is received by SureCall without clearly displaying an RMA number on the outside of the shipping container, the product will be returned to sender.
2.  To ensure a full refund is received for amplifiers, it is imperative that all accessories which came in the amplifier box are returned with the amplifier.
3.  Please note that the extended limited warranty will not apply to any product determined by SureCall to have been subjected to neglect, abuse, misuse, or mishandling that damages or alters the product's electronic or physical properties.
4. The buyer is assured by SureCall that each and every product, when shipped, will be free from defects in workmanship and materials, and will perform according to applicable specifications. Under this extended limited warranty, the limit of liability is at SureCall's discretion to replace or repair any product or part thereof which, as determined by SureCall's examination, shall within 5-years of purchase prove defective in workmanship and/or material. Initially, SureCall will authorize a warranty returns in writing. This extended limited warranty will be voided in its entirety if anyone other than a SureCall Authorized Representative disassembles a SureCall product. It is the right of SureCall to alter any of its products without the obligation of making the same alterations on previously delivered products.
Shipping Charges: As a condition of the warranties as provided herein, the buyer shall be responsible for prepaying the shipping charges on all products returned to SureCall for repairs, with SureCall being responsible for paying the return shipping. The exception to this shall be products returned from outside the United States where the buyer will be responsible for paying all shipping charges.
5.  Any goods which are found to be not defective, goods which are not covered by this limited extended warranty, and goods which are found to meet the applicable specifications, will result in the buyer paying the cost for inspecting and testing of the goods under warranty or otherwise.
6.  If the products sold by SureCall satisfactorily fulfil the performance requirements in accordance with samples provided by SureCall or as published in the product specification literature, then these products shall not be considered defective or nonconforming to the buyers' order. This extended limited warranty does not apply to any parts, or parts thereof, which have been subjected to abuse, alteration, misuse, negligence, or accident. No warranty whatsoever is made by SureCall in respect to parts or accessories not supplied by it.
Limitations: Liability, Damages, Warranty
There are no guarantees, warranties, conditions, or representations as to fitness for a particular purpose, merchantability, or other conditions, guarantees, representations or warranties, whether implied or expressed, in fact or in law, in writing or oral, except as specially set forth herein.
In damages or otherwise, SureCall's aggregate liability shall not exceed any payment received by SureCall for service furnished or to be furnished or for the unit of product, whichever the case may be, which is a subject of dispute or claim. In no case whatsoever shall SureCall be liable for special, consequential, or incidental damages, howsoever caused.
Regarding this extended limited warranty, all matters shall be interpreted in accordance with the State of California's laws, with any controversy not being settled directly being settled in California by arbitration in accordance with the prevailing rules of the American Arbitration Association: Any judgement upon the award rendered can be entered in any court having jurisdiction thereof.
If, under applicable law, one or more provisions stated herein are held to be unenforceable or invalid, such provision shall be excluded to the extent of the invalidity or un-enforceability and deemed ineffective, in no way affecting the remaining provisions hereof.
Reviews
Questions & Answers
QUESTIONS & ANSWERS
Have a Question?
Be the first to ask a question about this.
Ask a Question
Data Sheet / User Guide
Make An Offer
Warning
Note: For any signal booster to help, outside signal strength must be at least -110 dB or there must be a clear line of sight to a cell tower that is within twenty miles. Before ordering, please check outside signal level in decibels or ensure that you can make and hold a phone call at any good spot outside where you can mount an exterior antenna. Square footage stated in signal booster listings is based on good signal outside. If it is any weaker, the boosted sq. ft. area will be considerably lower, accordingly.
Kevin K. of Anderson, California gave the following review:
Website is easy to use with plain straight forward info but could have had more on testing signal strength to make sure you get a strong enough booster.
Therefore, please note that stated sq. ft. coverage is based on good signal outside. For best results: If outside signal is weak, we suggest choosing the next higher sq. ft. coverage kit. If outside signal is very weak, we suggest choosing the kit with even more higher sq. ft. range bracket. Basically, higher the sq. ft. bracket, the more powerful the signal amplifier with greater Gain as well as higher uplink and downlink output power.
If outside signal is too weak (weaker than -110 dB), submit request for cell coverage solution assessment. Upon receipt of questionnaire, we will perform residential or business site survey. This will help us determine the system that is needed to improve cell coverage. Then, we will create system design using that system such as femtocell, active or hybrid distributed antenna system (DAS), or other carrier feed signal enhancing method available that will work at your signal-challenged location. Finally, we will schedule for installation after equipment and installation service quote has been approved by you, or your company.
For non installation-included kits: Most home / office / building cell signal booster kits only include bracket to mount exterior antenna on outside wall, edge of roof, or existing pipe up to 2 inches in diameter. Mounting pole not included with most kits, unless stated specifically that it is included for free. Therefore, a mounting post must be purchased separately if you will require it to mount exterior antenna.
---
Related Products