Commercial Cell Phone Signal Booster Reviews
May 03, 2018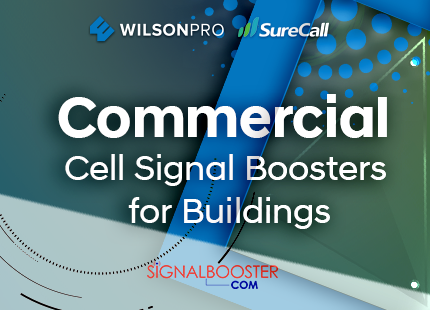 This blog has been written to provide model-specific feedback received from customers regarding purchase & installation of commercial signal boosters. This commercial cell phone signal booster reviews blog post details various aspects of commercial boosters that customers have liked or disliked over long period of use versus immediate review posted right after installation, for the first time.
Every business today requires a perfectly working cell phone signal for many reasons. From clear and reliable calls, text and internet, it is hard for any modern business to work without them. It is even worse when the building material in your offices, commercial complex, warehouse or large business space blocks the cellular signal. Ensuring your employees communicate and every business function works impeccably requires a working cell phone reception. Since many reasons beyond your control could affect the kind of coverage you receive around your commercial area or business premise, it helps to have a working cell phone signal booster for commercial spaces. Here are a number of views from verified buyers already using them since few months or years.
There're lots of reasons why SureCall Force 5 2.0 is perfect for indoor commercial spaces, especially if views from users are anything to go by. Read reviews of this SureCall commercial cell phone signal booster below.
George G.: Force 5 2.0 is a wonderful product aptly covering large commercial sections in the house. Its adjustable attenuators are a delight as they helped us to exactly calibrate the system to the local cellular towers around us.
Armando P.: Works great and setup is straightforward. We saw a huge coverage improvement.
David N.: Love the new and improved Force 5 2.0! Use it to cover another of our business location. The new unit offer great performance and its inbuilt remote monitoring system is a sure sell.
Mike A.: Had the system installed in our commercial office of about 60,000 square feet and recommend it highly.
Chris G.: Our office space has a superb reception outdoors but with very little cellular signal if any once you have entered. We ordered install of the Force 5 2.0 kit with four indoor antennas. The result has pleased us so much! We can now text, call and browse the internet indoors.
Great Benefits.
SureCall's Force 5 2.0 is a top-tech cell phone signal boosting device and a 2017 CE Pro Best and Commercial integrator Best award winner. It includes a unique inbuilt Sentry hardware for remote monitoring. It is the first cellular reception booster model to have an adjustable remote access PLUS booster optimizing capability via a Smartphone application. Force5 2.0 enhances 4G LTE, text and voice signals for all devices and works with all cellular carriers across North America.
Extra Advantages.
Force5 boosts signal strength for huge commercial spaces from 25,000 square foot spaces up to huge 100,000 square foot areas. The cellular signal booster ensures missed and dropped calls are a thing of the past. It accelerates wireless data transfer speed. Incoming signals are balanced by SureIQ Technology to ensure there's no shutdown and performance has been maximized. FCC approved, it has a maximum gain of 72dB and supports 2G, 3G and 4G LTE networks among other cellular standards.
A unique cellular signal booster covering up to 80,000 square feet is a wonderful investment for industrial spaces. It enhances the cellular reception improving text, voice and data to 4G LTE levels, including HDTV signal for all types and sizes of buildings. Perfect for industrial use, it also boosts Wi-Fi. Read reviews of this SureCall commercial cellphone signal booster below.
Sarah C.: SureCall Force 7 is the perfect product for our factory in rural America characterized by really poor cell service. After we had installed Force7 we were able to receive and make calls even in sections we considered dead zones and couldn't do so previously.
Unique Benefits.
Force7 is a unique solution for diverse large installations in search of a quality and effective cell service across their entire space. It is perfect for healthcare institutions, hotels, schools, etc. It increases 4G LTE, texting and talking networks for every carrier in United States. The cellular reception booster also enhances Wi-Fi signals for all installations of up to 80,000 square feet. All missed and dropped call problems are eliminated for every carrier in North America. It can possibly cover hundreds of users simultaneously on various types of mobile devices. Force7 also includes a Wi-Fi router inbuilt for reliable and fast data processing while extending network coverage for spaces of a maximum 50,000 square feet.
Additional Benefits.
Even new installations are bound to enjoy the 100MB router incorporated and no other extra hardware is needed. Force7 is a wonderful choice for those looking for affordable yet high quality television. Its HDTV booster ensures all local broadcast stations such as PBS, ABC, Fox, CBS and NBC are captured inside your building together with inbuilt Wi-Fi guaranteeing steady content streaming even from on-demand media from Hulu, Amazon Prime to Netflix.
Covering up to 25,000 square feet, Wilson Pro 70 ensures 3G and 4G LTE networks are boosted and enjoyed across the building or establishment. Read reviews of this Wilson Pro commercial cell phone signal booster below.
Herbert B. in Illinois: We had Wilson Pro 70 installed and our cellular reception transformed from almost zero signals into 4 bars inside the building. We have never been this grateful.
Rosie in Maryland: Had Pro 70 installed in newly renovated tin roof houses with tin walls. We initially had no signal but after installation we're enjoying LTE and 3G networks up to 3 bars. It is serving us really well with dozens of phones already using it.
Unique Benefits.
Wilson Pro 70 is a wonderful choice for indoor spaces of up to 25,000 square feet in total. It perfectly works with all North American cellular devices and phones. It enhances cellular signal by boosting 4G LTE and 3G networks in any building ensuring calls, texts and data are enhanced. Pro 70 arrives as a complete kit. The booster kit contains multiband cellular phone repeater, outdoor directional antenna, lightning 50 Ohm surge protector, indoor panel antenna, diverse Wilson400 cables, power supply, and installation instructions/manual. Pro 70 is certified for use in United States by FCC and in Canada by Industry Canada. It comes with a 3-year warranty.
Offering such options as Yagi directional or Omni-directional outdoor antenna and dome or panel indoor antenna, Pro 70 Plus is perfect for large buildings and offices of up to 50,000 square feet, if user reviews are anything to go by. Read reviews of Pro 70 Plus commercial cell phone signal booster below.
Christian L in St Louis: Have a private aircraft management company and bought a 48,000 square feet hanger and immediately noticed no signal strength on our phones. After some research we came across Wilson Pro 70 Plus and had a professional installer set it up perfectly. The cell phone signal strength has improved a lot and has not seen a bar drop since. It even works excellently on our iPads.
Henry Eure: Our warehousing building converted into a large ballroom has eight solid walls of concrete with heavy metal supports. We selected Wilson Pro 70 Plus and no regrets since. Our ballroom went from no signal to cellular signal much stronger than the outdoor signal!
Gary K.: Pro 70 Plus is superb! We're now able to use our Smartphones in the house despite the fact that we live in a very isolated rural section. Our hotspot internet browsing speeds are faster than satellite speeds and ping times are even speedier!
Clint M.: We had first bought another type of cell phone signal booster but couldn't get a quality signal inside in our business place due to a metal roof. After installation, the signal that had been killed by the metal roof is now many times better than even outside.
Tyler in Canada: Pro 70 Plus works perfectly as advertised. Our F5 rated financial service data center needed to enhance cellular signal. 70 Plus enhanced the coverage and all data carriers around work superbly and actually purchasing more 70 Plus-es for our other data sites.
Extra Advantages.
Wilson Pro 70 Plus enhances cell phone signal in all types of buildings of up to 50,000 square feet. It boosts 4G LTE and 3G networks, improves text and calls. Also works with all cellular devices and cell phones. The kit arrives with all needed parts, instructional manual and guide. The cellular coverage booster is perfectly able to handle even the strongest outdoor signals and transform it into quality coverage on the inside. It also features strongest gain possible as certified by FCC and arrives with a lightning protector kit.
Finding a low cell phone signal solution for large commercial spaces of up to 100,000 square feet doesn't have to be difficult. Wilson Pro 4000 reduces dropped calls and unsent texts by enhancing talk, internet and text. It boosts both 4G LTE and 3G networks for spaces of up to 100K square feet. The cell phone signal booster works with all cellular devices in USA & Canada. It works for all types of cellphones. Professional signal booster installers love this kit because it includes all parts required for full installation. This is true in most instances unless custom kitting is required for coverage within complex structures. Read review of this Wilson commercial cell phone signal booster below.
Shane L.: We have a 40,000 sq ft commercial building and asked for a custom solution to our cell phone signal problems. The Wilson Pro 4000 was suggested and installed. So far the results are awesome and we have witnessed great improvement of cellular connection inside the large indoor space. We highly recommend it.
Additional Benefit.
With the XDR (Extra Dynamic Range) feature that comes with Wilson Pro 4000, boosting power is adjusted to ensure that outside signal as powerful as it might be, does not overload the system for easier troubleshooting and installation.
The Rack-Mounted Wilson Pro 4000r enhances 3G and 4G LTE networks and enriches talk and text service. It arrives with all required installation parts, ready for installer to install it. It works with all cellular devices and phones. 70dB gain power ensures 4G LTE and 3G cellular services are boosted for all types of wireless cell phone gadgets from hotspots, Smartphones, Notebooks to Tablets on all carriers in Canada and United States. This booster kit's cellular repeater is distinguishable by amplifier's designed in a rack-mountable central case with internal power supply integrated. Read reviews of this Wilson commercial cell phone signal booster below.
Chuck K.: Our older facility has very limited space and with the prevailing cellular signal issues we were quite happy when we learned a rack mounted cellular signal booster exists. We had the Wilson Pro 4000R installed and the results were almost immediate. We can actually use our mobile devices across entire facility from the front lobby to internal offices. It is a solution we recommend to any company.
Mark H.: As a professional cellular phone booster installer, I had bought the 4000R for a client's office building. It works perfectly for such a gigantic indoor space and has strengthened the wireless communication around.
Wilson Pro 1000 is an ultimate solution for spaces up to 75,000 square feet. It perfectly boosts 4G LTE and 3G network signals. It is specially designed to work with all cellular networks in North America. All phones and mobile devices are covered. Read reviews of this Wilson commercial cellphone signal booster below.
Olivia W.: We had gone for a different cell phone signal booster system and it didn't meet our poor cellular signal issues. With the Wilson Pro 1000, our signal problems are behind us. It was professionally installed with the wires hidden and has never disappointed.
John K.: Our large building needed a quality booster system and the Wilson Pro 1000 was suggested. Though a big box, we have actually seen connection improved inside the building.
Farideh K.: In our large school gymnasium in Boston we had problems with cell phone signal. We contacted professionals and the Pro 1000 was suggested. We have not experienced previous cellular signal issues again.
Additional Benefits.
Wilson Pro 1000 includes XDR (Extra dynamic range) technology allowing automatic gain control to avoid overloading whether outside signal is too much or not. Talks are highly improved and dropped calls eliminated while texts are sent unhinged plus internet browsing highly improved. Wall mountable and enterprise grade, it includes an internal integrated power supply.
Wilson Pro 1000R comes with up to 70dB power gain and enhances cellular phone signal in large buildings and commercial spaces of up to 35,000 square feet. It boosts 4G LTE, 3G, 2G, text and talk. It works with virtually all carriers in North America. It works with every type of phone and mobile device. Read reviews of Wilson commercial cellular signal booster below.
Adam A.: Our office required a rack mounted cell phone signal booster. We're happy to report now our sales professionals are able to place calls easily through cell devices and enjoy quality internet.
A. G.: We were very particular about our requirements due to our cell phone signal problems. Installation of Wilson Pro 1000R has really changed things here and performs more than we thought it would. We highly recommend it for any large office.
Extra Benefits.
1000R supports multiple users. Key features include 3-year warranty and XDR technology (extra dynamic range) which ensures it will never shut down no matter the strength of the outdoor cellular reception. Easy and simple rack-mounted set up and full color LCD display makes it easy to use. Includes an integrated power supply.
Conclusion:
Commercial grade cell phone signal boosting systems are highly effective in eliminating dead zones inside buildings and large indoor spaces. Just like consumer grade signal booster systems, they do require reception outside to boost it indoors. Professional installation is required by certified cellphone signal booster installers. Both SureCall and Wilson Pro commercial signal booster reviews are good meaning they both perform well based on the grade of comparable respective model chosen.
Need help with commercial grade cell phone signal booster system design and/or require professional certified cell phone signal booster installers across the nation within USA & Canada? Call for FREE consultation: 1-855-846-2654. Or to get started, submit reception issue details for quote of nationwide signal booster installation service within United States and Canada for installation of cell phone commercial signal booster.
Cell Phone Signal Booster Commercial Video:
---
Share this post
---
---