DAS Maintenance Service & Technical Support 24/7/365
Apr 07, 2016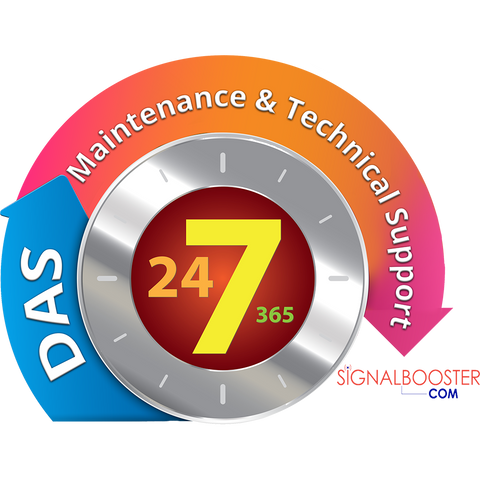 DAS Monitoring & Maintenance Service Available 24/7/365.
It seems that today, we're living in a society that is, "always on". This means that the lines between on and off hours, work and play, have become very blurred. And with today's advanced technology, business is taking place around the world every single hour of every single day. You will even hear people say that they do things at the "speed of business", which means fast paced and at any time of the day. Today's ever-advancing technology allows business to occur worldwide, crossing time zones, and helping people collaborate around the globe.
These "always-on" customers require support. We proudly support the needs of our valued customers every single day of the year. We now provide 24/7 access to technical support for all enterprise Small Cell and active DAS (Distributed Antenna System) solutions. Part of our Technical Support team includes qualified Engineers who are experts not only in DAS, but in troubleshooting all technical issues related to wireless connectivity across the broadest spectrum. They can remotely monitor and maintain your existing Distributed Antenna System (DAS) whether active (aDAS) or passive (pDAS).
Some of the reasons people contact our Technical Support team include:
To Answer Product and/or Design Related Questions.
Maintenance Work.
Network Upgrades.
To Support On-Site Installations.
To Resolve Field Issues.
Our Technical Support group receive many questions about using LTE technology when installing quad band remote units. They often receive calls from people requiring assistance when trying to isolate a specific problem. We receive many queries about software upgrades as well.
It sometimes occurs that a DAS requires optimization to accommodate wireless traffic patterns within large buildings. We have had many customers contact us during the system design stage for confirmation of product specifications, wanting assurance that their specific design will adequately supply the power outputs they require. When major events are held in stadiums like the Super Bowl, additional wireless resources and support are always required.
We're Here to Help - Anytime, Day or Night!
We have very experienced engineers on our Technical Support team who can answer almost any technical question you may have about our DAS and repeater solutions. With a quote for Service Level Agreement (SLA), we can do the same for any other DAS and repeater system already in place from another vendor or installer. Our specialists can diagnose and correct issues by remotely logging into your DAS equipment, or they can walk you step-by-step over the phone with advice on how to resolve a problem.
Whatever you need, we're here for you anytime - 24/7. Therefore, please do not hesitate to contact us should you have any queries at all about our wireless strengthening solutions. Whether you call us, send an email, or complete our online contact form for assistance, please be sure to provide as much information as possible to help us accurately answer your question.
Conclusion.
Upon completion of Enterprise Small Cell System or active Distributed Antenna System (DAS) installation, we will provide key contact at your company our direct dedicated support personnel cell phone, office phone, and email contact for 24/7/365 technical support so you can be assured you will get help, when you need it.
Call for FREE consultation:
1(855)846-2654
Or submit details for
DAS price quote
including equipment and
installation.
---
Share this post
---
---