FirstNet Ready Public Safety Signal Booster & Repeater Solution
Mar 20, 2017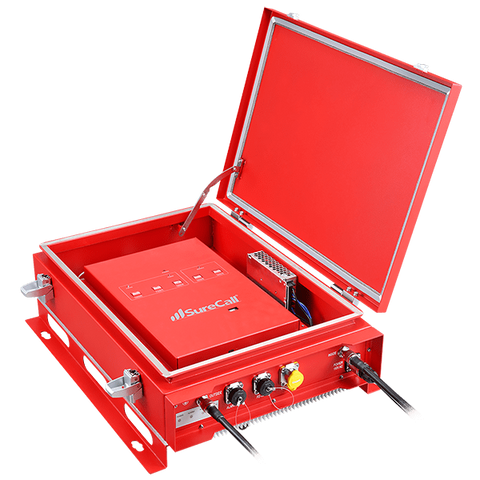 Introducing the first FirstNet Public Safety Band Signal Booster for Buildings up to 80,000 Sq. Ft. Professional installation services available (see bottom).
What is FirstNet? First Responder Network Authority (FirstNet) as an independent authority within NTIA to provide emergency responders with the first nationwide, high-speed, broadband network dedicated to public safety. The purpose of FirstNet is to establish, operate, and maintain an interoperable public safety broadband network. To fulfill these objectives, Congress allotted $7 billion and 20 MHz of valuable radio spectrum to build the network. However, signal reception inside buildings may be very weak for wireless communications during local or national emergencies. FirstNet-ready signal booster and repeater solution, the Guardian 3 QR signal booster has arrived to meet the challenge.
Is your business equipped for smart technology fire notifications? SureCall Guardian 3 QR is not only certified to cover all public safety bands designated by FirstNet, but also meets all USA national fire safety regulations. Companies in UK and United States must focus on the safety and the well-being of their customers and employees. This means that there must be an intended focus on fire safety. Per the USFA, approximately 11.5 billion dollars are lost annually due to fires. This is alongside the startling 15,775 injuries and over 3 thousand deaths which occur. In the UK, per "GOV.UK", 528,000 fire incidents were attended to just between April 2015 and March 2016.
Due to the need to focus on the safety and well-being of clients and employees, UK as well as US have fire safety regulations in place. Understanding some of these regulations and how modern technology has influenced their application in today's business world is extremely important. While each sector has its own set of rules and regulations, here are a few of the most common regulations for fire and safety.
NFPA regulation.
In the course of technological as well as industrial progress, the world has shifted to a more cellular dependent civilization. Reports have shown that there're more than  46 million smartphone subscribers within UK and the BBC reports that "what smartphones enable people to do is keep tags of what is happening, what people are saying, what people are doing." Americans are just as dependent with one and three people using cellphones more than an hour a day. And the numbers are growing.
According to InternetLiveStats.com, over 2 million smartphones are sold daily, with nearly 300 thousand tablets and other mobile devices being sold as well. During emergencies, the wireless networks supporting these cell phones and tablets may become congested and inoperable due to higher volume within a smaller area overwhelming any nearby cell tower. So much is the dependency on mobile devices that the NFPA has taken note. 
Communications in emergency situations is critical in maintaining a level of order and transparency about the situation at hand. This is especially true for post 9-11 situations. As communications during a fire, terrorist attack, earthquake, or other devastating event are apt to be damaged or unavailable to the public, buildings must have a means of securing communications between the private and the public sectors in order to relate information and increase the general health and safety of the public in such events.
Welcome to FirstNet, the first, independent, nationwide, high-speed, broadband network dedicated to public safety that won't have congestion issues due to high use by non-emergency personnel or individuals and entities. Furthermore, due to the mass amounts of businesses which are transitioning to mobile-only facilities, as well as in consideration of the public who primarily use wireless devices for communication, the NFPA (National Fire Protection Agency) has provided modern benchmarks for the installation, performance, and maintenance of emergency communication and mass notification systems. These regulations include NFPA 72, NRPA 70, NFPA 13, NFPA 701, as well as several other supporting regulations. The before mentioned codes are as follows:
NFPA 70: NFPA-70 addresses the safety-related work practices, safety related maintenance, and requirements for special equipment. This encompasses guidelines for making hazard identification and alert assessments, electricity safe work conditions, and employee training. NFPA 70e is a standard in safe electrical wiring, design, and installation.
NFPA 72: NFPA-72 is a benchmark in installation and performance of detection and emergency communications, specifically where it pertains to mass notification systems. Businesses which adhere to the National Fire Alarm & signaling code must have 99% cellular coverage in all critical areas of a building with a strong signal (minimum of -97db). Back up power is required for mass notification system and should be able to sustain the device for 24 hours or more.
NFPA 13: NFPA-13 lays the specifications for automatic sprinklers and installation.
NFPA 701: NFPA-701 Pertains to the testing of various materials used in the construction of the building to determine the flame retardancy.
While most businesses are aware of the NFPA regulations by National Fire Protection Association, there may be some businesses which have not considered that cellular communication is no longer an optional feature, but a legal mandate as it pertains to the safety and wellbeing of individuals within the facility. In addition to the National Fire Protection Agency, the ICC (international code council), IFC (International fire code), IBC (international building code), and FirstNet (First Responder Network Authority) have all addressed the need to have a strong wireless communications network in order to provide clear and effective communications in emergency situations. The minimum requirements for public safety are that:
Buildings must have cellular coverage for 95-99% of the building for public safety.
That the unit of signal measurement (Decibels), for the Public safety frequency meet at least a -95db strength.
That Nema 4 or 4X enclosures have wind, dust, and waterproof radio equipment.
That systems have a 12 hour or more batter backup.
Some systems are required to have real-time monitoring.
Frequency adjustment is required as the requirements for public safety will evolve.
As you can see, the cellular communications for public safety are quite serious in our mobile world. Because of this it is imperative that companies maintain the signal strength of incoming and outgoing signals for their emergency and notification cellular systems.
Disrupted frequencies.
Although mandated, it is often problematic for companies to have a 99% coverage area with a strong signal. This can be the result of composite materials within the building, such as concrete and steel which may weaken the signal strength measured in decibels, or it could be the result of external forces both man-made and natural (such as other buildings or mountain barriers). Regardless of the cause, the frequencies can fall below the minimum requirements of -95 dbs. Should the signal fall to below -110 dbs, the area is considered a technical "dead zone".
While there will be fluctuations in the decibel readings based upon the phone and the services offered, any fluctuations which go below the minimum should not be tolerated. Keep in mind that in an emergency the signal input and output is apt to be lower, especially in situations where network towers may be compromised, where the structural integrity of the building may be minimized, or where inclement weather could hinder the signal strength. It is for this reason that commercial properties should strive to have a strong signal to start off with, thus reducing the risk of falling below the -95db mark or having "dead zones" within their property.
SureCall Guardian 3 QR.
SureCall Guardian 3 is a bi-directional amplifier for public safety bands up to 80,000 square feet. The device is intended for commercial spaces as well as public service properties such as police stations, fire departments, hospitals, and emergency community notification facilities. Because of the 80,000-square foot coverage area, most of these facilities can be accommodated easily.
Amplifier kit specifics allow for a maximum gain of 80dbs with a maximum RF Output Power of 26db. The device supports public safety 700, 800, and SMR 900 standards. Uplink frequencies are 788-805, 806-824, and 896-901 and download frequencies are 758-775, 851-869, and 935-940. Both uplink and downlink frequency ranges (MHz) include D block. Generally, this data translates into a device which can take a technical dead zone, meaning an area which as -110dbs and give it more than the minimal requirements for public safety band signal decibel output at -60dbs.
Do note that this is theoretical in its application and that the stronger the existing signal, the stronger the amplification. That being stated, the amplifier is specifically designed to help in public safety and notifications. The SureCall Guardian has the lowest out of band emissions, auto gain control (AGC) and automatic shutdown. It includes NEMA enclosure which meets the Nema 4 type requirements. It has independently adjustable uplink and downlink controls. It includes built-in safeguards to eliminate interference to the public safety network. It has stealth technology incorporated within it, and can be monitored remotely using built-in Sentry Remote Monitoring capability.
Practical Preparations.
Per FCC, when there's an emergency, there're three main areas which are used to give information to the public. These three areas are emergency communications mass notifications, wireline emergency correspondences (such as 911) and wireless emergency calls. Out of these three two are primarily based upon the wireless signal and frequencies. Should the frequencies drop for either of these two main forms of communication, the results could case a disruptions to emergency services, and thereby cost lives. Again, it is due to the reliance upon wireless communications that mandatory regulations have been put into place.
Surecall Guardian 3 QR works on all FirstNet public safety bands, reducing the likelihood of any network related delays to communications. Guardian 3 provides amplification of signals to 100+ simultaneous users maximizing the potential to get more information to the public sector in the event of an emergency. The more people who have access to the outside world and to the public sector in an emergency, the more transparent the situation will become, the easier it will be for public servants to evaluate and act upon situations, and the less redundancy you will have between departments.
Inquires.
Should you have inquiries about the mandates concerning fire safety and public communication requirements for your commercial property, please contact your local zoning authority. Not every commercial property will require the same level of cellular coverage requirements. Public service buildings will have the most stipulations and regulations. Again, contacting your local authoritative office should clarify any questions. Officials should be able to explain any stipulations and regulations which are currently in place regarding such communication requirements.
Should you have any questions regarding the SureCall Guardian 3 QR or any cellular amplification product for commercial or residential properties, please contact do us. We specialize in the distribution and installation of cellular and wireless amplification products for both commercial and private sectors with a staff that has been formally trained.
---
Share this post
---
---