zBoost vs. Wilson Pro or weBoost Signal Boosters
Feb 27, 2017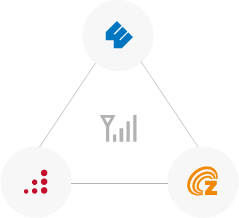 weBoost is a premium consumer brand with top-notch quality products. Wilson Pro is a heavy-duty commercial signal booster brand. zBoost is a value priced consumer brand. All 3 brands are owned by Wilson Electronics, a manufacturer located in USA. From a laymans perspective, Wilson changed their name to weBoost in 2015. The corporate company name is still Wilson Electronics. It acquired zBoost, its competitor many years ago. Therefore, it now owns the brands weBoost, Wilson Pro, and zBoost.
Choose One:
Browse Wilson Electronics cell phone signal boosters by brands shown above,
or request quote for Wilson Electronics signal booster installation by certified installers.
Those who live with surroundings or locations where the cell phone signal is weak, typically invest in a repeater or amplifier. It is a cell phone signal booster that enhances the weak signals arriving from outside making them stronger enough for use by our mobile devices. From outside, the boosted signal is conveyed inside the home or car where you can enjoy clearer and fast downloads on your wireless devices such as tablets and smartphones. 
The reception is usually interfered with by man-made and environmental obstructions. Man made blockages are caused by walls, other electronic frequencies, etc. Geographical or environmental blocks are caused by mountains, trees, weather, etc. By the time the signal arrives to our phones, it is reduced considerably due to these factors. That is the moment when a superbly working cell phone signal booster comes in whether you have your cellphone inside your van, boat, car, home or office.  
There're lots of cell phone reception boosters out there. Wilson Electronics is a company that manufactures or owns three brands: weBoost, zBoost, and WilsonPro. These remain one of the most reliable and popular booster brands across Canada and the United States. 
zBoost.
zBoost was created in 2002 and remains a top provider of commercial and consumer cell phone reception boosters. For an unknown reason, It is more popular in Canada than in USA. It is a low cost value priced brand. The company distributes, manufactures and develops zBoost brand amplifiers for vehicles, offices, and homes. In 2006, the company was noted as one of the top 10 Innovative Georgian companies apart from being honored with Design and Engineering Awards in the International Consumer Electronics Show of 2007 and 2010.
zBoost products.
The zBoost brand of cell phone devices has splendid coverage of between 2,500 square feet and 7,500 square feet in terms of range. Lots of devices are covered, including most North American carriers such as T-Mobile, Verizon, Sprint and AT&T. The Machine-to-Machine and mobile solutions have complied with the FCC while its technology is patented to provide protection for the network carrier and boosting battery longevity. Consumers are provided with dual-band items first with other types of boosters for consumers requiring other frequency bands such as AWS. 
zBoost provides SOHO cell phone reception repeaters to boost the cellular range inside the house or car for data cards, tablets and smart phones. While they can be installed with ease, professional installation is available. SOHO stands for Small Office & Home Office. Therefore, these boosters are ideal for use within this category which includes relatively inexpensive consumer electronics used by individuals and small companies.
zBoost cell phone booster for buildings.
zBoopst offers boosters for indoor usage of about 2,500 square feet in range, such as the SOHO zBoost ZB545 repeater for texts and voice calls across all the chief carriers. For larger area coverage of 7,500 square feet, Xtreme dual band Reach zBoost ZB560L is the more powerful amplifier.
Specific carrier devices are also provided. zBoost offers AT&T carrier users the zBoost ZB575-A Trio SOHO 4G LTE voice and data 2,000 square feet transmission. For larger residential areas the ZB575X-A and ZB585X-A TRIO Xtreme Reach are provided by zBoost for up to about 5,500 square feet. Verizon users are provided with the V series cell phone boosters, such as the 4G LTE data and voice ZB575-V Trio SOHO cell phone signal booster for up to about 2,500 square feet; ZB575X-V has a coverage of about 5,500 square feet on the higher side. 
Wilson Electronics or Wilson Pro and weBoost.
One of the top makers of signal boosters and related equipment across North America and globally, Wilson Electronics has been around for more than four decades. However, in the last decade the company's focus has been largely on commercial and industrial cell phone signal booster equipment. For the longest time Wilson Electronics has been ranked regionally as the top manufacturer of signal booster equipment within the industry with money back guarantees and extensive warranties accorded to all the equipment they offer.
 In the United States, Wilson Electronics has lots of patents within the space of radio technology such as the most reliable and ideal oscillation prevention method and protection of cellular carrier site.  
Wilson Electronics started creating cell phone signal boosters by 1999 and became the first company to build, design and provide cellular signal repeaters in Canada and U.S. weBoost is Wilson Electronics chief consumer line of cellular phone reception amplifiers offering lots of options and great power in enhancing the reception in a vehicle, sea vessels, offices and homes, including remote unmanned sites. All the weBoost cell phone signal boosters have been created to work with all the carriers in Canada and the United States and all the mobile devices enabled. It is their premium brand that is made with top quality parts to provide lifelong product satisfaction.
Internationally, outside the United States and Canada, weBoost cell phone boosting equipment is also sold in Latin America and Malaysia.
Note that all the weBoost cellular boosters contain automatic signal adjustments known as SmartBoost, a unique on-board microprocessor system and proprietary type of software endowed with ability to take in the cellular surroundings and adjust itself to the top cell phone signal performance. 
All Wilson Electronics and weBoost products are certified by Industry Canada and FCC. weBoost devices also ensure the cellular phone signal has been boosted by about 32 times its typical strength, ensuring you enjoy 4G LTE speeds and clear crystal call quality. 
weBoost for Home solutions & Wilson Pro for Building Solutions.
Cell phone booster for residential solutions includes the Home 3G and Home 4G devices. Home 3G boosts 3G data and voice signals while Home 4G boosts 4G LTE voice and data up to 1,500 square feet for offices and small homes. For a range of 5,000 square feet coverage, Connect 4G is available, including Connect 3G Directional provided with a directional type of antenna. To cover 7,500 square feet, weBoost provides Connect 4G-X for 4G LTE networks and the Connect 3G-X for 3G networks; remains the top consumer cell phone signal booster equipment. 
Connect 3G Omni is sold with a 360 degree antenna with easy installation and powerful voice and 3G network signal gains among all the carriers in North America up to a range of 5,000 square feet. With the weBoost eqo, you can also enjoy 32 times better signal inside your apartment, home or condo up to around 1,500 square feet.
For very large area buildings or commercial spaces, the Wilson Pro equipment line offers coverage from 25k to 140k square feet, depending on the model you select. For example, the Wilson Pro 70 can boost reception for up to 25,000 sq. ft. Whereas the Wilson Pro 4000 can provide up to 140,000 sq. ft. of boosted coverage, using that single amplifying unit!
weBoost for Cars and Sea Vessels.
weBoost offers on-the-go cell phone signal boosters for boats, RVs, cars, trucks and vans through the Drive series of products. Drive 4G-M, 3G-M, 4G-X and 3G-X remain the most powerful repeaters for vehicles offering 4G LTE and 3G network amplification. In case you want an adjustment cradle weBoost's Drive 4G-S and 3G-S is sold with one that effectively fits lots of phones. Drive 3G Flex is sold with an accessory kit allowing it to be moved in a car and outside while boosting both the 3G data and voice cell phone reception on carriers and devices. 
Professionals will find the Drive 4G-X OTR Truck Edition most effective, US and Canadian most powerful of all in-truck certified booster. It's also provided with a Truck Antenna made to work in all kinds of weather. 
For a parked recreational vehicle (RV), weBoost RV 4G is a unique wireless cellular phone signal booster that amplifies 4G LTE and voice networks for all carriers and cellular devices in North America.
Of all the most popular repeaters for use in cars, Drive 4G-M is the top selling, especially due to its cost. The signal booster has the ability to boost 4G and voice LTE network signal for modems and mobile devices such as Smartphones and Tablets.  
weBoost for Machine-to-Machine (IoT).
Security systems, movie rental types of boxes, vending machines, ATMs and other M2M equipment are required to have the lowest latency when it comes to communication. To maintain a 4G LTE and 3G data signal, the Security 4G from weBoost is sold for a cellular connected security panel. At the same time, Signal 4G and Signal 3G are superbly configured for M2M installations and solutions as well as for amplification of 4G LTE and 3G networks among all the cellular networks in North America. 
Money-Back Guarantees and Manufacturer Warranties.
WilsonPro commercial and industrial signal boosters include three years manufacturers warranty and 60 days money back guarantee. weBoost boosters include two years manufacturer warranty and 60 day money-back guarantee. Finally, zBoost amplifier kits have one year manufacturer warranty against defects in materials and workmanship and 60-day moneyback policy from us.
This post has summarized the differences between zBoost, Wilson Pro, and weBoost cell phone signal boosters. Please contact us if we have missed any aspect or difference that you would like to clarify before considering your cell phone signal booster purchase. Thank you!
---
Share this post
---
---