Fusion2Go Max Wins Honoree Award in 2020 CES Innovation Awards
Jan 01, 2020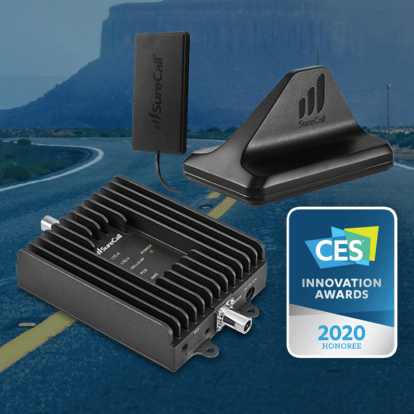 Fusion2Go Max is industry's most powerful all-carrier vehicle cell signal booster.
2XP technology offers double the power to reach remote cell towers.
Fastest speeds & longest cell tower reach with ERT.
Award winning - CES 2020 Innovation Awards Honoree.
Another Accolade for SureCall: Their Fusion2Go Max Wins Honoree Award in CES Innovation Awards.
SureCall's Fusion2Go Max Cellular Signal Booster for Vehicles, with Patented ERT Technology, wins Accolades ahead of CES 2020.
As a renowned and undisputed leader in cellular signal boosting solutions, SureCall recently announced that its Fusion2Go Max signal booster was named an Honoree Award winner in the Mobile Devices and Accessories category of the CES 2020 Innovation Awards. The CTA (Consumer Technology Association) competition is held on an annual basis in order to recognize excellent design and engineering in consumer technology products.
What is the SureCall Fusion2Go Max Signal Booster?
Fully conforming to FCC regulations, SureCall's Fusion2Go Max cellular signal booster is the most powerful in-vehicle signal booster in its class on the market today. Its innovative, patented Extended Range Technology (ERT) basically alters the structural design of typical signal boosters by delivering a number of performance improvements to all device users. ERT is the differentiating factor between Fusion-2-Go Max and other in-vehicle signal boosters.
SureCall's CEO, Hontao Zhan, stated that their Fusion2Go Max in-vehicle signal booster is just an introduction to the next generation of signal boosting technology. He added that SureCall's future plan is to cover the entire signal boosting market for offices, homes, and vehicles with ERT-enabled signal boosters. SureCall's patented ERT technology delivers the best possible experience to all device users.
Supporting multiple users and devices simultaneously, it is compatible with all major US carriers including Sprint, Verizon, T-Mobile, AT&T, and more. This booster continually optimizes gain, thus ensuring that it is always operating at maximum performance.
Advantages of ERT Technology.
ERT allows device users within vehicles to access reliable call, text, and data, so they can stay connected while out on the road. Regardless how remote or rural the area may be, users are able to access stronger connectivity than any other signal boosting solution.
ERT technology dramatically improves performance characteristics such as operational device-to-cell tower distance, data speed, and the interior coverage area of the booster, thus ensuring that SureCall's Fusion2Go Max signal amplifier boosts high-quality signals.
ERT technology delivers the following advantages to device users:
Device users in vehicles are able to access clearer calling and faster data speeds.
With ERT, more device users can simultaneously access reliable signal.
Coverage area in vehicles and buildings is dramatically expanded.
Signal boosters with ERT technology perform much more effectively in remote and rural locations.
We will see you at the 2020 Consumer Electronics Show.
CES is the largest tech show on the planet, and 2020 will be no exception. Together with many other exciting products, SureCall will be showcasing their award-winning Fusion2Go Max signal booster for vehicles. Come and see them at Booth 30547 in the LVCC South 3 venue. They will also be displaying their signal boosting products at the Innovation Awards Showcase. Find them at the Sands/Venetian in the Venetian Ballroom.
Learn more about SureCall Fusion2Go MAX and its patented ERT technology.
---
Share this post
---
---