Which Cell Booster Gives Highest sq. ft. Signal Boost at Lowest Cost?
Jun 30, 2020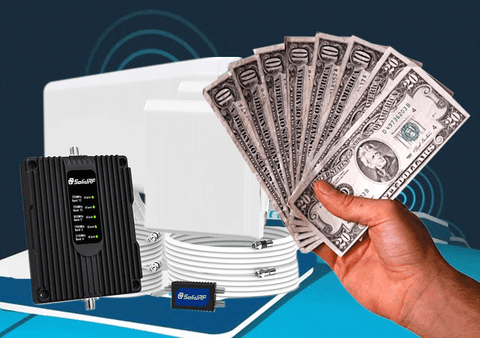 All cell phone signal booster kits basically pull signal from outside, amplify it, and broadcast it inside the home, office, or building. The manufacturers mention estimated inside coverage area based on the power of respective signal amplifier.
The fact is, the strength of outside signal greatly dictates the coverage space that will experience signal booster (improved, enhanced coverage). Considering these factors, which cell phone booster kit offers the most square foot coverage boosting at the lowest cost price?
That cell booster is RF Boost 8K kit at $429. It has stated maximum indoor coverage boost of 8,000 sq. ft. which is highest for its price range. In addition, it offers two interior antennas that can be more helpful for homes and offices that have square footage that is more spread out across many rooms.
Therefore, we think this kit has what we set out to find in a cellular amplifier kit - Lowest cost and highest coverage space. It is certified for use in both USA and Canada. Thus, this kit provides more value at its price range than any other that we could find. What do you think? Have you by chance found a better value anywhere else? Let us know in comments below. Thank you.
---
Share this post
---
---