Inside / Indoor / Interior Antennas - Dome & Panel Antenna Differences
Sep 04, 2017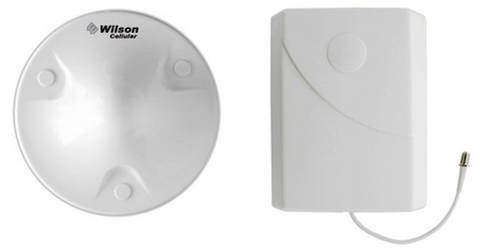 There're many inside antenna options for professional installers of cell phone signal boosters. Today, we will discuss all inside antenna options. An inside antenna broadcasts a signal throughout the inside of a building. We will cover the two types of antennas, how to install them, where to install them and the differences between them. The two types of antenna you will come across are a dome antenna and the panel antenna. The main differences between them really just comes down to their radiation pattern or how they broadcast the signal.
A dome antenna transmits a signal 360 degrees around it horizontally. Think of it like a ball cut in half. Very little signal is emitted from the top of the antenna. This is important because separation between the inside and outside antennas is key when setting up a signal booster system. This allows you more room to work with when setting up the antennas.
A panel antenna sends out the signal at about a 70 degree angle. Think of it like a flashlight beam. Like the dome antenna, very little signal is emitted from the back of the antenna aside from radiation pattern. The other main difference you will see between the two antennas is how far they will send the boosted signal. Watch the video below for complete illustration.
How far can they distribute amplified signal?
The coverage area is always going to depend on the available signal strength outside of the building but you can typically expect to get about 50 feet of coverage from a dome antenna and about 75 feet of coverage from a panel antenna. You will get even more coverage if you have got a stronger signal outside when choosing an antenna for an installation. Think about the size and shape of the space that you're covering. These factors will affect which antenna is going to work best for that installation.
Dome antennas are great in large areas and commercial applications. Since they broadcast the signal in all directions, they are great in drop ceilings and provide signal to everyone within its boosted range. Panel antennas are perfect for areas like corridors or buildings with high ceilings and since the broadcast zone is quite wide, placing a panel antenna on the wall of a home can often send signal throughout the entire house.
Both antennas are easy to install with a dual antenna. Simply drill a hole at least 11 sixteenth of an inch in the ceiling material. Slide the threaded rod through the hole so that your antenna is flush with the ceiling and screw on the nut. Then connect your antenna to your cable. A panel antenna comes with a mounting bracket. Attach to the bracket securely to the wall then simply slide the antenna onto the bracket and attach your cable.
Both antennas offer options with either an F or an N Female connector so no matter what type of cable you're running, you can easily connect them. Because of its relatively slim profile, a panel antenna can easily be hidden inside of a wall or behind a bookcase or other piece of furniture. This is a great feature to help you make an invisible installation.
Even though the amount of signal coming out of the top of the dome antenna is very small, there is still some there which can lead to some tricky installations. If you run into a situation where you can't get adequate spacing between the inside and outside antennas, you can install a barrier between the two this can be a piece of metal or something like radiant barrier sheeting which can be found in most hardware stores. This will block the signal between the two antennas. We hope this has helped you understand the options you have got when it comes to installing an inside antenna - Dome, or Panel.
---
Share this post
---
---