RV, Truck, Car N-Range Cell Phone Signal Booster Box Contents
Apr 24, 2019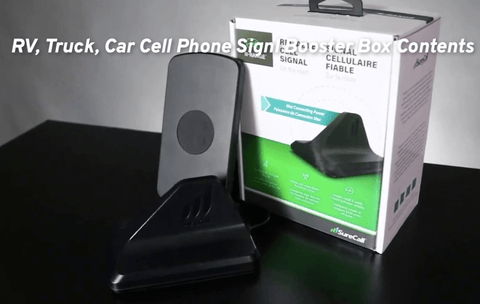 SureCall N-Range Signal Booster - What's In The Box?
Take a look at what comes inside the SureCall N-Range Signal Booster Retail Kit.
First, what's so special about the N range?
Let us see what is so special about the N range. It is a single user cell phone signal booster that works for all North American carriers and phones. It boosts all single types to give drivers hands-free conductivity for calling, for texting, data streaming and running apps. Its specialty is that it has only 2 main components: Exterior antenna with built-in amplifier, and the phone holder with built-in interior antenna. It skips the 3rd and 4th components that usually exists in vehicle cellular amplifier kits - a separate amplifier and a separate interior antenna.
What is in the retail box?
Let us go ahead and take a look at what comes inside the box. This blog post photo shows everything placed out on the table. Let us talk about all the different components. The first thing we have got is something called the active N range antenna. This is going to be what goes on the outside of your car to collect the available signal. It has got a magnetic bottom to it. Now, if you have a car that doesn't have a metal roof, you can use the big piece of adhesive tape and be able to take this right to the aluminum top or whatever you have got, such as fiberglass roof. We also have the 12 volt DC power adapter. Pretty standard. The last thing we have got inside the box is the little three step installation guide. Super easy to install.
Air vent phone mount antenna.
The air vent phone mount antenna is going to be where you place your phone. It has got a magnet in the middle, and you can go ahead and place your phone on there. It has also got a little thing in the back to grip the air vent that you will be putting this on. Now, there are some other little pieces that come as well. One is just a little piece of metal that you can actually adhere to your phone if you wanted to, or if you didn't want to do that, I know that some people are uncomfortable actually sticking things to their phone; you can use another metal plate here and have it go between your phone and the phone case. Now, when you do that, it allows the phone to stick on there, and you can either put this on your air vent or you can actually kind of do what I do in my car which is just put my phone on there and then just place it in my cup holder. Then it just kind of stays in one place.
Extended range technology or ERT.
It is equipped with something called extended range technology or ERT, which is the industry's most powerful system for maximizing cellular reliability in vehicles. Essentially, what ERT does is capture and boost the signal at its strongest point. And once the signal is boosted, it more efficiently delivers that signal directly to the device on the phone mount antenna. Altogether, ERT is the reason that N range delivers two times more boosting power than its closest competitor. Simple to install and portable, it often only takes 90 seconds to install. Plus, the entire thing can fit in the palm of your hand, so it is very easy to store inside of any glove box.
---
Share this post
---
---