Small Area Cell Phone Signal Boosters for Home (USA)
Aug 09, 2021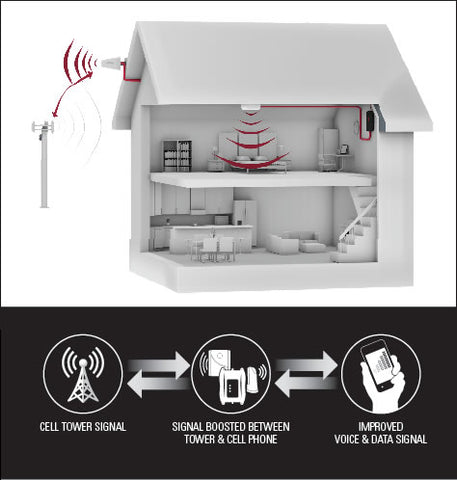 A small area cell phone signal booster for your home in U.S. will improve call quality and increase signal strength dramatically. At a price tag below 300 USD, you can boost text and 4G LTE data signals and voice for all cell carriers in USA. The boosters, repeaters, amplifiers listed below will cover areas of between 2000 and 4000 sq. ft. and can be installed by any user easily. They are all federally approved by Federal Communications Commission (FCC) which is an independent agency of United States government created by statute (47 U.S.C. § 151 and 47 U.S.C. § 154) to regulate interstate communications by radio, television, wire, satellite, and cable.
SureCall EZ Plug & Play Signal Booster.
If you need a signal booster for a 2000 square foot house, this one could work great. EZ 4G signal booster is an ideal small area cell phone signal booster that covers 1 to 2 rooms (up to 2,000 square feet) in your home in USA. It can be set up in minutes due to its revolutionary design. It delivers unrivalled signal boosting power unlike any other comparable cellular amplifier available, as long as there's a strong reception at a window where receptacle is placed. Your home décor will also be enhanced by the elegant plug-and-play design. This is however not suitable if there's no place inside house or business where's there's any signal even near an open window. In such cases, the next one listed below with an exterior antenna would be more effective in eradicating "no signal" or "no service" cellular coverage situations.
SureCall Flare 3G, 4G, LTE Signal Booster.
The cell phone booster setup of Flare small area combination cell phone signal booster and indoor antenna is greatly simplified as you only need to install an external antenna outside. Dropped and missed calls are reduced considerably by this kit. 4G LTE data speeds are improved substantially. Wireless phone coverage can be expanded over 1-2 rooms of a home or small office in USA, up to 2,500 sq. ft. This kit has received very good reviews from our customers that say that it is easy to install and works great to boost their cellular phone coverage. They say that after installation, their smartphone's mobile hotspot supports many more devices such as tablet computers like Apple iPad or other wi-fi only cellphones and devices like iPods. Multiple cell phones with service subscription on their respective SIM cards can benefit from signal boosters in general, simulataneously.
SureCall Fusion4Home Home & Building Signal Booster.
The Fusion4Home small area cell phone signal booster boosts cellular signal for text and 4G LTE data, as well as voice for all USA cell carriers. This unit delivers unequalled performance with cutting-edge technology, reducing missed and dropped calls. It extends battery life for up to three hours. It also supports multiple users simultaneously on all cellular networks. It comes complete with indoor and outdoor antennas configured as several different kitted options to meet needs of any home or office. For example, it has one configuration with omni multi-directional exterior antenna which is ideal if signal strength is good outside because it can absorb mobile signals from all cell carrier towers in vicinity. Another example is a configuration that offers yagi uni-directional exterior antenna for homes with weak signal outside because it can attract mobile signals from extermely long distances when pointed in a single direction. This is a timeless classic signal booster kit with multiple antenna configurations because it has been a popular best selling signal enhancing kit for longest duration of time spanning several years.
Small Area Signal Booster weBoost Home Room.
The weBoost Home Room signal booster is a small area smart phone booster kit that boosts signal to cover an area of up to 1,500 square feet. As such, it is ideal for use in a small home or office and will cover 1 or 2 rooms. Enjoy crystal clear communications with no dropped calls with amplified voice calls, text and 4G LTE data. This signal booster supports multiple users and devices including cellular phones, laptops and tablets boosted at the same time. This is an entry level cell phone signal booster with basic reception boosting functionality at the lowest price. It will cover a very small area like a desktop if signal outside is quite weak. However, that may suffice for needs of some residential apartment or small business persons. It will work on all American service carrier networks to improve reception and help make the most from the wireless phone service plan subscription.
---
Share this post
---
---