Smartwatch: Technology of the Future or Fad of the Present?
Nov 07, 2018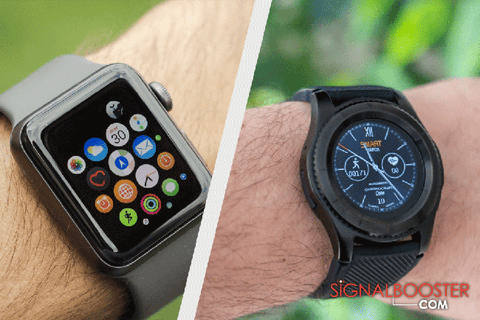 Wi-Fi enabled smartwatches are a popular accessory today, but will they replace the smartphone?
How smartwatches impact the cellular world.
For now, your smartwatch is only as good as the phone it is paired with.
With the rise of the smartphone, wrist watches have become little more than fashion statements, if they are worn at all. Ask someone for the time today and they are more likely to check their phone than their wrist.
Smartwatches may revitalize interest in wrist watches. Capable of operating independently or in combination with smartphone apps, a smartwatch allows the wearer to track personal activity, ask Google questions, play music, and more. To do this, of course, requires a smartwatch Wi-Fi connection. Here, we will examine the potential for smartwatches to become the next big thing and discuss how smartwatch cellular connectivity affects your data subscription and Wi-Fi network.
What can you do with a smartwatch?
Smartwatch functions vary depending on the make and model of watch. A cheap smartwatch might include basic built-in features with no way to download additional apps, while higher-end models can download from app libraries and are more customizable.
Possible uses for smartwatches include:
Receiving notifications from your phone.
Viewing incoming text messages.
Accepting or rejecting phone calls from the watch touchscreen.
Giving voice commands to Google Now.
Setting reminders.
Navigating with GPS.
Tracking fitness activity and set fitness goals.
Acting as a remote playing music on your smartphone.
Playing music downloaded onto watch through Bluetooth speakers.
Finding missing phone by triggering phone ringtones.
Watching videos (the small touchscreen limits this particular function).
Telling time.
How popular are smartwatches?
Smartwatches are reasonably common but have not captured the public's imagination as much as smartphones. Combining style with function has so far proven difficult as well. Smartwatches tend to be larger than normal wristwatches to accommodate a useable touchscreen. Their oversized nature can leave them looking clunky and cumbersome. At the same time, a smartwatch touchscreen offers little space to consumers used to smartphone screens.
Battery life has been an issue with smartwatches. While some high-end models claim the ability to run for over twenty days on a single charge, this claim assumes the watch's GPS is disabled. With GPS on, the same watches need charging every ten hours, with less expensive models running out of charge even earlier.
Despite these drawbacks, at least one analytical company (NextMarket Insights) believes smartwatch sales are set to increase significantly. They predict smartwatch sales will increase from 15 million in 2014 to 373 million before the end of 2020.
How does a smartwatch work?
At present, most smartwatches act as add-on accessories to a smartphone or mobile tablet. While such watches have standalone features, they need to be connected to a mobile device to have internet capabilities.
Smartwatch cellular connectivity can be accomplished in one of two ways. Either you establish a smartphone / smartwatch Wi-Fi connection or use Bluetooth to pair the watch to a phone or tablet. If you chose Wi-Fi, your watch can connect to any of your phone's saved Wi-Fi settings. If you pair the two devices using Bluetooth, your phone needs to be within twenty to thirty feet to maintain smartwatch cellular connectivity.
How to connect a smartwatch to Wi-Fi.
In the majority of cases, you download a smartwatch Wi-Fi app to your smartphone, allowing you to piggyback your watch on your phone's Wi-Fi settings.
If you're using in-home Wi-Fi and your watch uses the Android Wear operating system, you can connect to the network directly from the phone using the following steps:
Tap the smartwatch's touchscreen.
Swipe down from the top of the touchscreen to access the menu.
Tap Setting, then tap Connectivity.
Tap Wi-Fi and switch the option to automatic.
Tap Add Network and select your home network.
To enter your home network passwords, tap Enter on Phone, and type the password into your phone.
Tap connect to connect to the network.
Outside of the home, smartwatch cellular connectivity relies on your watch's connection to your phone's data plan. At present, few smartwatches have the option of using their own data plans, although this may change in the future. Such watches allow you to make phone calls directly through the watch.
If your watch uses Android Wear, the most common operating system for smartwatches, your watch can automatically switch to the phone's saved Wi-Fi networks if Bluetooth pairing drops.
Do you need a smartphone to use a smartwatch?
Online functions for most smartwatches require the device be paired to a Wi-Fi-enabled smartphone or tablet. For Android devices, the phone must use Android 4.3 (KitKat) or more recent operating systems to function. To link smartwatches to an iPhone requires an iPhone no older than the iPhone 5 and operating systems of iOS 8.2 or higher.
If smartwatch cellular connectivity is not available, only a limited set of features can be accessed. The watch can still be used as an activity tracker, alarm, timer, and, of course, as a watch.
Will smartwatches replace smartphones?
At present, it is highly unlikely the smartwatch will replace the smartphone anytime soon. The small screen, limited functionality, and battery quality make the smartwatch less useful than a smartphone.
Now having said that, back in the 1990s very few people predicted that smartphones would become popular with the public, and certainly not that they would become the dominant piece of technology they are today. So yes, it is possible the smartwatch could replace smartphones in the future, but only if the watches can match or exceed smartphones in terms of performance and convenience. Otherwise, smartwatches will be at best an interesting accessory, and at worse another technological corpse languishing on the battleground for consumer attention.
Signal Boosters and smartphone Wi-Fi connectivity.
Because smartwatches connect to Wi-Fi through smartphones and tablets, their connectivity with the Internet is only as good as the Wi-Fi signal the parent device receives. If you have difficulty with your phone's Wi-Fi connection, you will have difficulty with your smartwatch's too.
A signal booster can extend the range of both smartwatch cellular connectivity and Wi-Fi. Below are several products that will help keep your smartwatch—and phone—connected.
For smartwatch cellular connectivity and Wi-Fi:
High Power Inside Wi-Fi Antenna.
The high power Wi-Fi antenna replaces your modem or router's existing antenna, boosting signal by 12 dBi. This antenna's plug and play design makes it ideal for quickly increasing Wi-Fi signals without the need for significant installation.
The SureCall Fusion4Home.
Capable of covering 2,000 to 4,000 square feet, the Fusion4 Home improves 3G and 4G LTE data speeds while reducing rates of dropped and missing calls while supporting simultaneous multiple device use.
The SureCall Fusion 5s.
For homes or offices between 5,000 and 7,000 square feet, the SureCall Fusion 5s boosts voice, text, 3G and 4G reception for all cell providers while supporting multiple devices. Indoor smartwatch cellular connectivity can be expanded even further by pairing the signal booster with an additional in-building antenna kit.
The SureCall Fusion 7.
One of the dual functionality signal boosters for home and office use, the Fusion 7 boosts cellular, Wi-Fi, and HDTV signals over areas as large as 20,000 square feet, while increasing signal strength for up to 20 users at once.
Whether smartwatches are a fad, useful smartphone accessories, or ultimately a replacement for the ubiquitous smartphone is a question only time can answer. Whatever the watch's fate, users need a strong Wi-Fi signal to use them. Often, that means boosting your existing signal, strengthening the signal and extending its range.
---
Share this post
---
---