SureCall Force 5 Industrial Signal Booster Review
Sep 25, 2017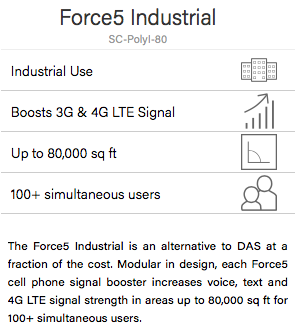 SureCall Force 5 Industrial Signal Booster Review confirms the following unique features of this industrial grade cellular signal booster or amplifier kit.
Force 5 Industrial Amplifier Kit for up to 80,000 sq. ft. coverage boost - All Carrier, Voice and Data Cell Phone Booster for Large Buildings. Available with 2 outside Yagi or Omni antennas, and up to 10 plus indoor Dome and/or Panel antennas. 
Unique Features:
Highest 4G data rate in the industry.
Linear Design increases the number of simultaneous users to 100+ per band.
Provides all carrier enhanced cellular and data reception for areas of 80,000 sq. ft.
Additional systems can be added for larger coverage area extensions.
Adjustable attenuation on both uplink and downlink -1dBm to -31dBm.
Booster, Low Loss 400 Cables and your choice of Outside (Yagi & Omni) available for purchase separately.
FCC Certified and Carrier Approved with Network Protection Features included.
3 Years Warranty and 60 Days Money Back Guarantee. 
Lifetime Technical Support.
Requires SureCall Certified Contractor SignalBooster.com to Install, and requires Service Carrier's Approval prior to installation.
View Details
---
Share this post
---
---