The Best Point to Point Wireless Bridge
Oct 11, 2018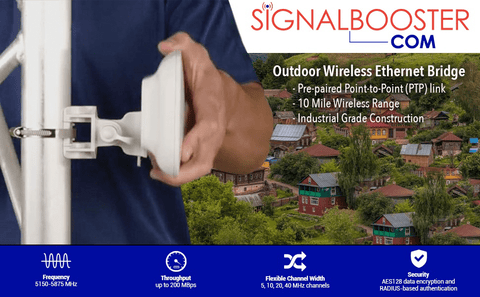 If you have a wireless network in a building and need another one in another building close by, you could either set up a completely new WiFi network in the second building, or use our long range P2P wireless bridging kit to simply extend the existing WiFi network to also cover the second building.
Using this option is quick and easy to deploy, and will also cost you less than starting from scratch. This true plug and play system is affordable and comes with integrated radios within its antennas that are pre-configured or pre-paired.
The Long Range P2P Wireless Ethernet Bridge provides powerful wireless connectivity that will allow cellular devices to connect automatically, including phones, cameras, tablets and laptops. It replaces cabling in delivering point-to-point links, both for long and short ranges. Two durable 16 dB flat panel antennas are included in the kit and these will not easily be damaged by impacts. They are sleek and about the size of a palm, though slightly longer. They provide optimal network deployment by connecting wirelessly.
Networking cable such as RJ45 Cat6a shielded Ethernet cable can be plugged into a port provided on each antenna. The kit also includes industrial grade clamps for mounting each of the two antennas on a suitable pole. With the antennas facing each other after installation, the included mount allows the antennas to be tilted. This, together with indicator lights on the back of the antennas allows them to be aligned correctly to ensure a good point to point bridge connection.
Benefits
Benefits of the Long Range P2P Broadband WiFi Bridge include:
Delivers long and short range point to point links.
This unit is waterproof and dustproof, allowing it to perform flawlessly even in harshest of exterior environments during bad weather and storms.
The secure guest network feature improves customer experiences.
A wide range of outdoor applications is supported.
Features
Supports a range of up to 10 miles of between two pre-configured radio units on the 5 GHz frequency.
Achieves up to 200 Mbps throughput speed.
Flexible channel width with 5, 10, 20, 40 MHz channels. C058900B072A | 646444255103
AES128 data encryption and RADIUS-based authentication provides top notch wireless data security.
Output Power: 1 Watt.
This WiFi signal booster, amplifier, repeater and extender kit is based on ePMP technology and contains all components required for DIY installation. Professional installation by professional wifi antenna installers is however available, if required. This might be the preferred option, especially if this Wi-Fi P2P system needs to be installed outdoors. With its incredible Wi-Fi coverage expansion range, this unit has been designed to be used outdoors, but technically, it can be used to boost Wi-Fi signals indoors.
This Wi-Fi Point to Point Bridge Link Connection Extender Kit solution can used for various applications, including:
Extending a Wi-Fi 5 GHz connection link or hot-spot to a new location.
Extending a local wireless Internet network or WiFi hotspot to a building located remotely.
Supports any application needing a wireless network extension to boost, extend, and strengthen connectivity.
Provides a cost-effective solution to backhauling CCTV networks.
Conclusion
The DIY Long Range P-2-P Wireless Ethernet Bridge kit is an affordably priced plug and play kit that will allow you securely project network access to another building location using an existing wireless network. It creates a point to point WiFi bridge using two directional antennas with pre-configured integrated radios, and can be easily installed by following the step by step instructions included in the kit. All components required for installation are also included.
---
Share this post
---
---