Verizon & T-Mobile Forging Ahead with 5G: Latest 2021 5G News
Jun 28, 2021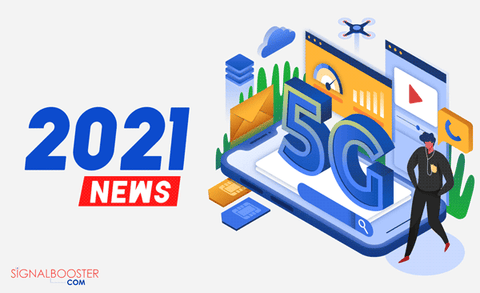 Verizon's extended service delivers 5G Mobility, 5G Business, and 5G Home to even more users. Verizon's 5G Home, 5G Mobility and 5G Business Internet consumers will soon enjoy improved 5G Ultra-Wideband coverage thanks to versatile, cost effective, and easily installed signal repeaters from SureCall and FRTek.
Verizon's 5G Business Internet.
A fixed, high-powered 5G receiver is used by 5G Business Internet, allowing business customers to achieve the broadband speeds and reliability they expect from Verizon. The deployment of 5G signal boosters ensures that all Business, Home, and Mobility customers will reap amazing benefits from the extended coverage.
Verizon's 5G Mobility.
Verizon's 5G Mobility ensures customers are able to experience super-fast wireless speeds, in some places as fast as 4 Gbps, meaning they can download and stream TV shows and movies in just seconds. They also have the ability to videoconference and remotely collaborate in (almost) real time, plus take advantage of new customer experiences never wirelessly experienced before.
Verizon's 5G Home Internet.
Verizon's 5G Home Internet is delivered over their 5G Ultra-Wideband network. This is an extremely fast wireless broadband internet, ideal for those who are being schooled at home, who work remotely, or who stream their favourite TV shows and movies.
About Verizon and 5G.
Signal from cell sites nearby is picked up by a network repeater; the signal from those sites is then amplified and re-transmitted to previously under-served areas. Repeaters are particularly useful in dense urban areas where there are multiple buildings, like apartment buildings and dormitories where there are a number of floors. When a repeater is installed between the cell site and the area being served the signal can be amplified by the repeater, thus increasing the 5G footprint.
A Message From Verizon.
Adam Koeppe is Senior Vice President of Planning and Technology at Verizon. He said that with the launching of 5G services over two years ago, and the significant addition of small cells, Verizon has more than doubled coverage in many of their initial mmWave markets. He added that Verizon will continue extending the service of their 5G Ultra-Wideband network in a fast, cost-effective, and efficient way by deploying more signal repeaters. In this way, Verizon is extending its service to even more customers. Adam Koeppe believes deploying more signal repeaters is the perfect addition to their already robust network design.
About Verizon.
On 30th June 2000 Verizon Communications Inc. (NYSE, Nasdaq: VZ) was formed. Today, Verizon is a world leader in delivering communications, technology, entertainment, and information services and products. With a world-wide presence, and headquartered in New York City, Verizon generated revenue in 2020 of $128.3 billion.
Verizon's award-winning platforms and networks offer data, voice, and video solutions and services, consistently delivering on consumers demand for reliable network connectivity, mobility, security, and control.
SureCall and FRTek Repeaters.
Verizon is deploying SureCall and FRTek repeaters that are small, do not require a fiber connection, and consume a lot less energy than a small cell. They are therefore very cost effective, versatile, and easily installed in a range of different areas.
About the SureCall and FRTek Equipment.
SureCall.
The Horizon is a patent-pending 5G mmWave network signal booster developed by SureCall. As part of a network buildout, its purpose is to complement base stations.
Hongtao Zhan is CEO and founder of SureCall. He stated that SureCall's Horizon 5G mmWave network signal booster has been carefully engineered and thoroughly tested to improve and widen 5G coverage, in addition to helping Verizon deliver cost effective next-generation speeds. In addition, he added, while SureCall's powerful network booster delivered the largest coverage footprint (as per FCC test results), it is also very power efficient. It has the capabilities of running on solar without connecting to the power grid.
Hongtao Zhan stated that SureCall is extremely pleased to receive Verizon's production order and they are looking forward to delivering their high-performance booster.
FRTek.
PrimAer is FRTek's innovative repeater technology. With PrimAer, Verizon can remotely direct 5G mmWave utilizing FRTek software that dramatically alters configurations to deliver enhanced coverage on demand.
With PrimAer, coverage can be delivered both outdoors and indoors, plus PrimAer has the ability to daisy chain remotes, thus making it extremely versatile.
Milla Woo is CEO at FRTek. She stated that FRTek is thrilled that PrimAer was chosen by Verizon to become part of their 5G strategy. She added that FRTek is looking forward to assisting Verizon in bringing their 5G expansion to North America.
Meanwhile, T-Mobile plans to combine its 5G network with Lumen's edge infrastructure. Lumen Technologies was formerly known as CenturyLink. It is using its fiber and edge assets for enterprise 5G services. Read details below.
Lumen Technologies and T-Mobile: Working Together to Power Enterprise.
T-Mobile – known in the telecommunications industry as the "un-carrier" has made known its five-year plan to double its share of the telecommunications market. Mike Katz, the EVP of T-Mobile's Business sector announced his plans during an analysts' event in March, during which he talked about the role of the 5G network in a variety of business verticals. He clarified how emerging telecommunications technology can help to drive innovation. During his speech, Katz predicted that T-Mobile would have the capacity to become at the top of every United States company's CIO's mind due to its superior technological offerings when compared to its major competitors in the industry, including Verizon and AT&T Wireless.
It is notable that when 5G telecommunications technology is discussed in relation to the digitalization of business enterprise, another issue comes up for discussion at the same time: The distribution of compute and how it relates to the network edge. This linkage of ideas becomes apparent when one realizes that in situations like a logistics facility or a factory floor, an application of low latency will necessitate the closer spread of data center capabilities to the location of the data generation.
As such, T-Mobile made its announcement in April 2021 of its agreement with the company formerly known as CenturyLink (trading as Lumen Technologies) to effectively utilize Lumen Technologies' edge infrastructure to assist companies to manage, build, and even scale their applications across environments that involve high distribution. While still using the 5G network provided by T-Mobile, customers will simultaneously have access to the on-net locations for enterprise on Lumen Technologies' 5G network – numbering in the hundreds of thousands. Part of the arrangement involves T-Mobile being considered Lumen Technologies' wireless connectivity partner of choice.
In his statement, Mike Katz noted that T-Mobile will be equipped to break down the barriers that have plagued industry until now, while also delivering network reach of unparalleled proportions to assist the multitudes of government agencies and business enterprises wishing to optimize their application across all available networks. This will be achieved by utilizing edge and 5G in tandem.
With more than 2,200 data centers facilitating the connection of 180,000 on-net offices and buildings via more than 450,000 miles of fiber in its global route, Lumen Technologies already has existing arrangements with industry heavyweights including Oracle Cloud, IBM Cloud, Google Cloud, Microsoft Azure, and Amazon Web Services.
Shaun Andrews, the CMO and EVP of Lumen Technologies, has referred to managed services, fiber, and 5G as a powerful trifecta. Andrews went on to explain how digital business can enjoy the best of both worlds by coupling Lumen Technologies' vast edge computing innovations with the enormous 5G footprint offered by T-Mobile. In his option, the coupling of Lumen Technologies and T-Mobile will power digital business through the next inevitable wave.
Other notable 5G news and developments in 5G signal booster industry.
Unlike SureCall and FRTek's collaboration with Verizon Wireless, and T-Mobile's plans to work with Lumen Technologies, Wilson Electronics (parent company of weBoost brand) has announced collaboration with another 5G booster development and manufacturing partner, ED2 Corporation. 5G mmWave leader ED2 Corporation should help Wilson Electronics (and its weBoost brand) bolster the development and production of specialized products supporting 5G technology and beyond. ED2's expertise will round out Wilson Electronics' 5G technology offerings supporting addition of a 5G highband and future midband solution for both indoor and outdoor coverage. 5G offers a number of amazing benefits but due to its struggles to penetrate buildings and other obstacles, cellular amplification technology is needed to make it accessible to all.
Based in Tucson, Arizona, ED2 is an emerging technology company with a strong technical team building 5G mmWave products and solving engineering challenges. As the commercial cellular industry moves to higher frequencies in search of more spectrum and higher performance, the team's capabilities are a perfect match for the industry's needs. One of ED2 repeaters, which has been recently FCC-certified under Industrial Part 20 rules, is currently being trialed by mobile network operators around the world and will be launched under the WilsonPro brand in the near future. The collaboration between Wilson Electronics and ED2 will be helpful in facilitating the development and deployment of more of these specialized products to support the shift to 5G coverage.
---
Share this post
---
---