Video: weBoost Installed Home Complete (474445) Including Free Installation*
Apr 24, 2020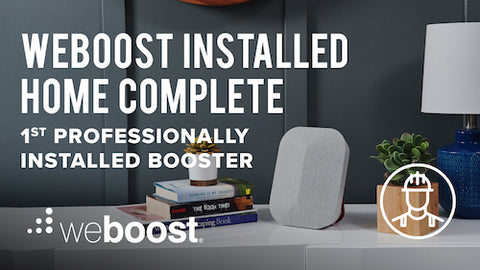 The new weBoost Installed Home Complete (474445) cell phone signal booster is an easy solution to weak cellular coverage inside your home. It is easy because free installation included with purchase saves you time and effort of installing it yourself.* Watch video that illustrates "weBoost Installed Home Complete" consisting of hardware, as well as included professional installation by a certified installer. No installation required on your part. Simply open the box, call or schedule convenient time for installation, and an installer will arrive for installing it for you at no add'l charge. Then enjoy great mobile reception everywhere inside your home. weBoost Home Installed is the Winner of the 2020 TWICE VIP Award in Smart Home & Automation: Signal Boosting category.
*Since installation is included with this purchase, you essentially get free installation, meaning you do not pay installer after installation is complete.
Problems with a weak cell signal in your home?
Cell phones help us stay connected, share things with those who matter most, and keep in touch with the world around us. No matter where we live. A weak cell signal puts a stop to all that. Sure, you could decide to switch carriers, buy a new phone or move. Still, it is no guarantee that you won't experience dropped calls or slow data speeds while inside your home. Fortunately, there's an easier solution. It is called, "weBoost Installed", a powerful cell signal booster for your home.
What is weBoost Installed?
As the name implies, it includes professional installation. After you have opened the box of weBoost 474445 model, just go online and use the code to schedule your installation. Sometimes, as soon as the next day, no matter where you live, nationwide in all 50 states. As a trained and certified expert, your installer will do everything possible to ensure your experience is a flawless one. Once everything is set up, weBoost Installed brings the outside cell signal into your home. Then boosts that signal for indoor use, giving your home the best cell coverage possible.
Benefits.
No logins or phone pairing needed. No subscriptions or hidden fees. Just a one-time cost. Boom. You have now got amazing cell coverage. Go ahead. Keep up with your friends from college group text. Get faster internet to stay up to date with what is going on at all hours of the day. Binge watch your favorite shows without pauses or annoying interruptions. Enjoy those daily talks with your sister anywhere in your house. It works with any phone or cellular device on all carriers. Feels good knowing you will never miss a text or call again - even the ones you wish you could. Make your house a home for reliable signal with the weBoost-Installed-Home-Complete.
weBoost Installed Home Complete 474445 Summary:
weBoost Installed Home Complete (474445) cell signal booster purchase includes installation service. Schedule convenient time just as soon as you receive the kit. An installer will arrive then to install it for you within approx. 2 hr. time-frame. Buy now at: signalbooster.com/installed
Call for FREE consultation:
1(855)846-2654
Or submit request for cellular booster installation which includes site survey, equipment, and installation.
---
Share this post
---
---