weBoost Intros Drive Reach (Model # 470154) & Reach Fleet (470254)
May 16, 2019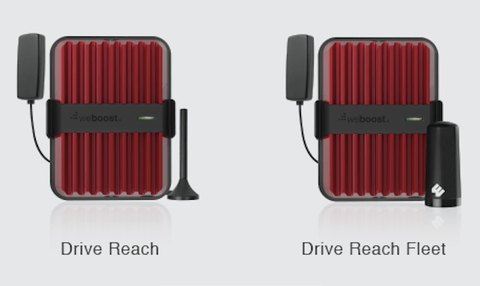 Browse weBoost Drive Reach (model 470154) specifications and Drive Reach installation guide. Browse weBoost Drive Reach Fleet specs. and Drive Reach Fleet  (model 470254) Install manual.
Wilson Electronics has done it again, launching the next generation of in-vehicle cellular signal boosters. Widely regarded as the industry leader in signal boosting technology, Wilson Electronics today announced the launch of its most powerful in-vehicle signal booster – the weBoost Drive Reach and Drive Reach Fleet.
These cellular signal boosters have been specifically designed by Wilson Electronics to deliver reliable and strong signal connectivity in all vehicles including cars, RVs, campers, and trucks. This in-vehicle booster allows drivers and passengers to enjoy faster upload/download data speeds, stronger call quality, and fewer dead zones whilst on the road. Compatible with all mobile devices and all North American carriers, it is the ideal booster for long trips because it will constantly power cellular reception in multiple devices simultaneously.
Enhanced Uplink Power Capabilities.
With uplink power capabilities of 29.5 dBm's and 50 dB gain, the Drive Reach amplifier boasts the maximum gain as allowed under FCC standards. This means that the signal strength can be boosted from locations more than twice as far away from towers than previous in-vehicle models. weBoost claims that as the result of this, it allows users of this powerful phone booster to achieve the fastest data rate and strongest signal connection available in the mobile booster market today.
Bruce Lancaster, CEO of Wilson Electronics, said that strong cellular signal is crucial for both safety and productivity reasons, regardless of whether you're travelling for play or for work. With the upgraded uplink capabilities of the weBoost Drive Reach signal booster, users will notice a vast improvement in cellular speed and connectivity across all carriers such as AT&T, Sprint, Verizon and T-Mobile. Travelers can now enjoy peace of mind on the road, regardless of how long the journey may be, and which mobile service provider they use for their multiple wireless devices.
How to Install the weBoost Drive Reach Cell Signal Booster?
While installation of "Drive Reach Fleet" requires professional installation, the installation of the "Drive Reach" signal booster is a breeze. Designed with a versatile mounting plate, users can choose the most convenient way for them to install the booster. Some users may choose to attach the booster to the carpeting of the vehicle by using the sturdy Velcro strips provided; while others may feel comfortable permanently attaching the booster to the side wall of their vehicle. Either way, with the booster firmly secured. Its innovative SMB connectors will confirm that both the booster and antenna have successfully been connected.
Everything You Need to Install the weBoost Drive Reach Cell Signal Booster Is Included in the Kit.
Included in the "Drive Reach" kit you will find the following:
The powerful weBoost cellular amplifier.
Versatile mounting plate.
Mini magnetic antenna.
SMB connectors.
Power supply, which includes an extra port with faster charging capabilities.
How do these pair of weBoost Drive Reach & Reach Fleet Cell Booster Work?
The powerful exterior antenna receives the signal by reaching out to cell phone towers. These signals are then transmitted to the booster via a series of low noise filters and amplifiers. The booster amplifies the supported frequency bands throughout the vehicle, boosting 3G and 4G LTE signal for multiple users simultaneously. This innovative signal amplifier from Wilson Electronics reaches further and effectively pulls in more signal, which results in a more reliable and clearer service than ever achieved before.
Fully certified by the FCC, the "weBoost Drive Reach" cell phone booster is priced at a low $499.99. With a 2-year warranty, this powerful car phone booster is available for purchase right now through SignalBooster.com.
About Wilson Electronics, LLC and weBoost Signal Boosting Products:
Renowned as the market leader in signal boosting technology, Wilson Electronics LLC, is the home of weBoost and Wilson Pro products. Wilson Electronics is dedicated to providing strong and reliable network coverage to everyone, everywhere. Each and every signal booster designed and manufactured by Wilson Electronics is fully approved to FCC standards to amplify cellular signal for all devices from all major carriers, dramatically increasing reliable signal coverage in commercial buildings, homes, and all vehicles.
For the past 20 years, Wilson Electronics, LLC, has been developing and manufacturing cell phone amplifiers, antennas, and other related components; creating an impressive portfolio of intellectual property for mobile phone booster and repeater architectures throughout the years. Importantly, all Wilson Electronics products are designed, manufactured, and tested in United States.
---
Share this post
---
---