West Michigan Manufacturing Company Installs SureCall Force5 Booster.
May 17, 2017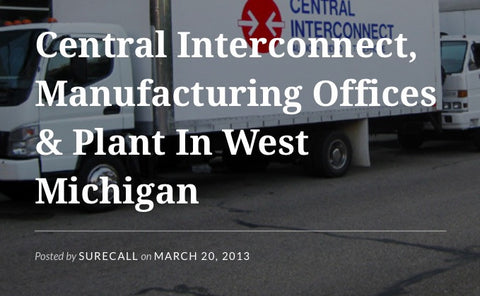 A West Michigan manufacturing company with plant and offices has chosen to have SureCall Force5 cell phone signal boosters installed to resolve lack of mobile reception in its offices and manufacturing plant. Combined space of 40,000 sq. ft. now has strong cell reception for wireless communication without dropped calls and mobile internet hangups.
Case Study.
A manufacturing company in West Michigan with offices and plant adopted the SureCall Force5 signal booster to offer concrete walled and metal framed plant 4G LTE data solution coverage for all carriers in U.S.A.
Customer Details.
The plant and offices of the company based in Holland, West Michigan needed to update its two 20,000 square foot floors with top quality 4G LTE data coverage apart from the 3G data and 2G voice amplification already in place. What was required was a solution ideal for expanding cellular coverage that would support virtually all the carriers including employees and customers onsite.
Major Concern.
Two floors of the plant and offices with a combined 40,000 square feet needed updating into a 4G data multi-carrier solution capable of covering Sprint, T-Mobile, Verizon, AT&T among others, across the companies workshop areas, conference sections, sales offices and management areas.
Proposed Solution.
The manufacturing company chose the SureCall Force5, a unique five-band self contained wireless amplifier that met all the company's cost needs.  The solution also took a small space in contrast with other signal booster models that required extensive spaces.
About the Manufacturing Company.
Located in Holland, West Michigan, the company is a large production plant with a huge office that offers ready-to-eat food to its customers. Its walls are made of concrete and metal frames.
About SureCall.
SureCall is an award winning signal booster manufacturer and multi-patented signal booster leader in North America. Its creative designs and innovative boosters are extensively used in business, vehicles and homes to enhance wireless coverage to dramatically enhance 4G LTE, 3G and 2G voice and data networks.
Post Installation Results.
3G and 4G network amplification successful.
Cost effective solution in place.
The replaced SureCall CM2020-68 supporting 3G only installed in the plant's other branch.
Conclusion.
Do you have challenges with cell carriers' coverage in your building or vehicle? Give us a call. We're authorized installer, dealer and retailer of SureCall signal boosters and only need your requirements and location information to get you the perfect cell coverage signal booster solution that meets your needs. Proposal will also include a quote on installation and equipment to accelerate installation within the period agreed.
SOURCE: Originally posted at SURECALL.COM. Modified to highlight SureCall signal boosting products were used for installation. SignalBooster.com was not the installer of signal booster system in this case study.
---
Share this post
---
---