What are Dish/ Grid Parabolic Antennas for Cell Phone Signal Boosters?
Jul 27, 2018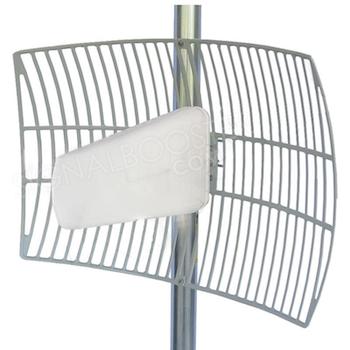 A cellphone signal booster system typically use an outside antenna to pick up the cellular signal from the nearest cellular tower. This signal is then sent to the booster via cable, where it is amplified before being distributed inside of the building or vehicle through inside antenna.
The power of outside antennas is measured by its "gain". Gain shows the reach and strength of the antenna's signal. Antennas with a higher gain will transmit more powerful signals from cell phone towers.
There are two types of outside antennas used with cell phone signal boosters – omnidirectional and parabolic dish antennas.
Omnidirectional antennas send and receive signals in a 360º radius. As they are able to receive signals from numerous cell towers all around your location, they are most often used when there is a need to boost the signal for multiple carriers. These antennas are suitable for situations where the outside signal strength is moderate to strong. However, if outside signal is weak, you may need the directional Yagi or Log Periodic antenna instead (also referred to, as "log-periodic array antenna").
Parabolic dish antennas are similar to Yagi antennas with a metal grid that deflects signals in the same direction. These powerful antennas are directional, which means that they need to be set up to point in the direction of the cell tower. They will only pick up signal from the direction to which they are pointed.
Yagi antennas are very good at picking up weak signals in a specific direction. They are often used in situations where the existing outside cellular signal is weak. They will however normally only pick up the signal of a single carrier, unless there are cell towers for more than one carrier in the same direction.
If weak signals from multiple different directions need to be boosted, it is possible to use more than one yagi antenna with the same booster. In this case, the multiple antennas are connected to the booster with a signal splitter. This means that the signal amplifier must be capable or have multiple donor antenna input connectors where cables from exterior antennas can be connected.
Examples of three types of Parabolic (Horn or Yagi with metal grid) antennas:
The 12 dBi Log Periodic/ Yagi Antenna with Metal Reflector Grid (50 Ohm) antenna is a premium quality most powerful 12 dBi Gain Wide Band Outdoor Log Periodic/ Yagi Antenna with Reflector Grid. It works on all 3G, 4G LTE, WiFi technologies and operates on 50 Ohm impedance.
This antenna covers wide frequency bands from 698 to 2700 MHz. It can be mounted on top of any house or building on roof outside to improve access to cell phone tower signals for signal boosters and amplifiers installed inside.
The 10 dBi Yagi/ Log Periodic Antenna with Metallic Grid Reflector (50 Ohm) works the same as the product above, but is slightly cheaper as it has a 10dBi gain instead of 12dBi.
Both antennas detailed above feature a die-cast aluminum reflector grid that is corrosion resistant and mounted on the rear of antenna. The grid improves the Gain, Front to Back Ratio, and Return Loss. These gridded log periodic yagi antennas are completely weatherproof and can be mounted on a pole with the hardware included. The 9 inch low-loss RG58 antenna lead in most cases is terminated with an N Female connector which is typically used with 50 Ohm low loss coaxial cable such as 400 or 600 series cables.
The larger and heavier ultra wide band, ultra directional parabolic grid antenna offers wider frequency coverage from 600 MHz to 6.5 GHz covering all cellular (including upcoming 5G) and Wi-Fi frequencies (2.4 GHz and 5 GHz) including all versions of Wi-Fi: 802.11a, 802.11b, 802.11g, 802.11n (Wi-Fi 4[40]), 802.11h, 802.11i, 802.11-2007, 802.11-2012, 802.11ac (Wi-Fi 5[40]), 802.11ad, 802.11af, 802.11-2016, 802.11ah, 802.11ai, 802.11aj, 802.11aq, 802.11ax (Wi-Fi 6[40]), 802.11ay. As with others, the metallic grid allows wind to pass through it. This makes it resilient in extremely bad weather including rain, snow, storms and hurricanes.
---
Share this post
---
---