Passive Distributed Antenna System (DAS) Annunciator (NFPA 72 & 1221)
Jul 27, 2018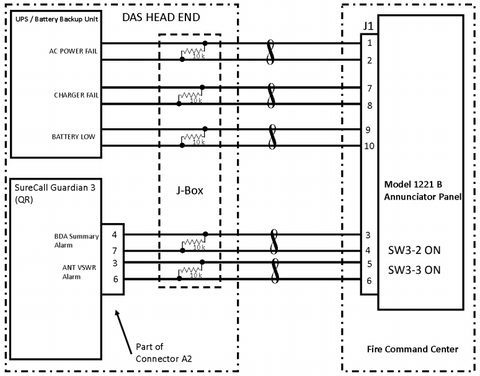 The SureCall Guardian 4 public safety signal booster fully complies with the NFPA-1221 and NFPA-72 standards. It now also has full support by the DAS annunciator. This DAS alert panel is a Public Safety Distributed Antenna System (DAS) annunciating or monitoring panel (model 1221-B). The DASalert annunciating panel is a BDA NFPA alarm alert system that provides a host of benefits to building managers and first responders. This DAS alarm also gives them up-to-the-minute status awareness of the public safety configurations inside a building, including following factors:
The status of the charger.
The capacity of the backup battery.
The status of the signal amplifier.
The primary AC power source.
Building exterior mounted donor antenna.
The DASalert panel is completely code compliant. It has a NEMA-4 enclosure which is UL listed. It has LED annunciators with high levels of brightness. It also has built-in mandatory internal backup battery with guaranteed 24-hour operation. The DAS-alert panel provides easy connection with the Guardian3 QR unit by SureCall, other monitoring equipment as required, as well as the fire panel of the building and the power unit backups. 100 percent ongoing CI (communications integrity) is guaranteed by way of supervised loops maintaining the connections between all interface components.
Available in 48 VDC, 24 VDC or 120 VAC units.
Measuring just 10 inches by 8 inches by 4 inches, this passive distributed antenna system alert panel for public safety signal boosters can be mounted easily within the fire command area. The corresponding DAS units can be located in an appropriate position elsewhere.
With output power of up to 26 dBm and a maximum gain of 80 dB, the Guardian3 QR by SureCall can support many users simultaneously per band, providing greatly improved coverage in an area of up to 80,000 ft² under ideal conditions. Those conditions mean that the signal from Yagi or Omni exterior donor antenna is excellent. This in-building coverage boost extends to the 700 MHz public safety band operated by FirstNet Ready, as well as the 800 MHz and 900 MHz SMR frequencies.
The public safety signal amplifier is remote monitoring enabled due to its ethernet capabilities, while being supported by a NEMA-4 housing. It easily connects to both a UPS and the passive distributed antenna system alert panel by way of connector port interfacing. Thus, Guardian3 QR by SureCall is deemed completely to be fully compatible with the DAS public safety alert panel.
Powering options for the amplifier include DC power between 16 and 24V, and 120 VAC. Both downlink and uplink gain can be adjusted independently in increments of 1 dB.
In the majority of municipalities, newly erected buildings with square footage of at least 50,000 must prove that they have a signal strength of at least -95 dBm in stairwells, elevators, and other critical areas in order to be approved for their Certificate of Occupancy. By utilizing the combination of the DASmonitor panel and the fully compatible Guardian3 QR SureCall amplifier, the NFPA requirements can be accommodated at all times.
Download public safety signal amplifier and DAS alert interface diagram (displays larger in PDF than the smaller image at the top) showing the compatibility between the DAS monitor panel and the Guardian-3 Quick Response (QR).
Watch Public Safety DAS Video:
---
Share this post
---
---